Social Media Monitoring
Conversation Tracker. Trends. Twitter Analytics | GraphEdge. Insights for Search. Addictomatic: Inhale the Web. Real-Time Search — BackType. Keyword Tool. Search for new keyword or ad group ideas Keyword Planner is like a workshop for building new Search Network campaigns or expanding existing ones.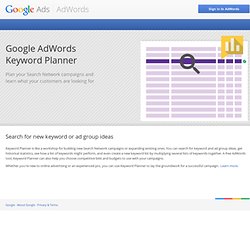 You can search for keyword and ad group ideas, get historical statistics, see how a list of keywords might perform, and even create a new keyword list by multiplying several lists of keywords together. A free AdWords tool, Keyword Planner can also help you choose competitive bids and budgets to use with your campaigns. Whether you're new to online advertising or an experienced pro, you can use Keyword Planner to lay the groundwork for a successful campaign.
Learn more. HowSociable? - Brand Visibility Metrics. Trend Search. Compete | Compete. Social Search, Brand Engagement and Data Analysis of Social Netw.
Trendpedia - Social media monitoring, buzz tracking, brand measu. Social Media Monitoring Tools in Just 60 Seconds. Topsy - A search engine powered by tweets. Blogs monitoring. Surchur – The Dashboard to Right Now. Real Time Search and Real.
Real Time Search - Social Mention. Samepoint Social Conversation Search | Social Mentions. Boards monitoring. High end platforms. Website Information, Analysis & Research Tool. Buzz Graphs. IceRocket real-time search. Google Live Search. Real-time Social Media Analytics - uberVU.
---