A-7
SAY OR TELL REP SPEECH. Reported speech Quiz. Choose the correct reported speech version of each statement.
Each question has only one correct answer. When you are finished click on the "Next Question" button. ¿NECESITO : 10 direct questions to indirect question. DIRECT : What is Gaius doing?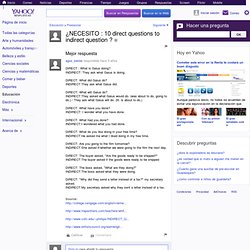 INDIRECT: They ask what Gaius is doing. DIRECT: What did Gaius do? INDIRECT:They ask what Gaius did. DIRECT: What will Gaius do? DIR IND QUESTIONS GOOD. Form and meaning If we do not begin a question directly, but begin it with something like Can you tell me...?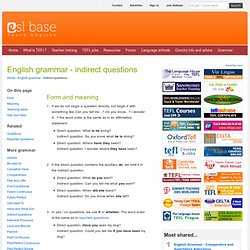 Do you know...? Direct and indirect questions exercises, rules. Online exercises with answers Test 1 exercise 1 Test 2 exercise 1 | exercise 2.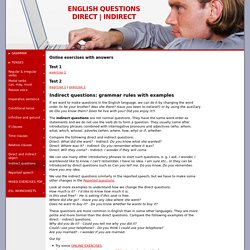 ---