Solutions Wikis
XWiki. XWiki Offers XWiki is a feature rich tool that's secure, easy to use and more organized.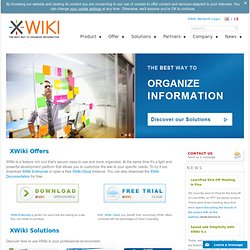 At the same time it's a light and powerful development platform that allows you to customize the wiki to your specific needs. TWiki - the Open Source Enterprise Wiki and Web 2.0 Application Platform. Bluekiwi. Social Text. Fr. MediaWiki est un ensemble wiki à base de logiciels libresOpen source, développé à l'origine pour Wikipédia et aujourd'hui utilisé par plusieurs autres projets de l'association à but non lucratif Wikimedia Foundation ainsi que par beaucoup d'autres wikis, y compris ce site central de développement, documentation, référence et support de MediaWiki.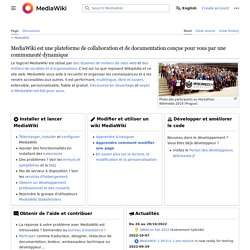 Utilisez les liens ci-dessous pour explorer le contenu de ce site. Vous trouverez du contenu traduit dans d'autres langues, notamment en français, mais sachez que la langue de référence de la documentation est l'anglais. Pour les questions d'ordre général, voyez la page de communication et contact ou bien le centre de support.
---