Archives ouvertes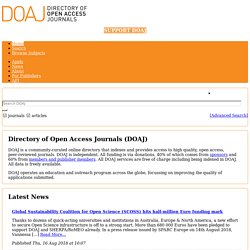 DOAJ has migrated to a new, open source platform! Take a look around; we welcome your feedback. You may notice that the number of journals in DOAJ has dropped from 10 027 to 9804. This is because we have fine-tuned the counting functionality.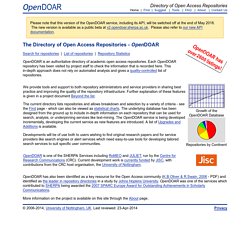 The Directory of Open Access Repositories - OpenDOAR Search for repositories | Search repository contents | List of repositories | Repository Statistics OpenDOAR is an authoritative directory of academic open access repositories.
Notice: We had a major storage controller failure, which led to the harvesting service failing. We are in the process of recovering data and restarting the harvesting. This failure only affects the tracking of content growth.