maisons
Get flash to fully experience Pearltrees
Maisons en moussse Faites toutes en mousse de polystyrène, ces maisons du fabricant "Japon Maison Dome Co., Ltd" sont faciles à construire et à assembler grâce à une sorte de kit de maisons modulaires. Surnommé l'"habitat pour le 21e siècle," le "Dôme House" est un igloo construit à partir de sections de mur fait à 100% de mousse de polystyrène expansé (mousse de polystyrène). Il peut sembler étrange ce choix de matériaux pour une maison, mais la compagnie énumère un certain nombre d'avantages par rapport à des matériaux traditionnels. Contrairement au bois et à des structures métalliques, par exemple, la mousse de polystyrène ne rouille, ne pourrit pas ou n'attire pas les termites.
March 28, 2013 Some of the many uses for InterShelter™ Domes... Hurricane & Storm Shelters - Emergency Housing - Military - Relief - Quarantine - Dome-atories - Worker Housing Construction Site Office - New Development Sales Center - Workshop - Campgrounds - Parks & Recreation Centers - Safe Room House Expansion Backyard Cabana - Hunting / Fishing Cabins - Garden Houses - Spa Covers - Homeless Community - Guest House & More!
You may want to add a garden to your house, or another surface without walls. Click 'draw surface'. (Second icon in the Construction menu)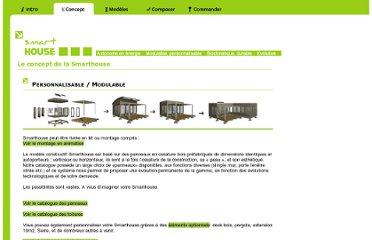 Voir l'insertion du kit technique Le concept Smarthouse a été imaginé comme un espace entièrement autonome en énergie et c'est donc tout naturellement que l'option «Kit Autonomie» est proposée ici (et conseillée), avec son emplacement dédié, et sa possibilité de «mise à jour». Néanmoins, tous les branchements traditionnels restent disponibles afin de s'adapter à toutes les situations. La récupération des eaux de pluie et sa filtration sont assurées pour tous les types de toitures. Le stockage s'effectue dans une cuve interne à minima, mais nous conseillons lorsque cela est possible de choisir une cuve externe enterrée. Destinées à tous types d'environnements, isolés, montagnes ou déserts, Smarthouse devait pouvoir communiquer .
C 'est ce qui s'appelle être à l'heure au rendez-vous. Une fois n'est pas coutume, l'architecte se distingue avec un nouveau prix du public, le troisième dans cette catégorie en quatre ans. Il faut dire que le projet avait tout pour séduire les visiteurs, très sensibles à l'es­thètisme et aux ambiances.