Photoshop
Tutoriales
Everystockphoto - searching free photos. DesignPacks.com - Free Stock Photo Sets for Web Designers. 5000 Free Stock Photos. Download Free Photos & Images, Stock Photography - FreePixel. Free Pictures - FreeFoto.Com. Free Photos - Free Images - Royalty Free Photos - Free Stock Pho. Free Stock Photos at freerangestock.com - Totally Free Stock Pho. Unprofound.com : royalty free phototography project - a public d. Photo Rack - Stock Photos. Openphoto.net home.
MorgueFile free photos for creatives by creatives. The leading free stock photography site. Efecto Texto en 3D,Photoshop. Muy buen dia gente de T!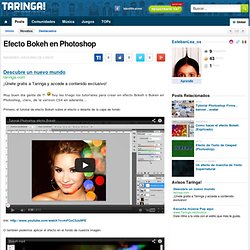 Hoy les triago los tutoriales para crear en efecto Bokeh o Buken en Photoshop, claro, de la version CS4 en adelante... Primero, el tutorial de efecto Bokeh sobre el efecto o delante de la capa de fondo: link: O tambien podemos aplicar el efecto en el fondo de nuestra imagen: Tutoriales Photoshop ordenados por temas 3ª parte(01/09/07) - Ph. Tutoriales Photoshop ordenados por temas 2ªParte (01/09/07) - Ph. Tutoriales Photoshop ordenados por temas (01/09/07) - Photoshop. Christmas ornaments wallpaper. December 7th, 2007 by ART-D Posted in Adobe Photoshop, Designing Gradient's parameters: Selecting the Line Tool (U), it's possible to draw the thread of white color the toy hangs up with.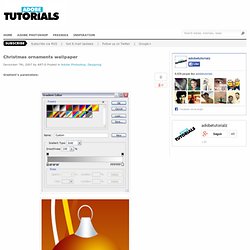 Getting a better result is possible when combine in a group all the layers composing the toy decoration on its thread (press Ctrl button to mark out the necessary layers and hold on left mouse's button when taking down the marked layers on Create a new group option). Make two copies of the last made group and choose Free Transform option to make some changes on the copies' sizes, placing them the way shown next picture: Try to draw now the light reflection on the decorations, applying the Ellipse Tool (U) for representing the reflection on the most distant toy.
Photoshop Contests And Tutorials - Show Your Art - PXLEyes.com. Night Before Christmas : Photoshop Tutorial And WallPaper | Grap. As I saw everybody enjoyed previous Christmas related tutorial, I decided to keep it that way and now I am offering You the next Photoshop task.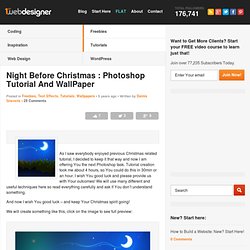 Tutorial creation took me about 4 hours, so You could do this in 30min or an hour. I wish You good luck and please provide us with Your outcomes! Create a Stylish Business Card in Photoshop | Photoshop Tutorial. Tutoriales navideños para Photoshop | Recursos para Diseñadores. Crear Efecto de Explosion Mental en Photoshop.
---