Blog
FatFree Vegan Kitchen | Sinlessly Delicious Recipes. The Bee's Knees Kitchen. Graasland. Secocina. List of all recipes. La Vida Vegan. Sunrise Morning Muesli luxhippie: I never eat cereal.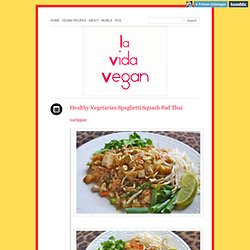 Eat Dance Live Recipes. Recipe Index. Recipe Index | Tales of a spoon. Dimitri the greek raw vegan-ο κοσμος της ωμοφαγικης χορτοφαγιας. Eat Good 4 Life. Healthy Gluten Free Recipes. Veggie Wedgie. Raw Recipes. Breakfasts Banana Breakfast Sushi (raw, GF, SF)Banana Crepes (raw, GF, SF)Beet and Hemp Granola (raw, GF, SF)Blueberry Pancakes (SF)Buckwheat cereal (raw, GF, SF)Buckwheat Quinoa Pancakes with Pumpkin Cream or Beet and Berry Sauce (GF, SF)Carob Chip PancakesCarrot Raisin Muffins (SF)Classic Tofu Scramble (GF)Chocolate Avocado Breakfast Salad (raw, GF, SF)Choosing Raw Graw-nola (raw, GF, SF)Coconut yogurt (raw, GF, SF)Easy Raw Pancakes (raw, GF, SF)French Toast (SF)Green Pancakes (GF, SF)Protein Pancakes (GF, SF)Quinoa Breakfast Porridge (GF, SF)Raw, Vegan Bircher's Muesli (raw, GF, SF)Raw Cocoa Crunch Graw-nola (raw, GF, SF)Sweet Potato Breakfast Salad with Almond Butter Dressing (GF, SF) Beverages (Juices, smoothies, nut milks)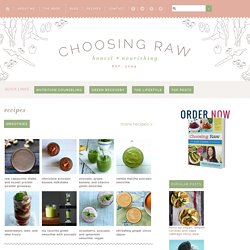 Troo Food Liberation. SandeeA | PequeRecetas. Otra vez quiero compartir con vosotros una idea de aperitivo que se prepara rápidamente cuando tenéis invitados, y que además gustará a todo el mundo, como el queso camembert con nueces y caramelo que os enseñé hace unos meses.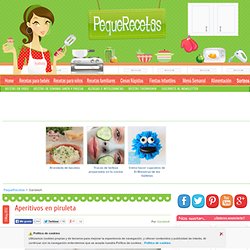 Lo mejor de estos aperitivos en piruleta es que además lo podéis adaptar a vuestros gustos, y a los ingredientes que tengáis en el frigorífico en ese momento. En cuanto a la masa, pueden prepararse con pasta brisa, hojaldre, masa de empanadillas, de empanada, masa de pizza. Y en cuanto a los rellenos, admite miles de variantes: queso con mermelada de fresa o tomate, jamón york, queso y pasas, sobrasada con miel, salami, queso con nueces, salmón con rúcula y queso crema… y lo que se os ocurra! Solo necesitáis palitos de brocheta o de helado, algún tipo de masa, y vuestro relleno favorito para sorprender a los invitados con estas piruletas de aperitivo, o convencer a los peques para que coman ese ingrediente que normalmente os cuesta tanto… ¿os animáis a probar?
Fake Food Free. The Raw Chef: Raw Recipes. I created these stuffed vine leaves after tasting the cooked version.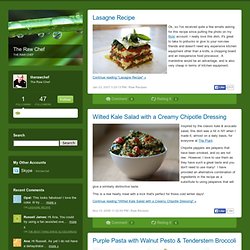 Seeing as anything cooked can be made better raw, I just had to come up with this alternative, which, I have to say really fills a gap. This recipe will make 16+ rolls depending on the size of your vine leaves and how much mixture you put in. Eating 2 is usually enough for me in one sitting! I have found a sushi rolling mat (pictured) very useful in rolling nice tight leaves, and as for the leaves themselves... You can pickle your own, which involves finding fresh ones - I found some organic ones on ebay!
---