Blog
Bakes, Cakes & Cookies
The Bee's Knees Kitchen
Graasland
Secocina
List of all recipes
Sunrise Morning Muesli luxhippie : I never eat cereal.
La Vida Vegan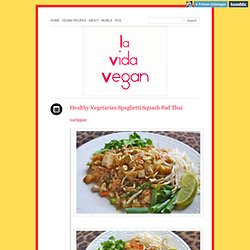 Eat Dance Live Recipes
Recipe Index
Recipe Index | Tales of a spoon
dimitri the greek raw vegan-ο κοσμος της ωμοφαγικης χορτοφαγιας
Eat Good 4 Life
Veggie Wedgie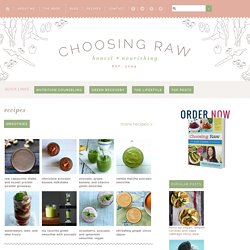 Breakfasts Raw Banana Breakfast Sushi Banana Crepes Beet and Hemp Granola Buckwheat cereal Chocolate Avocado Breakfast Salad Choosing Raw Graw-nola Easy Raw Pancakes Lower Fat Apple Cinnamon Raisin Graw-nola Raw, Vegan Bircher's Muesli Raw, Vegan "Cheater's" Granola Raw Cocoa Crunch Graw-nola
Troo Food Liberation
SandeeA | PequeRecetas
Otra vez quiero compartir con vosotros una idea de aperitivo que se prepara rápidamente cuando tenéis invitados, y que además gustará a todo el mundo, como el queso camembert con nueces y caramelo que os enseñé hace unos meses. Lo mejor de estos aperitivos en piruleta es que además lo podéis adaptar a vuestros gustos, y a los ingredientes que tengáis en el frigorífico en ese momento. En cuanto a la masa, pueden prepararse con pasta brisa, hojaldre, masa de empanadillas, de empanada, masa de pizza. Y en cuanto a los rellenos, admite miles de variantes: queso con mermelada de fresa o tomate, jamón york, queso y pasas, sobrasada con miel, salami, queso con nueces, salmón con rúcula y queso crema… y lo que se os ocurra! Solo necesitáis palitos de brocheta o de helado, algún tipo de masa, y vuestro relleno favorito para sorprender a los invitados con estas piruletas de aperitivo , o convencer a los peques para que coman ese ingrediente que normalmente os cuesta tanto… ¿os animáis a probar?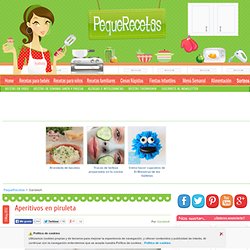 Fake Food Free
The Raw Chef: Raw Recipes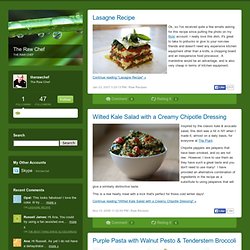 I created these stuffed vine leaves after tasting the cooked version. Seeing as anything cooked can be made better raw, I just had to come up with this alternative, which, I have to say really fills a gap. This recipe will make 16+ rolls depending on the size of your vine leaves and how much mixture you put in. Eating 2 is usually enough for me in one sitting! I have found a sushi rolling mat (pictured) very useful in rolling nice tight leaves, and as for the leaves themselves... You can pickle your own, which involves finding fresh ones - I found some organic ones on ebay!