Tutorial
TuToMaNiA - Dicas, Tutorial, Como Fazer, Aprenda, Truques, Livros e eBooks
Julio Battisti, MCP, MCP+I, MCSE, MCSE+I, MCSA, MCSD e MCDBA
Flash Masters - Comunidade Flash - sources, fla, swf, sons, actionscript, webdesign, flash 8 -
Júlio Battisti
Destaques Eletronica .org — Eletronica.org
Sistemas Embarcados / Programação Algoritmos de compressão são parte essencial de muitos dispositivos do mercado. Este artigo dá uma visão geral de alguns destes códigos, com implementação prática.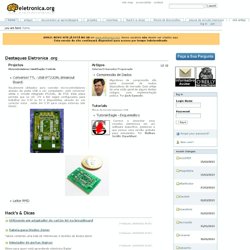 MX Studio - Macromedia e Adobe - Artigos, colunas, tutorias e muito mais...
Tutorialmix.com / Free Tutorial Search Engine
Tutorial for Web and Software Desgin
Flash Tutorials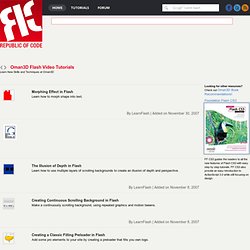 The Illusion of Depth in Flash Learn how to use multiple layers of scrolling backgrounds to create an illusion of depth and perspective. By LearnFlash | Added on November 8, 2007 Creating Buttons for Dynamic Slideshows
Giving Your Photo to glowing Effect in Photoshop. In this Photoshop tutorial, we are working with Adjustment Layers and the Gradient Tool to enhance the colors of our original image and to turn it into something spectacular. This video will teach you how to shift the hue of a certain color range without affecting the rest of your image, which can be helpful for things like changing clothing and eye colors. In this tutorial, you'll learn how to add texture and depth to a vector shape in Photoshop using images, layer masks, and blend modes.
Webtutoriais.com :: O Maior Buscador de Tutoriais na Web :: Procurou ? Achou ! :: v4
Blog: Top 5 Sites for Photoshop Tutorials
...a g a t e t e p ê... o seu site de tutoriais.
The Art Corner v.3.0 - "I'M SO FLY"
Tutorials