Sounds
Find – Play – Download Sound FX Instantly and Free! Welcome to SoundFXNow.com! Find and Instantly Play a quickly growing online database of Sound FX at the click of your mouse! The best part… it's all FREE!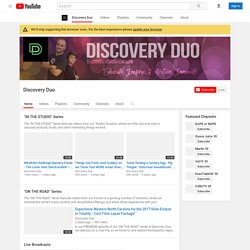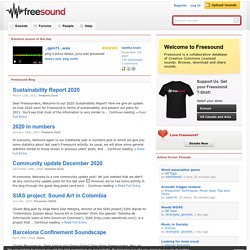 Latest News Problems processing files December 12th, 2013frederic.font Hello everyone, last two days we've been experiencing some problems that caused uploaded sounds to fail processing.
Obama Talks About The Secrecy & Precision Of Drone Strikes The very precision of drone strikes, and the necessary secrecy involved in such actions can end up shielding our government from the public scrutiny that a troop deployment invites. Political Headlines 2013 Those Deaths Will Haunt Us As Long As We Live For me, and those in my chain of command, those deaths will haunt us as long as we live, just as we are haunted by the civilian casualties that have occurred through conventional fighting in Afghanistan and Iraq.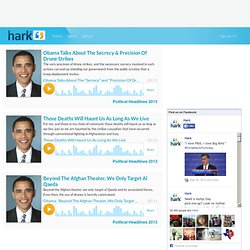 Entertonement: Sounds, Sound Bites, Ringtones and Audio clips
Inter-Search - Homepage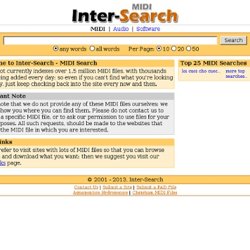 Welcome to Inter-Search - MIDI Search Our robot currently indexes over 1.5 million MIDI files, with thousands more being added every day; so even if you can't find what you're looking for today, just keep checking back into the site every now and then. Important Note Please note that we do not provide any of these MIDI files ourselves; we simply show you where you can find them. Please do not contact us to request a specific MIDI file, or to ask our permission to use files for your own purposes.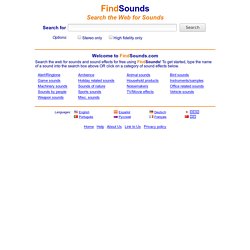 Welcome to FindSounds.com, a free site where you can search the Web for sound effects. Click here to see the types of sounds you can find. On August 1, 2012, FindSounds.com celebrated its 12-year anniversary as the leading Web search engine for sound effects. Using a smartphone or other handheld device? Check out our new app, FindSounds for Android, or go to FindSounds Mobile, the new mobile version of FindSounds.com. FindSounds Palette is a software program that lets you search more than one million sounds on the Web and helps you organize and search your own sound collection.