Music 2
Move That Jukebox!
ftofani: i decided to mix two projects that i have in just one. glitches and posters for the concerts i go to and the band choosen for that was The Dillinger Escape Planthis was really time consuming and i hope it makes sense to someone else.http://ftrc.me/1cgMZX5 Domingo passado, esse blog deveria estar celebrando seus seis anos de vida mas não é o que aconteceu.
mais um blog de download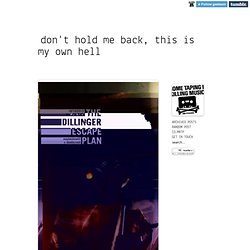 become.the.ocean
Muspy – Get Notified on New Album Release Dates
Metal To The Metal Heads
Ignes Elevanium
Amplitude Sonora
New and upcoming releases for last.fm user Semyazza
Final Fantasy Shrine Forums - Powered by vBulletin
Rev « Digging Through by LUCID « StumbleAudio (2 million+ music tracks to discover)
http://www.ultrastardeluxe.org/
Search your favourite music at GoMuzik.com
The Music Hutch - Upload Your Music. Search For Music. Share Music. Listen to Music.