Music 2
Move That Jukebox!
De vez em quando eu escuto uma banda que acaba soando como tudo que eu gostaria de ter feito na vida. A banda que conseguiu alcançar esse patamar, essa semana, foi o Stagnant Waters com seu primeiro disco, lançado no ano passado. Se esse disco precisa ser categorizado de alguma forma, eu acabaria chamando ele de black metal.
mais um blog de download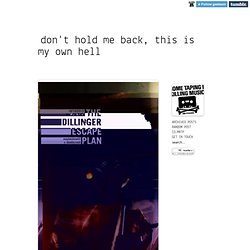 become.the.ocean
Muspy – Get Notified on New Album Release Dates
Metal To The Metal Heads
Ignes Elevanium
impop
Amplitude Sonora
New and upcoming releases for last.fm user Semyazza
PUNKnet - RSS
HORNSUP
Final Fantasy Shrine Forums - Powered by vBulletin
Rev « Digging Through by LUCID « StumbleAudio (2 million+ music tracks to discover)
http://www.ultrastardeluxe.org/
Search your favourite music at GoMuzik.com
The Music Hutch - Upload Your Music. Search For Music. Share Music. Listen to Music.