Music 2
Move That Jukebox!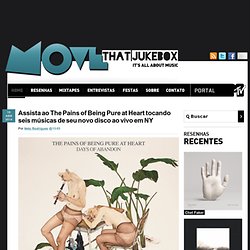 "Não é o disco que as pessoas estão esperando que lancemos. Definitivamente é uma evolução pra gente, e é um álbum mais polarizado pra gente, então estou empolgado pra ver como ele será recebido", avalia Mark Foster para a Rolling Stone, sobre o esperado sucessor de Torches, disco que colocou seu Foster The People no mapa principal de festivais ao redor do mundo, incluindo uma passagem pelo primeiro Lolla brasileiro. Depois da estreia, em 2011, e do sucesso mundial com a grudenta "Pumped Up Kicks", o trio californiano anuncia que seu segundo trabalho de estúdio da pronto. Batizado de Supermodel, o álbum terá uma dúzia de faixas inéditas e data de lançamento cravada em 18 de março, pela Columbia Records.
ftofani: i decided to mix two projects that i have in just one. glitches and posters for the concerts i go to and the band choosen for that was The Dillinger Escape Planthis was really time consuming and i hope it makes sense to someone else.http://ftrc.me/1cgMZX5 Domingo passado, esse blog deveria estar celebrando seus seis anos de vida mas não é o que aconteceu.
mais um blog de download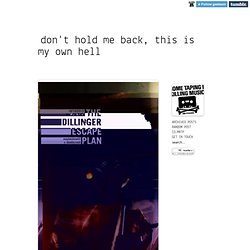 become.the.ocean
Welcome to muspy – the easiest way to follow your favourite artists! What? muspy will notify you when artists you like release new albums. Why? Have you ever missed an album of one of your favourite artists only to discover it by accident weeks after the release?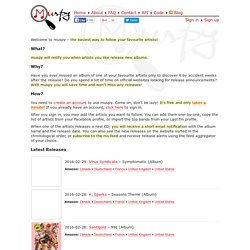 Muspy – Get Notified on New Album Release Dates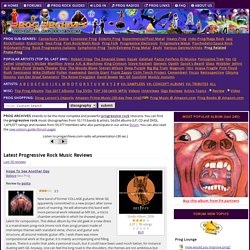 Berlin and Germany all, are characterized by a typical geographic meaning. It could be recognized for the great philosophical current of '700 (Surm und Grang), for a series of characters around its history as Hegel, Karl Marx, Heinstein, Wagner, Nietzsche, Shopenhauer, for the Second World War, ect... But surely it must be remembered now and in future for Krautrock, expression of the rebirth from the post-war period. From the great cultural ferment that was rising all over the world, in Berlin some intellectual artists and bands, with a sound never heard, faced to the music of those years.
Scott Columbus, o clássico baterista do MANOWAR, morre aos 54 anos de idade deixando um legado impecável. Scott entrou para o MANOWAR no ano de 1983, após Donnie Hamzik ter deixado o posto. Ele foi descoberto por uma fã da banda, batucando em uma fábrica de alumínio. No MANOWAR Scott fez história e gravou os seguintes álbuns: Into Glory Ride (1983)Hail to England (1984)Sign of the Hammer (1984)Fighting the World (1987)Kings of Metal (1988) Teve uma breve saída da banda no ano de 1992 por divergências com DeMaio, e na época ele mentiu alegando que seu filho estava doente, o que ele mesmo confirmou em entrevista recente.
Metal To The Metal Heads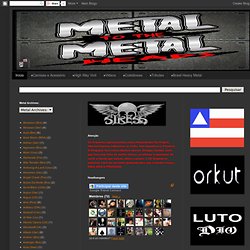 Ignes Elevanium
Amplitude Sonora
New and upcoming releases for last.fm user Semyazza
Final Fantasy Shrine Forums - Powered by vBulletin
After nearly three years of running the site, we are shutting down JamLegend to move on to new ventures. We will look back fondly on our experiences at JamLegend. JamLegend was the most vibrant music gaming community in the world, where the greatest players and trackers/producers helped evolve online music consumption. We'll always be proud of bringing so much joy to so many. It's been an incredible privilege and honor to have you as a customer.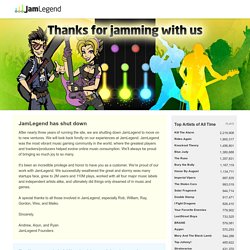 Rev « Digging Through by LUCID « StumbleAudio (2 million+ music tracks to discover)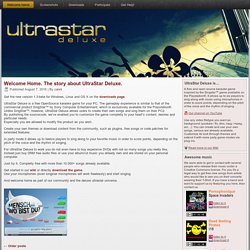 UltraStar Deluxe is a free OpenSource karaoke game for your PC. The gameplay experience is similar to that of commercial product SingStar™ by Sony Computer Entertainment, which is exclusively available for the Playstation®. Unlike SingStar™, however, UltraStar Deluxe allows users to create their own songs. By publishing the sourcecode, we've enabled you to customize the game completly to your heart's content, desires and particular needs.
http://www.ultrastardeluxe.org/
Singing Search You can find songs with midomi and your own voice. Forgot the name of a song? Heard a bit of one on the radio? All you need is your computer's microphone.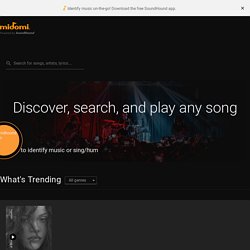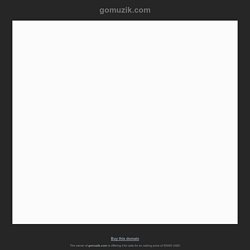 Search your favourite music at GoMuzik.com
The Complete Entertainment Portal Home Video Lyrics GoMuzik - one stop search engine for songs lyrics and video songs.
The Music Hutch - Upload Your Music. Search For Music. Share Music. Listen to Music.
Outward Bound, Eric Dolphy's first album as a bandleader, is unusual for a jazz debut in that instead of being a showcase for Dolphy's songwriting it instead shines the spotlight one last time on the long-time Mingus sideman's prodigious talents on a number of woodwinds. Though Dolphy composed three of the tracks here, all of them are fairly standard hard bop compositions that serve more as a platform for the band's soloing than the rhythmically complex experiments he would become known for later; the other three tracks, such as the standard "Green Dolphin Street," also seem like they were chosen for their malleability. This, of course, is hardly a problem when you're talking about an instrumentalist as gifted as Dolphy, though, as his flighty solos here already prove he was leagues ahead of the genre trappings of his songs, with ambitions as far out as anything you were likely to hear in jazz in 1960.