Secret Tunnels in SF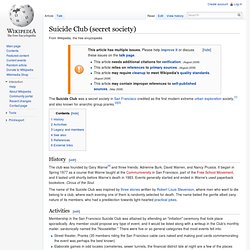 Suicide Club (secret society)
The Suicide Club was a secret society in San Francisco credited as the first modern extreme urban exploration society, [ 1 ] and also known for anarchic group pranks. [ 2 ] [ 3 ] [ edit ] History The club was founded by Gary Warne [ 4 ] and three friends: Adrienne Burk, David Warren, and Nancy Prussia. It began in Spring 1977 as a course that Warne taught at the Communiversity in San Francisco, part of the Free School Movement , and it lasted until shortly before Warne's death in 1983. Events generally started and ended in Warne's used paperback bookstore, Circus of the Soul .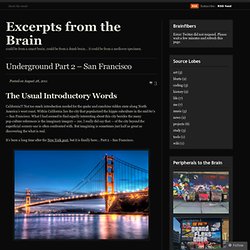 California!!! Not too much introduction needed for the quake and sunshine ridden state along North America's west coast. Within California lies the city that popularized the hippie subculture in the mid 60′s — San Francisco. What I had seemed to find equally interesting about this city besides the many pop-culture references is the imaginary imagery — yes, I really did say that — of the city beyond the superficial scenery one is often confronted with. But imagining is sometimes just half as great as discovering the what is real. It's been a long time after the New York post , but it is finally here… Part 2 – San Francisco.
Underground Part 2 – San Francisco « Excerpts from the Brain
Secret tunnel hike at Fort Funston - San Francisco City Guide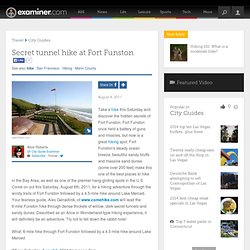 Take a hike this Saturday and discover the hidden secrets of Fort Funston . Fort Funston once held a battery of guns and missiles, but now is a great hiking spot. Fort Funston's steady ocean breeze, beautiful sandy bluffs and massive sand dunes (some over 200 feet) make this one of the best places to hike in the Bay Area, as well as one of the premier hang-gliding spots in the U.S. Come on out this Saturday, August 6th, 2011, for a hiking adventure through the windy trails of Fort Funston followed by a 4.5-mile hike around Lake Merced. Your fearless guide, Alex Genadinik, of www.comehike.com will lead the 6-mile Funston hike through dense thickets of willow, dark secret tunnels and sandy dunes. Described as an Alice in Wonderland-type hiking experience, it will definitely be an adventure.
The secret city under chinatown.. | San Francisco | Yelp
W A S H I N G T O N, March 4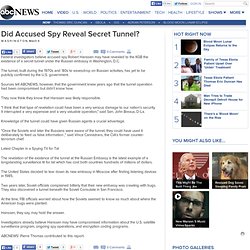 Did Accused Spy Reveal Secret Tunnel?
Tunnels run beneath Chinatown in Fresno, Calif.: brick-walled passages that were once home to people and activities that couldn't be mentioned aboveground. Rick Lew knows, because he walked the passages as a child, entering through a trapdoor in his grandfather's liquor store. "There was a nightlife you couldn't see from the streets," he said. But to many others, the lace-work of tunnels sprawling under the city was just another tall tale from Fresno's days as a Western railroad town and a hub of gambling and prostitution.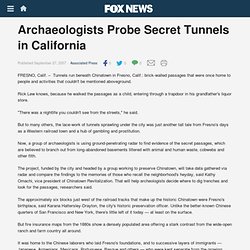 Archaeologists Probe Secret Tunnels in California
On hands and knees, they crawl along an underground passage. Pieces of rock, dirt and cement fragments press into their palms and knee caps, keeping them from staying in one place too long. The air is stagnant and thick with dust and age. Theyve moved far enough that no one would hear them if they called for help.
Golden Gate [X]Press : The Secret Tunnels Under SF
Underground tunnels in Golden Gate Recreational Area... | San Francisco | Yelp
Secret Tunnels of San Francisco Chinatown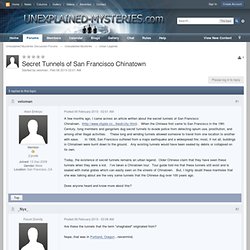 A few months ago, I came across an article written about the secret tunnels of San Francisco Chinatown. ( http://www.sfgate.co...fbeat/city.html ) . When the Chinese first came to San Francisco in the 19th Century, tong members and gangsters dug secret tunnels to evade police from detecting opium use, prostitution, and among other illegal activities. These long and winding tunnels allowed someone to travel from one location to another with ease. In 1906, San Francisco suffered from a major earthquake and a widespread fire; most, if not all, buildings in Chinatown were burnt down to the ground. Any existing tunnels would have been sealed by debris or collapsed on its own. Today, the existence of secret tunnels remains an urban legend.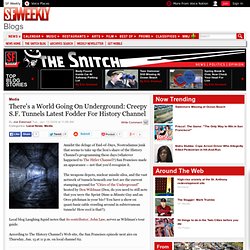 Amidst the deluge of End-of-Days, Nostradamus junk that seems to take up the lion's share of the History Channel's programming these days (whatever happened to The Hitler Channel ?) San Francisco made an appearance -- not that you'd recognize it. The weapons depots, nuclear missile silos, and the vast network of tunnels beneath our feet are the current stamping ground for " Cities of the Underground " hosted by Don Wildman (Don, do you need to still note that you were the Sprint Dime-a-Minute Guy and an Oreo pitchman in your bio? You have a show on quasi-basic cable crawling around in subterranean tunnels!
There's a World Going On Underground: Creepy S.F. Tunnels Latest Fodder For History Channel
"It would be nice not to end up in jail," Siveya says calmly as we scan online city maps, trying to decide where our first venture into the San Francisco underground might be. "Or worse." "Yes," I agree, trying to sound equally chill. "That would be good."
Tunnel Vision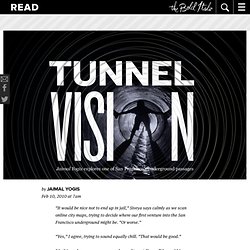 Secret passage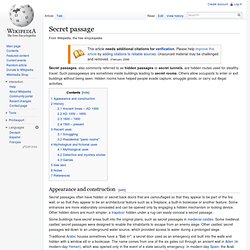 Secret passages , also commonly referred to as hidden passages or secret tunnels , are hidden routes used for stealthy travel. Such passageways are sometimes inside buildings leading to secret rooms . Others allow occupants to enter or exit buildings without being seen. Hidden rooms have helped people evade capture, smuggle goods, or carry out illegal activities. [ edit ] Appearance and construction Secret passages often have hidden or secret back doors that are camouflaged so that they appear to be part of the fire wall, or so that they appear to be an architectural feature such as a fireplace, a built-in bookcase or another feature.
Home » *Top Pick* , San Francisco , Sports & Fitness , Walks & Tours Embark on an exploratory adventure with a walk around the sand dunes at Fort Funston and Lake Merced on Saturday, August 6. Join guide Alex Genadinik, the host of the 7-Hills of SF and wine scavenger hunt hike, for this unpredictable walk through dense thickets of willow, 5-foot tall passages, dark secret tunnels and the sandy dunes themselves. Wear your walking shoes too, because for those who haven't walked quite enough, there will also be a 4.5 loop walk around Lake Merced afterward.
Ft. Funston Sand Dunes & Lake Merced Exploratory Walk | SF
Underground Bases We recently came across a very interesting list from a book called Entrances to Subterranean Tunnels "Underground Alien Bases" (UAB) ISBN: 0-938294-92-X (UAB) which purports to list all the known underground entrances to bases. Here is where they are! New York City There is an entrance to the tunnels in New York City "in the vicinity of Midtown Manhattan that can be reached through an abandoned elevator shaft that only very few know about The Nahanni Valley (Canada) Entrance This covers 250 square miles in the southern end of the Mackenzie Mountains of Canada. It lies almost 550 miles due west of Fort Simpson on the Mackenzie River of northwest Canada.
Secret Underground Bases