Other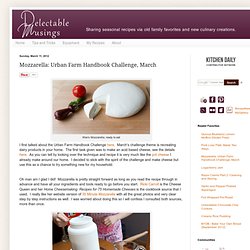 Delectable Musings: Mozzarella: Urban Farm Handbook Challenge, March
2K+ I first talked about the Urban Farm Handbook Challenge here . March's challenge theme is recreating dairy products in your home. The first task given was to make an acid based cheese, see the details here . As you can tell by looking over the technique and recipe it is very much like the pot cheese I already make around our home. I decided to stick with the spirit of the challenge and make cheese but use this as a chance to try something new for my household.
Foraging, Fishing, and Hunting in the Six Rivers Region
From Appropedia Humboldt County has a wide variety of native foods which can be gathered, caught or hunted. Appendix I provides some initial guidance.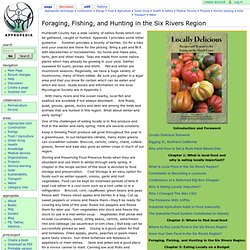 When fall (autumn) arrives, it's the time for bountiful harvests of the foods that have grown through summer. Foraging is one means for finding food for free courtesy of nature - basically you're rummaging through nature's larder! And if you're the kind of person who enjoys making preserves, canning, jams and the like, you might just be able to enjoy some of your foraging results through the winter as well.
How to Forage for Food in the Fall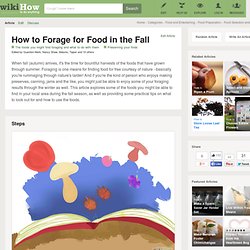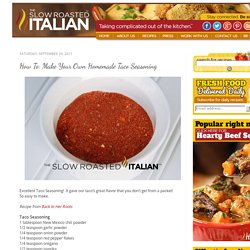 Excellent Taco Seasoning! It gave our taco's great flavor that you don't get from a packet! So easy to make. Recipe from Back to Her Roots
Taco Seasoning
The Odd Food Dude
Water chestnut, a popular local specialty in Jiaxing, Zhejiang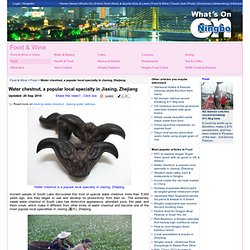 Water chestnut is a popular local specialty in Jiaxing, Zhejiang Ancient people of South Lake discovered this kind of special water chestnut more than 5,000 years ago, and they began to use and develop its productivity from then on. The extremely sweet water chestnut of South Lake has distinctive appearance, abundant juice, thin peel, and fresh smell, which make it different from other kinds of water chestnut and become one of the most popular local specialties in Jiaxing (嘉兴), Zhejiang. People harvest water caltrop in wooden tubs in Jiaxing,
Recipes — Cooking Ideas — Cherry Cola Bbq Sauce— SFGate Food & Wine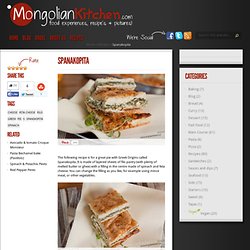 The following recipe is for a great pie with Greek Origins called Spanakopita. It is made of layered sheets of filo pastry (with plenty of melted butter or ghee) with a filling in the centre made of spinach and feta cheese. You can change the filling as you like, for example using mince meat, or other vegetables. The sheets of filo pastry are drenched with a mixture of eggs and milk which soak up into the pastry giving it a soft dough texture which is very easy to bite through and melts in the mouth. This pie is dangerous in that you can eat quite a number of pieces without realising how much you just ate.
Spanikopita Recipe - How to make spinach and feta cheese spanikopita | MongolianKitchen.com
Native American Culture - Food and Recipes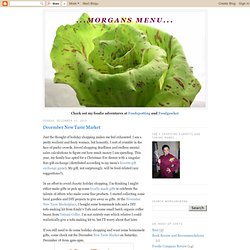 December New Taste Market
Just the thought of holiday shopping makes me feel exhausted. I am a pretty resilient and fiesty woman, but honestly, I sort of crumble in the face of pushy crowds, forced shopping deadlines and endless mental sales calculations to figure out how much money I am spending. This year, my family has opted for a Christmas Eve dinner with a singular $20 gift exchange (distributed according to my mom's favorite gift exchange game ). My gift, not surprisingly, will be food-related (any suggestions?). In an effort to avoid chaotic holiday shopping, I'm thinking I might either make gifts or pick up some locally-made gifts to celebrate the talents of others who make some fine products. I started collecting some local goodies and DIY projects to give away as gifts.
Homemade Sweetened Condensed Milk
Recently I shared with you my vanilla syrup recipe...the way I have always made it. Looking to lower the cost of making a few dozen bottles, I altered the recipe from using a vanilla bean for each batch to using pure vanilla extract instead and OMGoodness was it good! Now if only I can figure out how to make these into lollipops...I would be a happy, happy gal!
Gift Giving Vanilla Syrup 2.0