Food
Tea-Smoked Salmon » What's On My Plate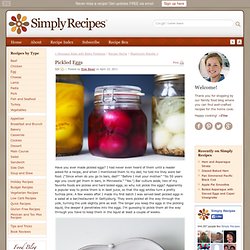 Pickled Eggs Recipe
Ingredients Beet pickled eggs with cardamom and anise 1 beet, peeled and roughly chopped into 1 to 2-inch sized pieces, cooked* 1 cup beet juice* 1 cup cider vinegar 1/4 onion, sliced 1/3 cup granulated sugar 3 cardamom pods 1 star anise 6 hard cooked eggs**, peeled *Simmer the chopped beets in a cup of water, covered, until tender, 30-40 minutes, or used canned beets. Use the beet juice from the cooking water, or the juice from canned beets.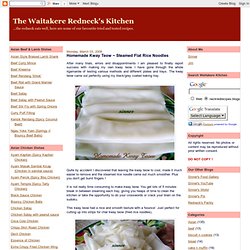 After many trials, errors and disappointments I am pleased to finally report success with making my own kway teow. I have gone through the whole rigamarole of testing various methods and different plates and trays. The kway teow came out perfectly using my black/grey coated baking tray. Quite by accident I discovered that leaving the kway teow to cool, made it much easier to remove and the steamed rice noodle came out much smoother. Plus you don't get burnt fingers ! It is not really time consuming to make kway teow.
Homemade Kway Teow ~ Steamed Flat Rice Noodles | The Waitakere Redneck's Kitchen
Sage and Garlic Turkey Burgers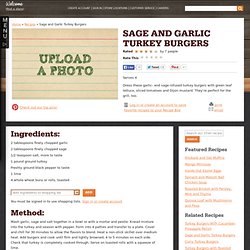 Nutritional Info: Per Serving: Serving size: 1 burger , 310 calories (110 from fat) , 13g total fat , 3g saturated fat , 80mg cholesterol , 590mg sodium , 24g carbohydrate ( 3g dietary fiber , 4g sugar) , 26g protein Special Diets: Note: We've provided special diet and nutritional information for educational purposes. But remember — we're cooks, not doctors!
Recipe: Roasted Marrow Bones
Fresh spelt pasta with dried mushrooms dressing | Juls' Kitchen
settembre 29, 2011 Yet Emiko said it: don't spread yourself too thin . Do not use all of your strength committing yourself into too many activities, otherwise at some point all your energy will slip out of your hand, scattering in thin streams and losing the usual sharp incisiveness. When someone knows you so well is rarely wrong, and in fact it happened.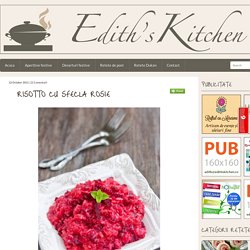 Cand eram mica nu-mi placea sfecla rosie. Acum o mananc cu drag salata si de curand am descoperit si minunatia asta de risotto frumos colorat care mi-a placut. Ne trebuie:
RISOTTO CU SFECLA ROSIE
As a college student, you're constantly challenged to find cheap but satisfying ways to feed yourself. You can't eat every meal on campus, and when you're in the mood to cook for yourself, you're probably going to turn to the poor college student's favorite ingredient: ramen. Here are 100 awesome ways you can use ramen — in desserts, breakfast foods, hangover dishes, snacks, party foods and more. Vegetarian Vegetarians will enjoy these recipes that use mushrooms, mixed veggies, soy sauce, tofu, cheese and tomato sauce as toppers.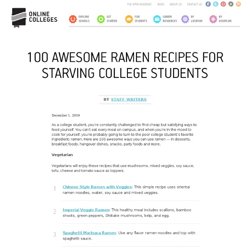 100 Awesome Ramen Recipes for Starving College Students
Heres a good one- Ingredients 2 1/2 cups of flour 1 tablespoon of baking powder 1/4 teaspoon of salt 8 tablespoons of cold butter (1 stick) 1/3 cup of brown sugar 1 teaspoon of cinnamon 1/2 teaspoon maple syrup/honey 2/3 cup of milk/heavy cream (or more, if necessary) 1/2 teaspoon of vanilla
Best recipe for lembas bread
Navajo Wild Sage Bread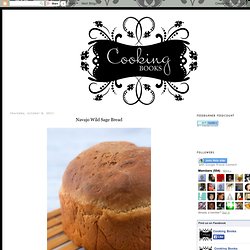 I'll admit that when I received a review copy of Martin Jacobs and Beverly Cox's book Spirit of the Harvest, I was a little nervous. I have exactly zero experience with Native American cooking, and I was worried the ingredients would be difficult to find and perhaps even hard to use. But really, when you think about how much the New World has given to cooking, all of the ingredients for which we can thank the native people of North and South America, the food is actually quite accessible.
Un pan diferente, ideal para acompañar quesos y olivas o para rellenar, tal como os mostraré mañana... Con este pan, participo en el World Bread Day que se celebra hoy. Ingredientes (2 panes – 4 personas): 250 grs. harina de maiz (polenta) 250 grs. harina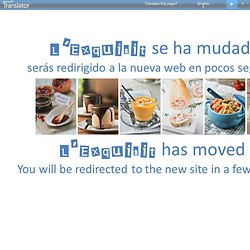 L'EXQUISIT: Pan tunecino
rowsing around the categories on USMasala you will notice a couple of different other Thepla recipes - the classic Methi Thepla and the Tofu variation of it. Here's another one. You may find this a little unusual but the thought of this dish puts me on a train with my family... the train speeding through the country and I find myself sitting on the lower berth (after of course having fought with my brother for the window seat) with my gaze fixed outside staring at the lush green crop fields that race past us and the warm yet cool breeze rushing in as we wait for the train to take us to our destination... then you are suddenly pulled out of the trance by the loud sound of your name... thats mom demanding we get together as it was lunch time... and there it is... she opens her tote bag and pulls out a couple of boxes. Wrapped in tinfoil in those boxes are these wonderful flat breads with awesome dry potato curry and pickle.
Zucchini Thepla/Spicy Zucchini Flatbread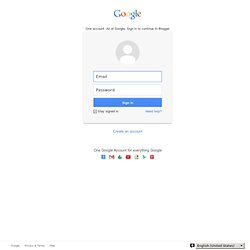 Bao Dough Recipe | The trick to making bao? Starting with the perfect dough - Page 5
2 teaspoons canola or peanut oil 2 scallions, chopped, white and green parts 1/2 pound char siu, homemade or store-bought, diced into 1/4 - to 1/2 -inch pieces
I'm a list shopper when it comes to buying groceries. My mind goes blank when I walk into a grocery store and I forget all about the great meal plan I made just that morning. Add to that the fact that I only go grocery shopping once a week and it makes a "no list" scenario really ugly.
Homemade Bouillon
Chinese Winter Melon 'Slow Fire' Soup ~ 冬瓜老火汤 | Tastes of Home
It's been awhile since I have featured one of my absolute favourite Chinese comfort foods, the ever-nourishing and soothing slow-fire soup or 老火汤 for those of you who read Chinese. Slow-fire soups are a genre of soups usually Cantonese in origin and as the name implies, you have to boil or rather simmer this soup for hours before it is considered done. Usually there will be a kind of protein, a meat of some sort, chicken or pork are popular choices, boiled with a type of vegetable or even peanuts all combined with a myriad of Chinese dried goodies including dried scallops, red dates, maybe a herb or two and the list goes on. For today, I am presenting the classic favourite of winter melon soup and you know what?
Method: Break open the tender coconut and collect the water in a cup. Scrap out the tender coconut and dice them into small squares and keep it aside. Peel and dice carrot into small cubes. Chop garlic and ginger finely too.
Tender Coconut Soup | 4th Sense Cooking
T he leaves outside are starting to turn into beautiful colors and the fresh crispy wind is sneaking through the window with a friendly chill. Time to shake off the summer laziness and embrace the arrival of the fall season! As the weather is getting colder each day, my appetite for hot soups is coming back again. Waking up in a cold morning, there is nothing better than having a bowl of hot soup while watching my two cute kittens play. I know that a bowl of easy Chinese soup such as Peanut with Lotus Root Soup will always hit the spot….BUT I always find the soup alone not satisfying as the old Chinese saying: breakfast is the most important meal of the day. My tummy tells me she wants to have something more substantial, and my tummy knows well that soup goes well with the homemade baozi – Chinese steamed meat buns!!!
Step by Step Recipe -Lotus Root and Peanuts Soup with Pork (蓮藕花生湯) | Yi Reservation
FoodTrek: Getting My Xiao Long Bao Groove On
Ddukguk 떡국- Korean Rice Cake Soup Recipe | Tastes of Home
Filet mignon wontons in miso and mushroom broth | That Jew Can Cook
Parsnip & Apple Soup With Crispy Sage - Media (1 of 20) 20 fall recipes
Recipes — Cooking Ideas — Cabbage Soup With Persimmon-Herb Pesto— SFGate Food & Wine
Recipes — Cooking Ideas — Gitane's Semolina-Crusted Sardines With Plum Relish— SFGate Food & Wine
Ngu Binh Restaurant | Little Saigon | Westminster | gas•tron•o•my
Lemongrass Shrimp | Lemongrass Shrimp Recipe
Ashley Brouwer | Savory Monkey Bread With Dill Butter
SWEET POTATO SPOON BREAD
The Orange Season
Sage Pesto, Apples, and Fall « Katie at the Kitchen Door
Corn Pancakes with Sour Cream and Chives
Beet Chop/Beetroot Patty – A street food from Kolkata | Sunshine & Smile
Cactus and Eggs with Sacaton Relish on Navajo Fry Bread
Dips, Dressings, and Sauces
Ayahuasca: An Amazonian Healing Plant
6 Gluten-Free Grains to Add to Your Diet (Page 2)
Stay Cool and Dry with Lavender Powder
How to Give a Killer Massage
Make Your Own Dry Tea Powders