Dips, Dressings, and Sauces
Slow Cookin' Sunday: Sugar-Free Apple Butter. The mystery of apple butter has been sufficiently and successfully solved.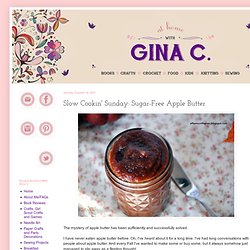 I have never eaten apple butter before. Oh, I've heard about it for a long time. I've had long conversations with people about apple butter. And every Fall I've wanted to make some or buy some, but it always somehow just managed to slip away as a fleeting thought. This year though, local apples were on sale for 39 cents a pound at our market. Baklava Style Walnut Butter. Are you ready for this?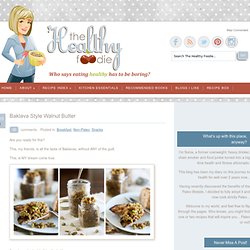 This, my friends, is all the taste of Baklavas, without ANY of the guilt. This, is MY dream come true. I've always had a big thing for baklavas. Pumpkin Butter with Cinnamon Cranberry Biscuits | Dash of East. The smell of fall spices brings childhood memories rushing back into my mind.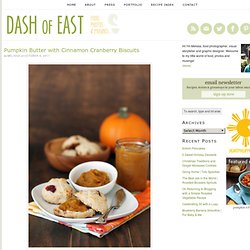 Even though I grew up in a Taiwanese family, I also grew up in a fairly rural part of Southwest Virginia, tucked away in the Appalachian Mountains. A close family friend, who was like a grandmother to me, would always cook a huge batch of apple butter every fall. I remember visiting her at her house and watching her stir a huge cauldron full of the wonderful smells of apple butter brewing inside. Most hilarious search terms and Roasted Garlic & Carrot Hummus « Doughing Rogue. Whenever I need a quick pick-me-up, I glance through the google search terms that lead people to this blog.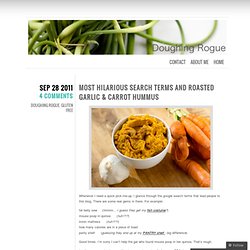 There are some real gems in there. For example: fat belly sew (hmmm… I guess they get my fish costume?) Mouse poop in quinoa (huh!?!?) Ironic mattress (huh?!?!) Tide and Thyme (dot) Com » Rustic Roasted Tomato Salsa. Isn't it amazing that salsa is the #1 condiment in the United States?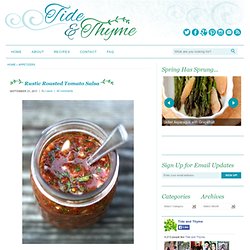 We love salsa in our house. Whether it's a chunky pico de gallo, or a smoky salsa verde – we have yet to meet one we diddn't like. This recipe is no exception. Date-Almond Pesto: The Best Thing I Ever Ate…Recently | FOODalogue. 2011 officially started off with a fabulously decadent New Year's Eve dinner of caviar and blinis, foie gras, and a perfectly steamed 2-lb. lobster (per person).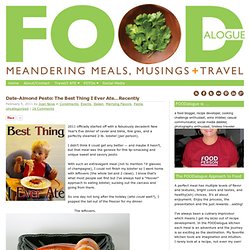 I didn't think it could get any better — and maybe it hasn't, but that meal was the genesis for this lip-smacking and unique sweet and savory pesto. With such an extravagant meal (not to mention ? Non-oil Shiso Dressing. Vegetarian◎Vegan◎Raw food◎Recipe Shiso(Perilla) I got a lot of shiso from my garden.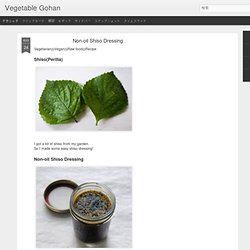 So I made some easy shiso dressing! Non-oil Shiso Dressing. Creamy Tofu Dill Dip. Vegetarian◎Vegan◎Raw food◎Recipe Creamy Tofu Dill Dip Ingredients 1/3 soft tofu 2 tsp vinegar 1 tsp dill seed.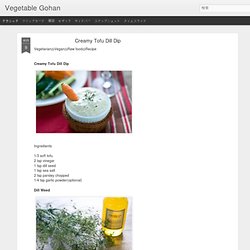 Hot Spinach and Artichoke Dip. It seems that I may be a little addicted to hot cheesy dips.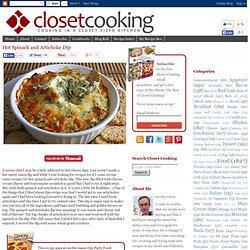 Last week I made a hot sweet onion dip and while I was looking for recipes for it I came across some recipes for hot spinach and artichoke dip. This new dip filled with cheese, cream cheese and mayonnaise sounded so good that I had to try it right away. But, with both spinach and artichokes in it, it is just a little bit healthier. ;) One of the things that I liked about this recipe was that I would get to use artichokes again and I had been looking forward to doing so.
Creamiest Homemade Hummus…Ever. August 24, 2011 at 3:32 pm After making a huge batch of homemade hummus yesterday, I can boldly make that statement.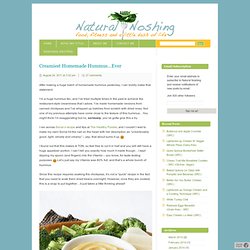 I'm a huge hummus fan, and I've tried multiple times in the past to achieve the restaurant-style creaminess that I adore. I've made homemade versions from canned chickpeas and I've whipped up batches from scratch with dried ones. Not one of my previous attempts have come close to the texture of this hummus…You might think I'm exaggerating but no, seriously, you've gotta give this a try. Jalapeno Popper Spread Recipe.
---