Traducteurs Anglais-Français
Anglais - académie pédagogie
European dictionary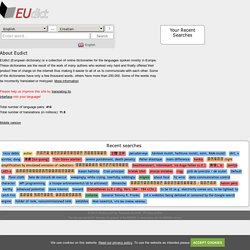 About EUdict EUdict is a collection of online dictionaries for the languages spoken mostly in the European Community. These dictionaries are the result of the work of many authors who worked very hard and finally offered their product free of charge on the internet thus making it easier to all of us to communicate with each other. For more information about the authors see Credits. Some of the dictionaries have only a few thousand words, others have more than 250,000. There are 408 language pairs and over 11.2 million translations in total.
LEXILOGOS
Contenu de sensagent définitionssynonymesantonymesencyclopédie dictionnaire et traducteur pour sites web Alexandria Une fenêtre (pop-into) d'information (contenu principal de Sensagent) est invoquée un double-clic sur n'importe quel mot de votre page web.
exciper : définition de exciper et synonyme de exciper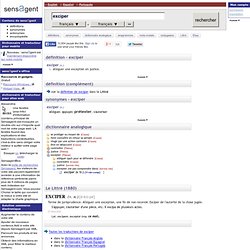 slovnik.cz - Multilingual Dictionary
Reverso
Dictionnaire anglais
Google trad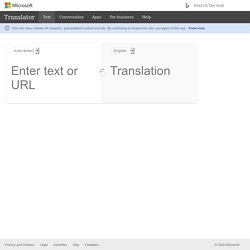 Bing Translator
Convert Romanized Arabic text to Arabic script in most websites and Windows applications. Use the Microsoft Translator webpage widget to deliver your site in the visitor's language. The visitor never leaves your site, and the widget seamlessly translates each page as they navigate.
Yahoo! Babel Fish - Traduction en ligne : français, anglais, espagnol, italien, allemand, etc.
WorldLingo
PROMT
Systran
SYSTRANet est le meilleur service de traduction en ligne gratuit disponible sur le Web. Développé par SYSTRAN, le leader mondial des logiciels de traduction automatique, il vous permet d'accéder en temps réel et dans votre langue à n'importe quelle information en langue étrangère. Traduire des textes courts jusqu'à 1 000 mots. Traduire des pages Web. Rechercher les traductions des mots et des expressions dans le Larousse et dans les dictionnaires spécialisés SYSTRAN. Recevoir les flux RSS étrangers dans votre langue maternelle.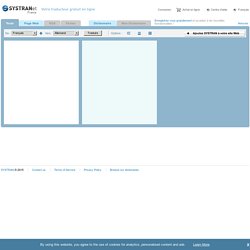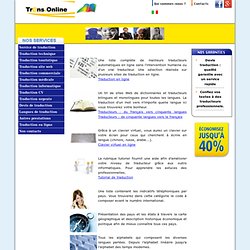 Translateonline
Une liste complète de meilleurs traducteurs automatiques en ligne sans l'intervention humaine ou d'un vrai traducteur. Une sélection réalisée sur plusieurs sites de traduction en ligne. Traduction en ligne Un tri de sites Web de dictionnaires et traducteurs bilingues et monolingues pour toutes les langues. La traduction d'un mot vers n'importe quelle langue ici vous trouverez votre bonheur. Traducteurs : du français vers cinquante langues Traducteurs : de cinquante langues vers le français
Traduction : dictionnaire français-anglais dictionnaire anglais-français
Dictionary
Jollo
Visual dictionary