Image & Video
Future Noir: Turning down the block and ducking into a futuristic newsstand revealed the most humorous touches of layering, for it was here that this author immediately noticed that a number of faux twenty-first-century magazines had been stuffed into racks mounted on the newsstand's walls, and that many of them sported decidedly tongue-in-cheek covers. These publications had been designed by BR art department member Tom Southwell.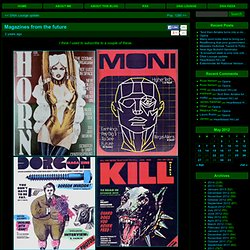 Magazines from the future
Dinosaurs Attack! Trading Cards, 1988
Neil Postman on Cyberspace, 1995
Science Fiction: Archive
UFO Flying Saucers And Outer Space (1968 - 77)
I don't know why "futurists" dress people up in tight super-hero type costumes. However this illustration from 1979 is rather prescient of the track suit fashion statement that bloomed in the 1980s and still hasn't died out completely. Sure track suits were not as tight and generally not worn stuffed into white boots but otherwise down to the colors and leg stripe it is fairly spot on.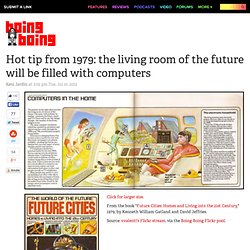 Hot tip from 1979: the living room of the future will be filled with computers
The Singularity is Sexy: The Loveliest Robot and Cyborg Art [NSFW]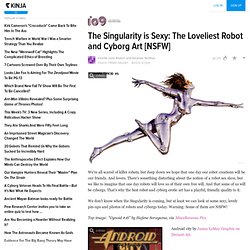 Now, I will say that very early on, female activism (not feminism) was certainly necessary in order to provide women with such privileges as being able to vote, own property, attend university, attain higher ranking jobs, and so on. Female activism was a force for good in seeking equality.
the MIT Science Fiction Society
Fragile Machine
Gallery | Science Fiction Illustrator | Peter Elson
Isaac Asimov on Bill Moyers World of Ideas pt 1
#1 - A lot of this concept art is reproduced in "The Book of ALIEN" (Scanlon / Gross)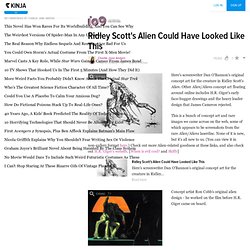 Ridley Scott's Alien Could Have Looked Like This
Network Awesome - Doc - CYBERPUNK (1990)
Kim Jong-il is dead. Here's his monster movie.
Cyberpunk Documentary - 1/5
Old neuromancer film promo
The Agrippa Files » Still Shots from Re:Agrippa Video Based on Dec. 9, 1992 'Transmission' of Agrippa (1993)
Appearances Syd Mead "Future (Perfect)" Exhibit at New York's Bravin-Lee Gallery through June 30th Syd Mead's Future (Perfect)" is currently being exhibited at the Bravenlee gallery in New York City through June 30th. Learn more » Appearances "Imagining The Future" – Breakthrough Radio Interview Syd was interviewed for the Art Imagined segment on Breakthrough Radio.