Image & Video
Blade Runner Screen Used Prop Collection
Future Noir: Turning down the block and ducking into a futuristic newsstand revealed the most humorous touches of layering, for it was here that this author immediately noticed that a number of faux twenty-first-century magazines had been stuffed into racks mounted on the newsstand's walls, and that many of them sported decidedly tongue-in-cheek covers.These publications had been designed by BR art department member Tom Southwell. Periodicals of note include Krotch (going for $29 a copy!)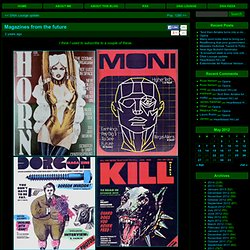 Magazines from the future
Dinosaurs Attack! Trading Cards, 1988
Neil Postman on Cyberspace, 1995
Science Fiction: Archive
UFO Flying Saucers And Outer Space (1968 - 77)
Hot tip from 1979: the living room of the future will be filled with computers
The Singularity is Sexy: The Loveliest Robot and Cyborg Art [NSFW]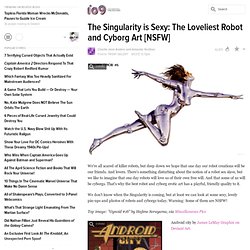 Charlie Jane, it wasn't my work — if it was, Gawker Media would have heard from my Copyright/IP counsel. I know the artist whose work your staff appropriated solely by reputation, but I did contact him, to let him know that it was posted to io9 and enquire as to whether or not you had his permission, since the page you linked to will provide no indication to him that his work was being "featured." Being short on time doesn't really fly as an excuse for not obtaining permission or license to reproduce someone else's work, especially when the work is copied, wholesale, and is no longer under the control of the author.
the MIT Science Fiction Society
Fragile Machine
Gallery | Science Fiction Illustrator | Peter Elson
Isaac Asimov on Bill Moyers World of Ideas pt 1
Network Awesome - Doc - CYBERPUNK (1990)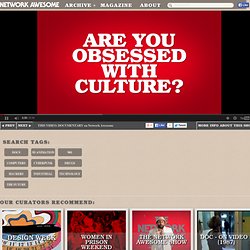 A must-see. Marianne Trench's campy, kinetic documentary about the cyberpunk phenomenon blends practical technological and medical hacks with philosophical forward-thinking about the often-cybernetically expanded boundaries of our humanness. Learned commentary by luminaries like William Gibson and Timothy Leary is augmented by interviews with actual hackers and anonymous computer criminals, creating a composite essay about our increasingly internet-dependent experience that is as important today as it was in 1990 when the film was created.
Kim Jong-il is dead. Here's his monster movie.
Cyberpunk Documentary - 1/5
Old neuromancer film promo
The Agrippa Files » Still Shots from Re:Agrippa Video Based on Dec. 9, 1992 'Transmission' of Agrippa (1993)
Appearances Syd Mead "Future (Perfect)" Exhibit at New York's Bravin-Lee Gallery through June 30th Syd Mead's Future (Perfect)" is currently being exhibited at the Bravenlee gallery in New York City through June 30th. Learn more » Appearances "Imagining The Future" – Breakthrough Radio Interview Syd was interviewed for the Art Imagined segment on Breakthrough Radio.