Documentaries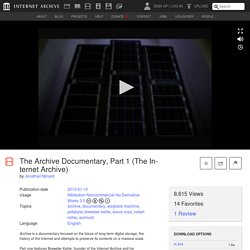 The Archive Documentary, Part 1 (The Internet Archive) : Jonathan Minard
<div style="padding:5px; font-size:80%; width:300px; background-color:white; margin-left:auto; margin-right:auto; border:1px dashed gray;"> Internet Archive's<!--'--> in-browser video player requires JavaScript to be enabled. It appears your browser does not have it turned on. Please see your browser settings for this feature.
Pageant of Birmingham - 1938
British WWII propaganda movies to view and download
The British Council has posted a fabulous trove of CC-licensed, downloadable "cultural propaganda" videos commissioned during WWII to "refute the idea that ours was a country stuck in the past."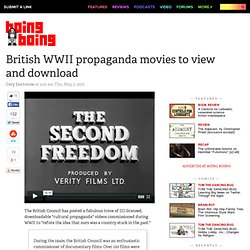 Philip.K. Dick - "Arena" 1/6
80 Blocks From Tiffany's (Full Unedited Version)
BBC Synth Britannia
In Search of Moebius - Jean Giraud clip1/3 - Video Dailymotion
H.R. Giger - Giger's Necronomicon and the making of Alien
Metal: A Headbanger's Journey
No Maps for these territories part 1/10
The Mike Wallace Interview featuring Rod Serling (1959)
Adam Curtis - All Watched Over by Machines of Loving Grace 1/3 - Love and Power Subs Español Spanish on Vimeo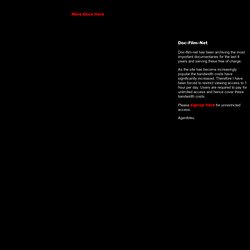 Documentary Film Video The Cost of a Coke
Doc-film-net has been archiving the most important documentaries for the last 4 years and serving these free of charge.
Ecstasy of Order: The Tetris Masters Full Trailer on Vimeo
Alejandro Jodorowsky's never-made adaptation of Dune is getting a documentary
While we're on the topic of Dalí, news has come out of the Cannes Festival that director Frank Pavich is making a documentary titled Jodorowsky's Dune that delves into the history of Alejandro Jodorowsky's doomed adaptation of Frank Herbert's novel.
Watch Salvador Dalí's fake documentary about the quest for hallucinogenic mushrooms