Documentaries
Microworld: 1980 microchip documentary with Shatner. The Archive Documentary, Part 1 (The Internet Archive) : Jonathan Minard. <div style="padding:5px; font-size:80%; width:300px; background-color:white; margin-left:auto; margin-right:auto; border:1px dashed gray;"> Internet Archive's<!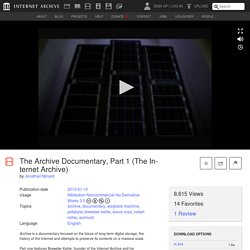 --'--> in-browser video player requires JavaScript to be enabled. It appears your browser does not have it turned on. Please see your browser settings for this feature. Pageant of Birmingham - 1938. British WWII propaganda movies to view and download. The British Council has posted a fabulous trove of CC-licensed, downloadable "cultural propaganda" videos commissioned during WWII to "refute the idea that ours was a country stuck in the past.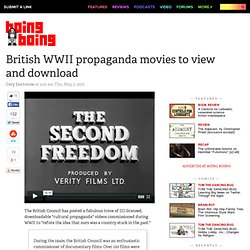 " During the 1940s, the British Council was an enthusiastic commissioner of documentary films. Over 120 films were produced as 'cultural propaganda' to counteract anything the Nazis might throw out and to refute the idea that ours was a country stuck in the past. These films were designed to showcase Britain to the rest of the world, at a time when Britain itself was under attack. Philip.K. Dick - "Arena" 1/6. 80 Blocks From Tiffany's (Full Unedited Version) BBC Synth Britannia. In Search of Moebius - Jean Giraud clip1/3. H.R. Giger - Giger's Necronomicon and the making of Alien. Metal: A Headbanger's Journey. Videoteca de humanidades. No Maps for these territories part 1/10. Everything is a Remix Part 1. The Mike Wallace Interview featuring Rod Serling (1959) Adam Curtis - All Watched Over by Machines of Loving Grace 1/3 - Love and Power Subs Español Spanish.
Documentary Film Video The Cost of a Coke. Doc-film-net has been archiving the most important documentaries for the last 4 years and serving these free of charge.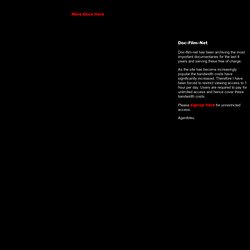 As the site has become increasingly popular the bandwidth costs have significantly increased. Therefore I have been forced to restrict viewing access to 1 hour per day. Users are required to pay for unlimited access and hence cover these bandwidth costs. Please signup here for unrestricted access. Ecstasy of Order: The Tetris Masters Full Trailer. Alejandro Jodorowsky's never-made adaptation of Dune is getting a documentary. See, on the one hand, part of me agrees with you unreservedly.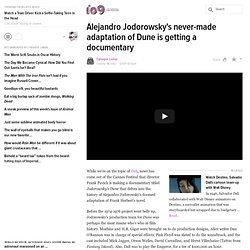 But on the other hand...Well, look at something like the Trueman Show. Owes a MASSIVE debt to the work of Phillip K Dick, particularly Time Out of Joint, but at no point does the movie have to acknowlege this, because it's an 'original' work. Then look at Watchmen, which gained nothing from it's slavish devotion to translating the comic to the screen panel for panel. I'm not saying there isn't a sucessful middle ground, but if Jodorowsky had managed to make a great movie inspired by, rather than directly adapted from Dune, then at least frank Hernbert would've got the credit he deserved for originating the basis, and we would've got what was basically an original movie anyway.
Plus, no movie adaptation causes the book to cease to exist, or to become any less a great book than it always has been. Watch Salvador Dalí's fake documentary about the quest for hallucinogenic mushrooms.
---