Documentaries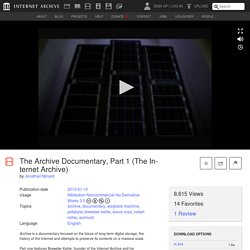 The Archive Documentary, Part 1 (The Internet Archive) : Jonathan Minard
<div style="padding:5px; font-size:80%; width:300px; background-color:white; margin-left:auto; margin-right:auto; border:1px dashed gray;"> Internet Archive's<!--'--> in-browser video player requires JavaScript to be enabled. It appears your browser does not have it turned on. Please see your browser settings for this feature.
Pageant of Birmingham - 1938
British WWII propaganda movies to view and download
The British Council has posted a fabulous trove of CC-licensed, downloadable "cultural propaganda" videos commissioned during WWII to "refute the idea that ours was a country stuck in the past." During the 1940s, the British Council was an enthusiastic commissioner of documentary films. Over 120 films were produced as 'cultural propaganda' to counteract anything the Nazis might throw out and to refute the idea that ours was a country stuck in the past. These films were designed to showcase Britain to the rest of the world, at a time when Britain itself was under attack.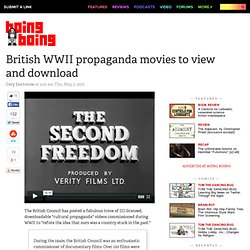 Philip.K. Dick - "Arena" 1/6
80 Blocks From Tiffany's (Full Unedited Version)
BBC Synth Britannia
In Search of Moebius - Jean Giraud clip1/3 - Video Dailymotion
H.R. Giger - Giger's Necronomicon and the making of Alien
Metal: A Headbanger's Journey
"Las novelas tienen un único tema, que es el tema del Quijote... la realidad y la ilusión de un cambio, que es lo que mueve a los personajes; trátese de asesinar a un profesor de literatura o de medrar socialmente. En realidad, creo yo... el único tema de la novela es el contraste entre realidad y sueño -y deseo- que es lo que pone en marcha todas las acciones". "[Un clásico] es un libro que sigue vendiéndose en el mercado después de ser novedad". Francisco Rico. En el presente capítulo de "Nostromo", Ignacio Vidal-Folch entrevista a Francisco Rico, filólogo español conocido, entre otras obras, por sus ediciones de Don Quijote de la Mancha, del Lazarillo de Tormes, y de la Historia y crítica de la literatura española.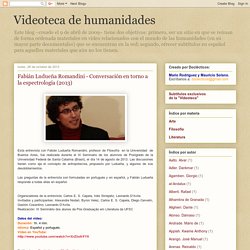 No Maps for these territories part 1/10
The Mike Wallace Interview featuring Rod Serling (1959)
Adam Curtis - All Watched Over by Machines of Loving Grace 1/3 - Love and Power Subs Español Spanish on Vimeo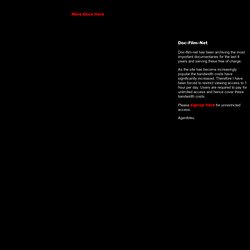 Documentary Film Video The Cost of a Coke
Doc-film-net has been archiving the most important documentaries for the last 4 years and serving these free of charge. As the site has become increasingly popular the bandwidth costs have significantly increased. Therefore I have been forced to restrict viewing access to 1 hour per day. Users are required to pay for unlimited access and hence cover these bandwidth costs. Please signup here for unrestricted access.
Ecstasy of Order: The Tetris Masters Full Trailer on Vimeo
Alejandro Jodorowsky's never-made adaptation of Dune is getting a documentary
While we're on the topic of Dalí, news has come out of the Cannes Festival that director Frank Pavich is making a documentary titled Jodorowsky's Dune that delves into the history of Alejandro Jodorowsky's doomed adaptation of Frank Herbert's novel. Before the 1974-1976 project went belly up, Jodorowsky's production team for Dune was perhaps the most insane who's who in film history. Moebius and H.R. Giger were brought on to do production designs, Alien writer Dan O'Bannon was in charge of special effects, Pink Floyd was slated to do the soundtrack, and the cast included Mick Jagger, Orson Welles, David Carradine, and Hervé Villechaize (Tattoo from Fantasy Island).
Watch Salvador Dalí's fake documentary about the quest for hallucinogenic mushrooms