Letterpress^_^
Calligraphy - Have a fantastic day
Love, Jenna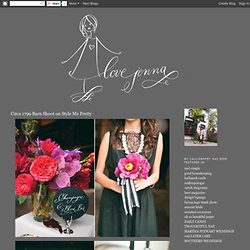 so, have you heard? most of the Royal Wedding Invitations went out by fax....GASP! in a professional calligrapher's opinion, that's just plain unacceptable. well, this is what Kate and Will would've sent out had they hired me: metallic silver ink on luscious Royal Blue paper (to match the famous ring, of course) and tied into an old-fashioned scroll with silver ribbon, topped with a diamond encrusted crown. you may be wondering why i'd even bother to create their fictitious invite. for all of you Stephen Colbert fans, you may remember he put out a call for entries for an invitation to the Royal Nuptials a few months ago. my witty, copywriter husband and i took his request very seriously. he wrote the copy and i "wrote" the invite. i even hand delivered it to the Colbert Report's post office box in new york city. we're a little sad it never aired, but happy to share it with you in time for the big day!
After you have had a chance to review the first set of proofs we send over, you can email us with any edits or changes that you would like to see. We are happy to send as many updated proofs, incorporating each round of edits, as needed until you are head over heels in love with your suite. Please make sure you review your proofs carefully before confirming a final version. After approval of a final proof and you are ready to print we will send along an itemized invoice for your total balance and payment instructions. We accept payment by credit card, online e-check or personal check. Once we have final proof approval and full payment for your order, we are ready to send your order into production!
| Aerialist Press - Affordable Letterpress Wedding Invitations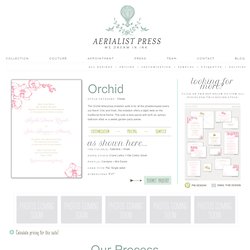 Country Chic Wedding Invitation : Kxo Design | Custom Wedding Invitations, Modern Wedding Invitations, Custom Stationery
Letterpress Business Card Pricing | Parklife Press
We Heart Paper - The Collection: Copley
Custom and Unique Letterpress Wedding Invitations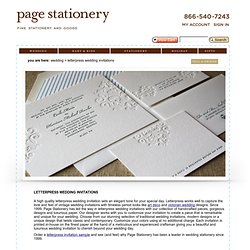 Thanks so much for offering the wedding invitation giveaway! I am so pleased how the invitations came out- the paper is great and the letterpress looks wonderful, and I love that you were able to work with our graphic. Thank you for enabling us to add this great detail to our wedding. Kate On behalf of everyone...thank you so very much for your dedication and attention to our order. Because of your willingness to be flexible and accommodating to both us and our customer, the order was a complete success!
Letterpress Wedding Invitations | Letterpress Invitations - Wedding
Letterpress Wedding Invitations, Business Cards, and More | Parklife Press
Wedding Invitation Designers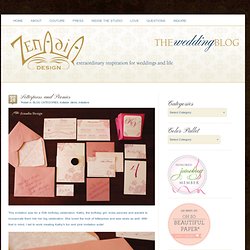 This invitation was for a 50th birthday celebration. Kathy, the birthday girl, loves peonies and wanted to incorporate them into her big celebration. She loved the look of letterpress and wax seals as well. With that in mind, I set to work creating Kathy's fun and pink invitation suite!
Letterpress and Peonies - Zenadia Design
calligraphy blog » Watercolor-patterned place cards
Letterpress Wedding Invitations, Stationery, & Paper Goods - Parrott Design Studio
Little Paper Planes - An online store bringing together a community of artists
SERVING NATIONWIDE and INTERNATIONAL! Wow your guests with the exquisite art of hand lettering! Calligraphy by Jennifer specializes in modern, traditional, whimsical and ornate styles suitable for every occasion.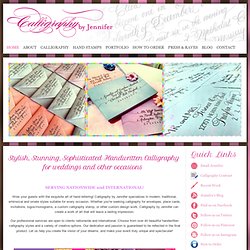 Calligraphy By Jennifer - Nationwide Wedding Calligraphy Service
At Hennessy, each barrel is numbered to take its place in history. This video shows this unique process, based on confident, precise strokes of the chalk. It's looks like viral video advertising of Hennessy for calligraphers. ) Continue reading Graphic designer, calligraphy and lettering artist from Ukraine. Alexander's portfolio on behance.net/kinessisk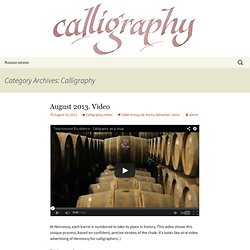 calligraphy blog » Calligraphy
Calligraphy - Have a fantastic day
#ffeae3 #f7d2b9 #d1c76b #8c7963 #524b59
Search
"Vintage Calligraphy" Save the Date Stamp - Antiquaria
Want a unique and custom save the date? We have the perfect thing for those that want a DIY printing option that's affordable and versatile, a custom stamp! Your save the date information will be hand lettered just for you and made into an acrylic mounted stamp. Acetate is used for the stamp to give you the cleanest and most precise stamped image every time. Stamp is (4"x3.5"). One proof will be sent to you via email for spell checking prior to the stamp being made.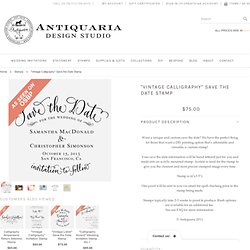 Antiquaria
By the time most couples get around to finalizing their wedding program, they've waited until the last minute. They're also desperately trying to stay within their budget since the big day is right around the corner. But making your own ceremony programs at home doesn't have to yield ho-hum results! In our tutorial today, we'll show you an adorable way to make custom programs every guest is sure to love. – Bailey and Emma of Antiquaria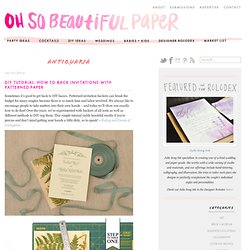 Ladyfingers Letterpress
creates one-of-a-kind custom invitations designed exclusively for you! As designers, artists and craftspeople, we bring our trained expertise, visionary approach and our creative passion into every project. We love to explore vibrant color, quality materials and the variety of ways that you can say "Hey, there's this really big beautiful amazing thing that's about to happen and we want you to share it with us!"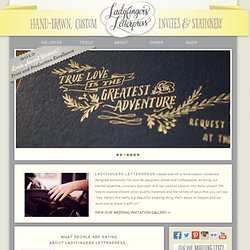 Lindsay Letters - Welcome
Letterpress
Looks like good Designer Cards by Ross Moody
Things That Stick
HAMMERPRESS
Felt & Wire Shop: Random Pattern Tags Punch Tie Clip Scrap from Paper, Ink & Earth
On December 31, 2012 Felt & Wire Shop, the curated marketplace, came to a close. The decision to close the site was difficult, but we hope to continue to work with you under the Mohawk umbrella. Here are a few ways we'd like to support you. FeltandWire.com Felt & Wire blog continues as usual – covering the latest design news, book reviews, studio tours and impressions from the paper obsessed. Mohawk Featured Projects View our collection of real world projects – all on Mohawk papers. Take a look at Kate Spade Supercalifragilipstick packaging, a fiddle playing cow from Milton Glaser and posters celebrating design greats Paula Scher and Stefan Sagmeister.
Well Hello There. We provide both Design Services and Letterpress Printing with a distinctively tactile presence. Right after a second cup of coffee, our daily mission is to create premier work featuring best-in-class print design, letterpress printing and specialty finishing methods. Since our shop was born over a decade ago (starting with a single press in a home basement set between the boiler and the litter box), we've acquired over a dozen well-oiled vintage presses and are staffed with hardworking people dedicated to the craft of exceptional print production.
Grain & Gram and Mama's Sauce
It is called a "gentleman's journal" so naturally, "Monsieur" Bandit is interested… Grain & Gram is new. Very new.
Paisley Quill
Felt & Wire Shop: tartan checked blue masking tape from TOP HAT
a [ m a s ] b
Felt & Wire Shop: Holiday Music Tags from Wildhorse Press
Jardín de Matatena Letterpress México
Oh So Beautiful Paper