Volunteers
Host Locations in Spain. Ibiza, Spain - Encuentra familias y organizaciones para ser voluntario, por un año sabático, viaja y trabaja. Medicinal plants in Spain. Description Living in a little (16.000 persons living) town, Balaguer, 150km. far from Barcelona, in an apartment in the town.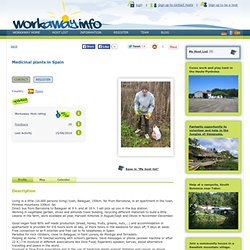 Pirinees mountains 100km. far. Direct bus from Barcelona to Balaguer at 9 h. and at 16 h. I will pick up you in the bus station. Working in vegetable garden, olives and almonds trees building, recycling different materials to build a little cabane in the farm, work available all year, Harvest Almonds in August/Sept and Olives in November-December. What are the costs? - Lattitude Global Volunteering. At Lattitude we pride ourselves on our professionalism, international expertise, and above all the support we offer our volunteers and their parents.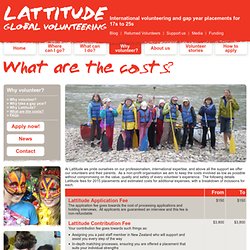 As a non-profit organisation we aim to keep the costs involved as low as possible without compromising on the value, quality and safety of every volunteer's experience. The following details Lattitude fees for 2015 placements and estimated costs for additional expenses, with a breakdown of inclusions for each. Other costs associated with your time away may include purchasing a passport, medical vaccinations and personal travel before, during or after your placement. Volunteers Overseas from all walks of life with Openmind Projects abroad. Local expertise: Our local presence and experience in mainland Southeast Asia means we understand how to live, work and volunteer successfully in the region.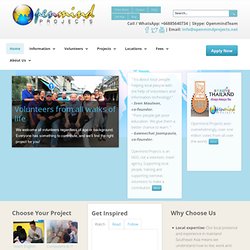 Low cost volunteering abroad: We don't spend money on high administrative and other overseas costs and therefore can offer affordable fees. More than 60 projects to choose from: We offer a range of project choices in Thailand, Laos, Cambodia and Nepal, most with flexible timescales. You can combine projects and locations if you wish. Training and support: Our popular intensive three day training will ensure a quality experience for you and your project. How can I volunteer abroad with Openmind Projects?
Volunteering Handbooks
International Volunteering Opportunities with Communities in Need. Global Volunteer Network. Workaway.info the site for free work exchange. Gap year volunteer for food and accommodation whilst travelling abroad. Green Heart. Help Exchange: free volunteer work exchange abroad Australia New Zealand Canada Europe.
---