Working with thoughts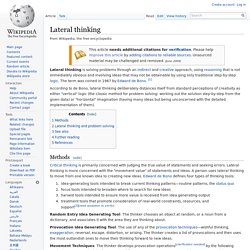 Lateral thinking is solving problems through an indirect and creative approach, using reasoning that is not immediately obvious and involving ideas that may not be obtainable by using only traditional step-by-step logic. The term was coined in 1967 by Edward de Bono. According to de Bono, lateral thinking deliberately distances itself from standard perceptions of creativity as either "vertical" logic (the classic method for problem solving: working out the solution step-by-step from the given data) or "horizontal" imagination (having a thousand ideas but being unconcerned with the detailed implementation of them). Methods[edit]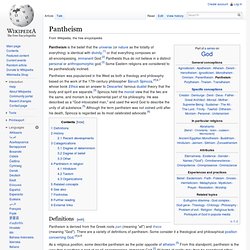 Pantheism is the belief that the universe (or nature as the totality of everything) is identical with divinity,[1] or that everything composes an all-encompassing, immanent God.[2] Pantheists thus do not believe in a distinct personal or anthropomorphic god.[3] Some Eastern religions are considered to be pantheistically inclined. Definitions[edit] Pantheism is derived from the Greek roots pan (meaning "all") and theos (meaning "God").
Cynicism
Parrhesia
In rhetoric, parrhesia is a figure of speech described as: to speak candidly or to ask forgiveness for so speaking.[1] The term is borrowed from the Greek παρρησία (πᾶν "all" + ῥῆσις / ῥῆμα "utterance, speech") meaning literally "to speak everything" and by extension "to speak freely," "to speak boldly," or "boldness." It implies not only freedom of speech, but the obligation to speak the truth for the common good, even at personal risk. An example of this is the quote "I have nothing to offer but blood, toil, tears and sweat" by Winston Churchill.[2]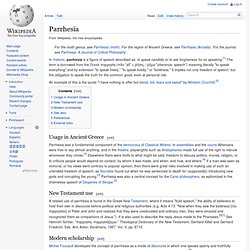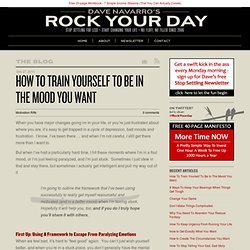 Dec 27, 2010 When you have major changes going on in your life, or you're just frustrated about where you are, it's easy to get trapped in a cycle of depression, bad moods and frustration. I know, I've been there … and when I'm not careful, I still get there more than I want to.