MEDIA
SoundCloud - Your Sound, At The Heart. Online radio | Listen to free music at AUPEO! TuneIn: Listen to Online Radio, Music and Talk Stations. Musicovery. Stereomood – emotional internet radio - music for my mood and activities. Moodstream™ by Getty Images.
YouTube Downloader. Stop Watch - 1.5.2 A Free online stopwatch, quick easy to use stopwatch!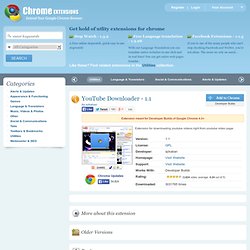 Free Language translation - 1.3.96 With our Language Translation you can translate entire websites in one click and in real time! You can get entire web pages translat.. Facebook Extensions - 1.1.5. Chop YouTube Videos. A way to link to a specific part of a youtube video.
Create new tape.
---