Vegan Tasty
Vegan Dairy-Free Yogurt Starter | Soy Milk Yogurt Starter | Rice Milk Yogurt Starter. Zesty Fennel Tart | Made Just Right by Earth Balance. Posted May 24, 2013 by Gwendolyn Mathers Posted in : Cuisines : Prep Time : 5 min Cook Time : 25 min Yields: 6 Ingredients 1-2 fresh fennel bulbs, cut into ¼-inch thick slices1 package vegan puff pastry1/3 cup dried cranberries, diced1 tablespoon lemon zest olive oil salt and pepper to taste1/4 cup Earth Balance® MindfulMayo® Dressing and Sandwich Spread2 tablespoons Earth Balance® Original Natural Buttery Spread2 tablespoons nutritional yeast1 teaspoon garlic powder1/2 teaspoon mustard1/2 teaspoon miso paste or sea salt.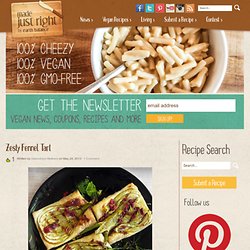 1 Hour Vegan Pot Pies. Delicious, flaky, veggie-packed vegan pot pies in less than 1 hour.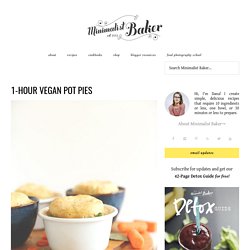 That's all you need to know. OK, maybe that's not ALL you need to know. I can't talk that little – you know that much by now. My Vegan Pantry. One of the requests I receive often is to write a post on building a vegan pantry, providing a list of the ingredients that I use the most.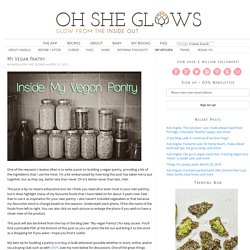 I'm a bit embarrassed by how long this post has taken me to put together, but as they say, better late than never. Or is it better never than late…heh. This post is by no means exhaustive (nor do I think you need all or even most in your own pantry), but it does highlight many of my favourite foods that I have relied on for about 3 years now.
Feel free to use it as inspiration for your own pantry.
Vegan Mushroom Potstickers. Whether you love potstickers as a vegan main course or as savory vegan snacks, these mushroom-plumped gyoza are delish and super easy to make.
You can even serve these tasty potstickers as vegan appetizers for your next vegan get-together. Vegan Mushroom Potstickers Makes 30 potstickers Ingredients: All Vegan Recipes | Yummy Plants. Vegan and Gluten-Free Polenta and Beans. Salads and brown-rice pasta aren't the only ways to enjoy a quick dinner when you're eating a vegan and gluten-free diet.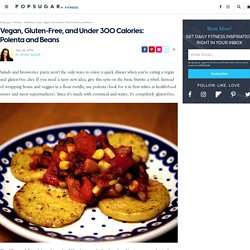 If you need a tasty new idea, give this spin on the basic burrito a whirl. Instead of wrapping beans and veggies in a flour tortilla, use polenta (look for it in firm tubes at health-food stores and most supermarkets). Since it's made with cornmeal and water, it's completely gluten-free. Asian Greens and Mangoes. I very rarely buy those packages of mixed salad greens--all too often I've opened them to find that roughly half the contents are what I call "pre-compost.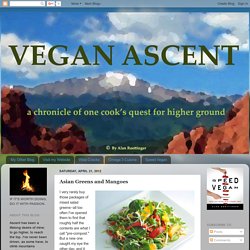 " But a new one caught my eye the other day, and it looked super-fresh, so I gave it a shot. It was called " Five Happiness," by Organic Girl , and to say it did not disappoint would be a spectacular understatement. It must have just come off the truck, because every single leaf was resplendent and bursting with lifejuice (a neologism coined just now). I couldn't wait to make something that would do them justice. At the same market, I found some irresistibly ripe champagne mangoes, and this salad formed instantly in my head, which I would later dub "Asian Greens with Bean Sprouts, Red Pepper and Mango. " French Food for Vegans. First off, I must dispel a myth.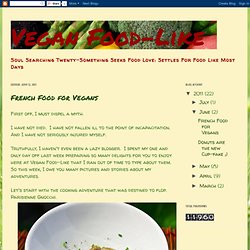 I have not died. I have not fallen ill to the point of incapacitation. And I have not seriously injured myself. Truthfully, I haven't even been a lazy blogger. I spent my one and only day off last week preparing so many delights for you to enjoy here at Vegan Food-Like that I ran out of time to type about them.
I like to party. And I love bringing food to parties.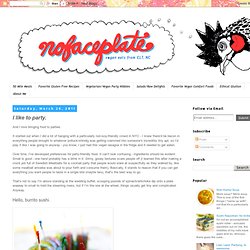 It started out when I did a lot of hanging with a particularly non-soy-friendly crowd in NYC - I knew there'd be bacon in everything people brought to whatever potluck/shindig was getting crammed into someone's incredibly tiny apt, so I'd play it like I was going to anyway - you know, I just had this vegan lasagna in the fridge and it needed to get eaten. Over time, I've developed preferences for party-friendly food. Chef AJ's Healthy Kitchen. Vegies and Salad. Vegan Yack Attack | A vegan food blog that covers everything from indulgent desserts, to healthy dinners, and even raw recipes! There's something for everyone here! The Chia Co - Home.
Lentils. Chickpea. Vegans Respond to Controversy Over Veg Parenting. Media coverage of vegan parenting has ignited a debate about raising children on a plant-based diet.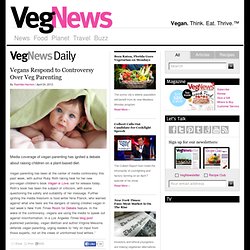 Vegan parenting has been at the center of media controversy this past week, with author Ruby Roth taking heat for her new pro-vegan children's book Vegan is Love, set for release today. Roth's book has been the subject of criticism, with some questioning the safety and suitability of her message. Further igniting the media firestorm is food writer Nina Planck, who warned against what she feels are the dangers of raising children vegan in last week's New York Times Room for Debate feature.
In the wake of the controversy, vegans are using the media to speak out against misinformation. PETA's Ultimate Vegan Baking "Cheat Sheet" We have mixed feelings about PETA's advertising, but we are definitely into their new "ultimate vegan baking cheat sheet."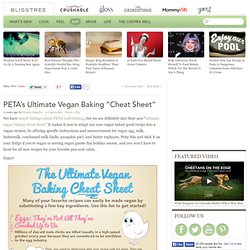 It makes it easy to adapt any non-vegan baked-good recipe into a vegan version, by offering specific instructions and measurements for vegan egg, milk, buttermilk, condensed milk (hello, pumpkin pie!) And butter replacers. Print this and stick it on your fridge if you're vegan or serving vegan guests this holiday season, and you won't have to hunt for all new recipes for your favorite pies and cakes.
Enjoy! The Vegan Stoner. Faux Foie Gras Challenge Winning Recipe. Foie gras, which is French for "fatty liver," is made from the enlarged livers of male ducks and geese. Many high-end restaurants have pulled this "delicacy of despair" off their menus for good. But just because gourmets choose to skip out on the cruelty doesn't mean that they want to miss out on traditional French food. In came PETA with the Fine Faux Foie Gras Challenge, which offered a $10,000 grand prize to the genius behind a vegan version of the decadent dish.
A judging panel chosen by PETA assessed the prepared recipes based on palatability as well as similarity in taste and texture to real foie gras, and they selected New York–based chef Amanda Cohen as the winner! So did we get it right? My New Roots. Almost Vegan. Clean Green Simple.
Sandwish Sauce and Wrap
Breakfast. Moroccan Mint Tea Recipe at Epicurious. The Fresh Network. Not on lettuce alone »Partnership kitchen: recipes Mushrooms. היום בשותפות למטבח נבחר חומר הגלם: פטריות! אז היו לנו מתכוני כרובית, אחר כך המשכנו עם חגיגת התותים ובדרך עצרנו לחגיגת ט"ו בשבט טבעונית. היום אנחנו עם הפטריות, על מיליון המינים והטעמים שלהן. Greenwheat Freekeh. Quiche aux épinards et à la farine d'orge. Cette quiche toute verte et toute végétale doit sa consistance fondante à un mélange de petits pois et de farine d'orge. L'amertume des épinards est contrastée par des tomates séchées, tandis que la pâte offre un léger sablé grâce à la présence de farine de riz. Ingrédients Pâte : 100 g de farine d'orge 60 g de farine de riz 20 g de farine de pois chiche 1 pincée de sel 3 cuillères à soupe d'huile d'olive 10 cl d'eau environ 1 poignée de graines de courge grossièrement hachées. Olives for Dinner: breakfast. This ricotta-stuffed french toast is a delicious, fabulous mess.
I had never even heard of stuffing french toast with ricotta until last week, when I stumbled across an amazing picture of it on foodgawker. It looked so savory and sinful and, since I know how to make my own homemade vegan ricotta, was something that I had to try out. While this could be covered in a plain syrup or a chocolate drizzle and taste just fine, I decided to make a salted butterscotch sauce for it. The deep, buttery tones of butterscotch finished with a sprinkle of coarse sea salt complimented the savory and rich quality of the ricotta-stuffed french toast perfectly. INGREDIENTSfor the ricotta cheese One can of full-fat, good-quality coconut milk 1/2 tsp coconut vinegar 1/2 TB sugar 2/3 tsp salt 1 tsp agar powder. Toasted Pumpkin Seeds: Three Ways Recipe.
Toasting pumpkin seeds is fun and easy - and a great way to get creative with your spice drawer. I've wrangled up a beautiful collection of quirky pumpkins and winter squash over the past week - white "ghost" pumpkins, blue Hokkaido, carnival and ambercup squash. Yesterday a few of them went under the knife and we enjoyed the delicious byproduct - a bounty of seeds ripe for toasting. I wanted to try some different flavor combinations this year and ended up with a triptych of flavors: Sweet & Spicy Pumpkin Seeds, Black Tea & Butter Pumpkin Seeds, and Curried Pumpkin Seeds. There are a couple of ways to go about toasting pumpkin seeds. I should mention, that in addition to the way I make them, there is also an extended cooking technique as well.
Support.pcrm.org/site/DocServer/sustitution_chart_PCRM__3.pdf?docID=1301&autologin=true&AddInterest=1401. 21-Day Vegan Kickstart / a Physicians Committee for Responsible Medicine (PCRM) site. 5 Easy Ways to Transition Your Diet. Kimberly Snyder's Official Glowing Green Smoothie (R) Recipe. Recipe and Meal-Planning Tips. Meatless monday: an ode to the apple | here | there | everywhere. שלושים בננות ליום - תזונת האדם - סקירה היסטורית. Ynet פסח טעים עם עוגת תפוחים - לאשה. Recipes | PLANTWARRIOR. VeganYumYum.
---