Arquitectura
Building good looking stone walls. Chauvet cave, France. Chauvet Pont d'Arc: (Palaeolithic Cave-art).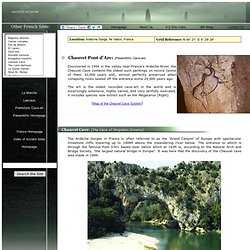 Discovered in 1994 in the valley near France's Ardeche River, the Chauvet Cave contains the oldest such paintings on record (some of them 32,000 years old), almost perfectly preserved when collapsing rocks sealed off the entrance some 25,000 years ago. The art is the oldest recorded cave-art in the world and is surprisingly extensive, highly varied, and very skilfully executed, it includes species now extinct such as the Megaceros (Right). (Map of the Chauvet Cave System) Core Glow pebbles for fun, colourful glow in the dark stones | Core Gravel. Eco-friendly pebble lighting that requires no electricity and no power.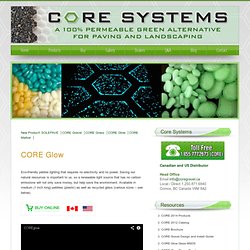 Saving our natural resources is important to us, so a renewable light source that has no carbon emissions will not only save money, but help save the environment. Available in medium (1 inch long) pebbles (plastic) as well as recycled glass (various sizes – see below). CIVILIZACIONES PERDIDAS = PRIMERA PARTE =APORTE DEL CIRCULO - Anundis.com :: Discapacidad :: Red Social. La India Ajanta antiguas construcciones En la India están localizadas las cuevas misteriosas de Ajanta unas antiguas construcciones que fueron descubiertas por un soldado ingles hace casi 200 años, el cual cartografiaba los montes Indhyadri.
Observando con sus prismáticos un pequeño río se percato de lo que parecía la entrada a unas cuevas que estaban practicamente tapadas por la vegetación, había descubierto las cuevas de Ajanta. El templo de Ajanta es uno de los primeros templos budistas y cuna de la cultura hindú de la India, de los cuales se tiene conocimiento, pero esconde algunos enigmas y misterios los cuales traen de cabeza arqueólogos e historiadores. Esta majestuosa obra esculpida en piedra volcánica y roca de basalto en la India tiene alrededor de 2000 años de antigüedad, en el que el templo mas antiguo de estas antiguas construcciones es del siglo II A.C. GVA - Arquitectura Integral. The 100 Largest Architecture Firms In the World. Building Design has released their annual ranking, The WA100, of the world's largest architecture firms.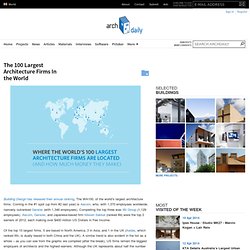 Coming in the #1 spot (up from #2 last year) is Aecom, who, with 1,370 employees worldwide, narrowly outranked Gensler (with 1,346 employees). Completing the top three was IBI Group (1,129 employees). The types of homes that dreams are made of (30 HQ Photos) : Villa SSK. Gothic Architecture Pictures. An Abandoned Country Estate in Yonkers – Rent Alder Manor For Film Shoots & Events. Note: I DO NOT KNOW ANYTHING ABOUT ALDER MANOR AND WEDDINGS!!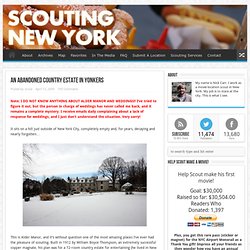 I've tried to figure it out, but the person in charge of weddings has never called me back, and it remains a complete mystery. I receive emails daily complaining about a lack of response for weddings, and I just don't understand the situation. Very sorry! It sits on a hill just outside of New York City, completely empty and, for years, decaying and nearly forgotten… House in Gerês by Correia Ragazzi Architects. Architects Graça Correia and Roberto Ragazzi designed this concrete house in Portugal.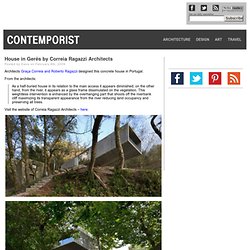 From the architects: As a half-buried house in its relation to the main access it appears diminished; on the other hand, from the river, it appears as a glass frame dissimulated on the vegetation. This weightless intervention is enhanced by the overhanging part that shoots off the riverbank cliff maximizing its transparent appearance from the river reducing land occupancy and preserving all trees. Visit the website of Correia Ragazzi Architects – here.
For The Love of Wood. Wood is both universal and unique.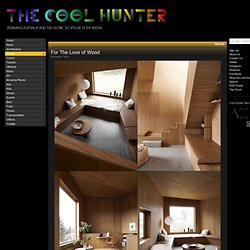 No other material is as deeply embedded in the history, culture and life of humans worldwide as wood, yet every single piece of wood is unique. The color tone, texture, durability, flexibility and even sound qualities of different tree species have puzzled and challenged artists, architects, designers, builders and artisans for thousands of years. Still today, nothing matches wood in versatility or beauty, so it is great to see how today's designers and architects continue to face the challenge of wood, and use it creatively to interpret sleek, modern designs. They use wood to meet their current needs and desires for which wood is ideally suited. People seek calm surroundings, simplicity and minimalism to soothe their frayed nerves and to counter the constant visual overload they face.
Dubai Architecture- The Burj al Alam, or The World Tower.
Upon completion it will rank as the world's highest hotel. It is expected to be finished by 2009. At 480 meters it will only be 28 meters shorter than the Taipei 101. James Kunstler: How bad architecture wrecked cities. The Best Couch Ideas For Your Home. Architectural Types - Styles - Historical Periods - The Great Buildings Collection. Haute Design by Sarah Klassen: Architecture: Andersson-Wise. Portfolio: Andersson-Wise / Part One: Stone Creek Camp I came across the work of this amazing studio a short while ago, and couldn't wait to share some of their projects.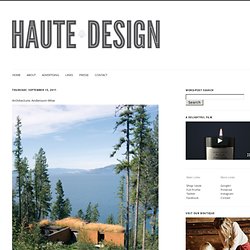 Thus, a brand new series has begun—starting with a well-planned, warm and woodsy lakeside home called Stone Creek Camp. Set into the sloping landscape in a very non-intrusive manner, this beautiful, remote, rustic and modern home welcomes with an intriguing entryway of stone and stacked wood pieces... Portable Whangapoua Beach Hut. Winter Home Roof Sloped for Snow Like an Avalanche Shed. Set near the snow-prone Sugar Bowl ski resort near Lake Tahoe, this house has to content with snow loads that come with nearly ten feet of pack at a time.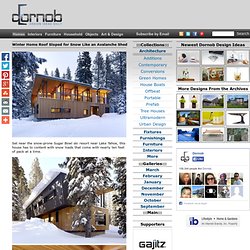 The resulting design is definitely modern, but it recalls railroad avalanche sheds of times passed with a roof tilt designed to shed excessive weight after heavy snows (depositing excess, in this case, behind the home so as not to endanger people entering or exiting or block key doors). The entire residence is raised up on a concrete plinth to keep it accessible even during deep-snowing winters. The cedar-enclosed first story is wrapped in bright warm wood, enclosing entry, boot, guest and children's rooms as well as support spaces. Amazing blue shipping container camera! Design Milk » Architecture. Element house / Sami Rintala. Architect: Sami Rintala Landscape Architects: Eedo Space Architectural Design, Seúl, Republic of Korea Location: Anyang Park, Anyang, Seúl, Republic of Korea Materials: Steel, Wood, Concrete, Gravel, Glass Construction: October-December 2005 Finish: January 2006 Constructed Area: 72sqm Client: Anyang City / Public Art Project Collaborators: John Roger Holte, Artist, Norway; Finnforest, WoodPhotography: Park Wan Soon, Emil Goh I received an interesting invitation last May.
In the Seoul metropolitan area there is a satellite city called Anyang, a small, in Korean context, suburban town with 700.000 inhabitants. GALICIACAD. Twisted Architecture. The Astounding Design Of Eixample, Barcelona. Architecture. 3 Story Contemporary Bachelor Pad in Los Angeles, California by Ben Bacal. 30 Best Room Pictures of the Week – June 02st to June 08th. Tangga House by Guz Architects. Natural Pools or Swimming Ponds. Almost Untouched Nature - Waterfall Restaurant, Philippines.
---