Crochet
Chain Maille Scarf – Free Crocheting Pattern « Glove Love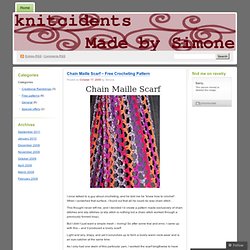 Posted on October 17, 2009 by Simone Chain Maille Scarf I once talked to a guy about crocheting, and he told me he "knew how to crochet".
Sunshine's Creations @Vintage Threads Inc.: crocodile stitch
This is a similar in concept, meaning three-dimensional of look, to the snow queen. It's not the same, but it's pretty cool anyway. It is in Portuguese, but I thought it was neat enough for you to see. If you know how to crochet the visuals should be enough for you to understand how to do this. I might have these in the wrong order; each one is roughly 10 mins., some are much shorter. She talks a lot; wish I understood her better because I am sure with that much talking I must be missing something.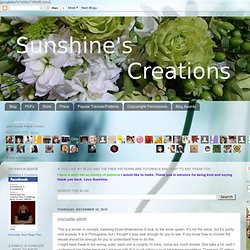 All 100 and 200 Series shows are available for viewing at this time. Episode 226 - Working with Fabric . Today Brett Bara is mixing things up and adding fabric to our Knit and Crochet creations to make a snazzy pillow and a totally cute tote bag..Air Date: 4/04/09 Episode 225 - Knit & Crochet Tutorial . .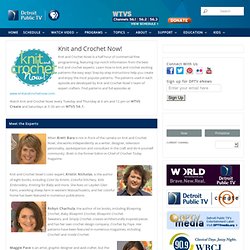 Detroit Public TV | On Demand. Knit & Crochet Today. Video Archive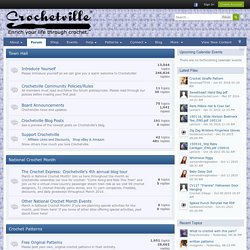 <div class='message error'><strong>Javascript Disabled Detected</strong><p>You currently have javascript disabled. Several functions may not work.
Our Yarns: Yarn for hand knitting and crochet -- wool yarn, mohair yarn, silk yarn, cotton yarn, easy-care synthetic yarn and more! Lion Brand Yarn
Meet the new baby. This is the Canon 7D. Swaddled in TFA Grape. Yes, I said swaddled. Because nothing says love like TFA yarn. No Patons cop-out for my camera!
Oh, yes I did. « The Blue Brick | Photography and Handcrafts by Shireen Nadir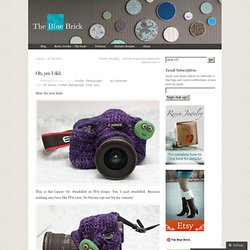 (Update: To see more of my patterns, please visit my ONLINE SHOP ! ) I've just finished making these slippers. Making crocheted slippers is my addiction.
Brown Slippers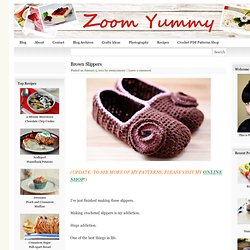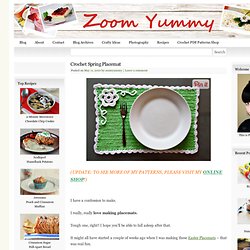 (Update: To see more of my patterns, please visit my ONLINE SHOP ! ) I have a confession to make.
Spring Placemat
Done. Finished. Here it is. Last time I showed you these squares. They were so much fun to make.
Granny Square Purse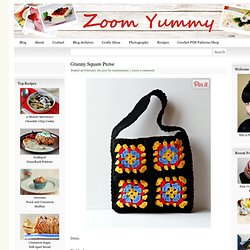 Fingerless Mittens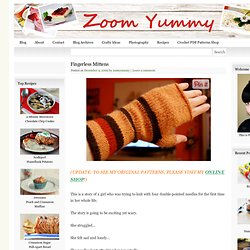 (Update: To see my original patterns, please visit my ONLINE SHOP ! ) This is a story of a girl who was trying to knit with four double-pointed needles for the first time in her whole life.
how to crochet a heart
Galerie de Attic24
This is my pattern/tutorial for a hanging Birdie Decoration. A completely useless object of course, but very cute all the same. It's an easy project to make, great for using up odds and ends of yarn and can be used in all sorts of ways to bring a little good cheer. This little birdie is made in four pieces :: a round flat circle for the body, a small triangle for the beak and 2 leafy shapes for the wings. There is also a hanging chain to make which you can decorate with flowers if you like, and the option of adding some dangly legs too.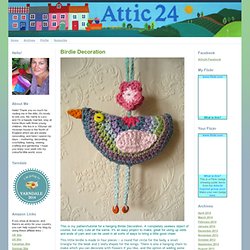 Granny Square Tutorials
As if I didn't have enough projects started around the house, I've embarked on a HUGE new endeavor– Learning how to make granny squares and creating a granny square blanket. I know– seems a little lofty for a such a novice like myself, but I'm really excited about it. Right now I'm practicing and I have to admit– I LOVE it. I'm playing around with two different styles of squares that seem pretty easy (I'm still learning how to read patterns) and different color combos. In the meantime, here are some fabulous granny square tutorials for you to check out and try!
Green and Tan Cloche Hat by minimeg on Etsy
Welcome to YouTube! The location filter shows you popular videos from the selected country or region on lists like Most Viewed and in search results.To change your location filter, please use the links in the footer at the bottom of the page. Click "OK" to accept this setting, or click "Cancel" to set your location filter to "Worldwide".
The Art of Crochet by Teresa - Crochet Shell Variation 4 - Blanket or Scarf
Art of Crochet by Teresa - Crochet Puff Stitch Hat
Welcome to YouTube! The location filter shows you popular videos from the selected country or region on lists like Most Viewed and in search results.To change your location filter, please use the links in the footer at the bottom of the page. Click "OK" to accept this setting, or click "Cancel" to set your location filter to "Worldwide". The location filter shows you popular videos from the selected country or region on lists like Most Viewed and in search results. To change your country filter, please use the links in the footer at the bottom of the page. About The Crochet Crowd
Chaîne de mikeyssmail