Women
Women Talk Too Much No, they don't. Rather, they don't in every situation. Social context and relative power determine who talks more, men or women. Janet Holmes sets the record straight and establishes the reasons for the lingering myth of female chattiness. (The research cited in this essay was first published in 1999.)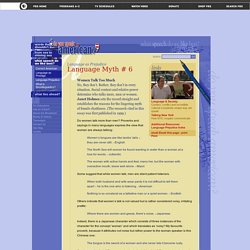 Do You Speak American . What Speech Do We Like Best? . Prejudice . Women
The Honest Courtesan
Dr. Aprile, a professor of physics at Columbia University, is searching for . Dr.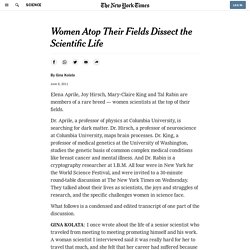 Women Atop Their Fields Discuss the Scientific Life
Sheryl Sandberg, Barnard Commencement 2011
Sheryl Sandberg Barnard Graduation Speech (May 2011)
Servane Mouazan , the founder of Ogunte, explains why she thinks female social entrepreneurs need to be encouraged Servane Mouazan: 'Women become involved in social enterprise because they care and want to make a difference.' Photograph: ogunte.com Social enterprise is a lifestyle rather than just a job.
Why I care about women and social enterprise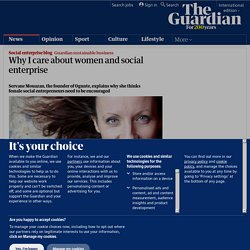 The SOFT HOUSE by KVA Matx in Germany. Making my selection of buildings this week led me to a surprising discovery about the representation of women in architecture. I started with a simple enough premise to select ten buildings by female architects off the top of my head. I was immediately picking out Zaha Hadid, Kazuyo Sejima and Gae Aulenti; I thought this selection would essentially pick itself. Instead, what I discovered was that finding female-designed architecture, when excluding husband/wife teams, is extremely difficult and often the only work I came across was more akin to interior design.
Top 10 Buildings: Women in Architecture | consulting4architects blog