Homestuck
feastings: its my own fault for not sayign it sooner butyoure free to use my pixels for whatever you want to, as long as youre not claiming them as your own and as long as youre not making any profit off of themive had a couple people ask me if its ok that they make/sell perler beads of htem, making them for yourself and for your friends is totally ok!! but if you see someone selling them at a con or something pls let them know that i dont want that tohappeni waited too long to say something about it bc i didnt think itd be an issue so im sorry i didnt make it clearer for everyone /)___y recently got a few messages about someone taking gaia commissions for pixel edits and stuff i dont mean to get all up in everynes face about it but looking over the stuff ive said in the past i guess i havent been very clear about this sort of thing and i apologize for any misunderstandings….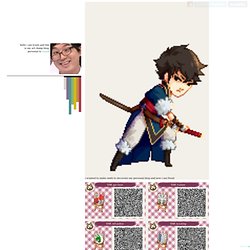 ★
PHAT BEAT MACHINE, Tags
introdoucing, 20104............ the NEWD YEAR Gigapause status: STILL GIGAPAUSED. It's almost over, right? Um, no, sorry. I still have no time estimate, or specific date I am shooting for. 4/13 would be the COOLEST date to shoot for, right?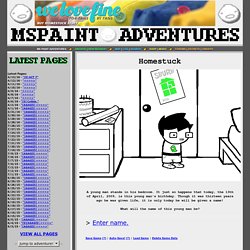 MSPA Forums
Topatoco
Homestuck Sheet Music
Well, I think you're kind of right DragonXVI, the chords SOUND like the ones you wrote...(oh wait, the G Major should be G dom7) but from a music theory standpoint, I definitely wouldn't call the third chord D# Major. If your working scale is C minor (aeolian), then the scale is: C D Eb F G Ab Bb C.So the chords are:C minor, Bb Major, Eb Major, - F Minor, Eb Major, Bb Major, G7 C minor, Bb Major, Eb Major, - F minor, G Major, C minor, -I mean, it COULD be called D#, but then the key is B# minor (ick!) and the OTHER chord names would also change to go along with it, like: B# Cx D# E# Fx G# A# B#.C minor and B# minor do sound the same (TECHNICALLY), but how gross does that look.
Welcome to MS Paint Adventures WikiThe wiki about MS Paint Adventures that anyone can edit.809 articles since December, 2008 Featured Article Cruxite is a crystalline substance found in Homestuck that comes in numerous different colors.
Template:Navbox Homestuck Characters - MS Paint Adventures Wiki - Adventures, characters, locations, and more
Images - MS Paint Adventures Wiki - Adventures, characters, locations, and more
Homestuck location images - MS Paint Adventures Wiki - Adventures, characters, locations, and more