Homestuck
feastings: its my own fault for not sayign it sooner butyoure free to use my pixels for whatever you want to, as long as youre not claiming them as your own and as long as youre not making any profit off of themive had a couple people ask me if its ok that they make/sell perler beads of htem, making them for yourself and for your friends is totally ok!! but if you see someone selling them at a con or something pls let them know that i dont want that tohappeni waited too long to say something about it bc i didnt think itd be an issue so im sorry i didnt make it clearer for everyone /)___y recently got a few messages about someone taking gaia commissions for pixel edits and stuff i dont mean to get all up in everynes face about it but looking over the stuff ive said in the past i guess i havent been very clear about this sort of thing and i apologize for any misunderstandings….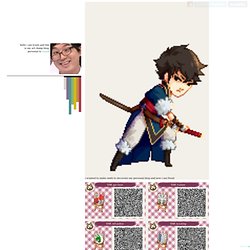 ★
PHAT BEAT MACHINE, Tags
Posted on 17 Oct 2013 by Andrew I've been thinking this over for the last few weeks, and I've decided now is the best time to suspend all regular updates until I've finished the story, rather than pausing just before I start on the final animation. When I'm done, I'll post it all at once. There are a lot of reasons why I think this is the best strategy. Primarily, it's about efficiency, and being able to work on the remaining (and likely the most difficult parts) of the story without distractions, or the added challenge of having to crank out the next serial update as fast as possible, which means I always have to stay totally linear with the work.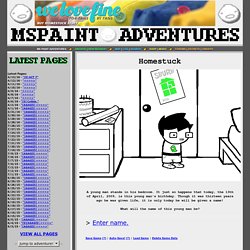 MSPA Forums
Topatoco
Homestuck Sheet Music
Well, I think you're kind of right DragonXVI, the chords SOUND like the ones you wrote...(oh wait, the G Major should be G dom7) but from a music theory standpoint, I definitely wouldn't call the third chord D# Major. If your working scale is C minor (aeolian), then the scale is: C D Eb F G Ab Bb C.So the chords are:C minor, Bb Major, Eb Major, - F Minor, Eb Major, Bb Major, G7 C minor, Bb Major, Eb Major, - F minor, G Major, C minor, -I mean, it COULD be called D#, but then the key is B# minor (ick!) and the OTHER chord names would also change to go along with it, like: B# Cx D# E# Fx G# A# B#.C minor and B# minor do sound the same (TECHNICALLY), but how gross does that look.
Welcome to MS Paint Adventures WikiThe wiki about MS Paint Adventures that anyone can edit. You put the redundancy of "wiki that anyone can edit" out of your mind.802 articles since December, 2008 Featured Article
Template:Navbox Homestuck Characters - MS Paint Adventures Wiki - Adventures, characters, locations, and more
Images - MS Paint Adventures Wiki - Adventures, characters, locations, and more
Homestuck location images - MS Paint Adventures Wiki - Adventures, characters, locations, and more