WEB EVENTS
SES New York 2010 - March 22-26 - Search Engine Strategies | The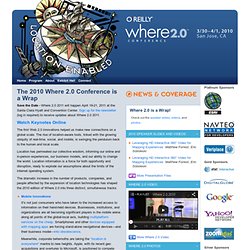 Where 2.0 Conference 2010 - O'Reilly Conferences, March 30 - Apr
Save the Date - Where 2.0 2011 will happen April 19-21, 2011 at the Santa Clara Hyatt and Convention Center. Sign up for the newsletter (log in required) to receive updates about Where 2.0 2011.
SMX: The Search Marketing Expo Conference Series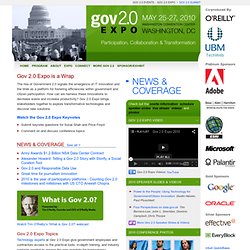 Gov 2.0 Expo 2010 - Co-produced by TechWeb & O'Reilly Conference
The rise of Government 2.0 signals the emergence of IT innovation and the Web as a platform for fostering efficiencies within government and citizen participation. How can we harness these innovations to decrease waste and increase productivity?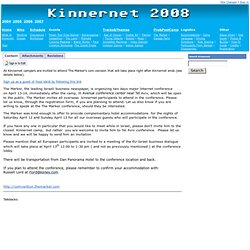 The Marker internet conference
All Kinnernet campers are invited to attend The Marker's com.vension that will take place right after Kinnernet ends (see details below). Sign up as a guest of Yossi Vardi by following this link The Marker, the leading Israeli business newspaper, is organizing two days major Internet conference on April 13-14, immediately after the camp, in Avenue conference center near Tel Aviv, which will be open to the public.
2009 Blog Posts LIST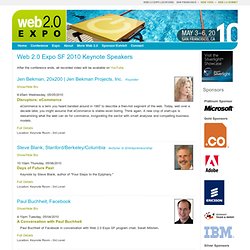 Keynote Speakers: Web 2.0 Expo San Francisco 2010 - Co-produced
Lili Cheng is general manager of Microsoft's Future Social Experiences (FUSE) Labs, which focuses on software and services that are centered on social connectivity, real-time experiences, and rich media.
Media & Community Partners: Web 2.0 Expo San Francisco 2010 - Co
Welcome to YouTube! The location filter shows you popular videos from the selected country or region on lists like Most Viewed and in search results.To change your location filter, please use the links in the footer at the bottom of the page. Click "OK" to accept this setting, or click "Cancel" to set your location filter to "Worldwide".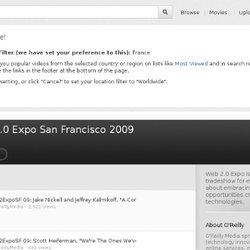 2009 Web Expo Videos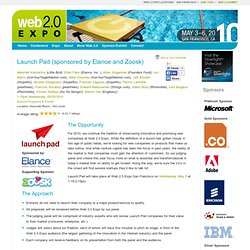 Launch Pad Winners: Top 5
Sponsored by: Supporting Sponsor: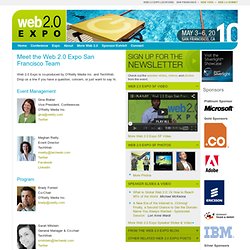 Web 2.0 Expo is co-produced by O'Reilly Media Inc. and TechWeb.
Web 2.0 Expo TEAM
Web 2.0 Expo San Francisco 2010 - Co-produced by TechWeb & O'Rei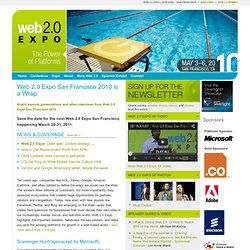 Watch keynote presentations and other interviews from Web 2.0 Expo San Francisco 2010.
Launch Pad Winners: Top 5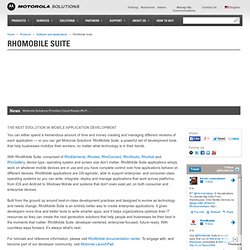 You can either spend a tremendous amount of time and money creating and managing different versions of each application — or you can get Motorola Solutions' RhoMobile Suite, a powerful set of development tools that help businesses mobilize their workers, no matter what technology is in their hands. With RhoMobile Suite, comprised of RhoElements, Rhodes, RhoConnect, RhoStudio, RhoHub and RhoGallery, device type, operating system and screen size don't matter. RhoMobile Suite applications simply work on whatever mobile devices are in use and you have complete control over how applications behave on different devices.
EnglEasy
Strings - Track, Share, Discover
« NYC Artists Speak Up: Is American Mediocrity Killing the Artist in Us? | Main | Search & Social at The Marker's Com.vention »
Pearltrees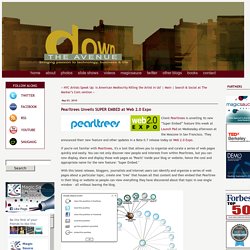 Vator Splash - Eventbrite
Invalid quantity. Please enter a quantity of 1 or more. The quantity you chose exceeds the quantity available. Please enter your name.
Attend SMX East and learn SEO, SEM and social media marketing tactics that increase web site traffic, boost conversions…and sales! Join us October 1-3 in New York City. With over 50 sessions across multiple tracks, you can customize your program to meet your needs, whether you're a search veteran or just getting started, work for a Fortune 500 company or own a small business.
Search Marketing Expo - East 2010: New York City, October 4-6, 2
March 17-20, 2014 | Orlando, FL There's no single migration path to the next generation of collaboration and enterprise communications systems and services, and Enterprise Connect delivers what you need to evaluate all the options.
Mozilla Firefox
Merci a Olivier Ezratty pour ses billets très complets sur LeWeb 2011, je viens de les lire.
Chad Hurley : Youtube needs to improve search
Best of LeWeb09 • leweb, netzwerke, paris, show, social, soziale