WEB EVENTS
SES New York 2010 - March 22-26 - Search Engine Strategies | The. Where 2.0 Conference 2010 - O'Reilly Conferences, March 30 - Apr. Save the Date - Where 2.0 2011 will happen April 19-21, 2011 at the Santa Clara Hyatt and Convention Center.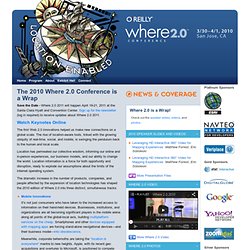 Sign up for the newsletter (log in required) to receive updates about Where 2.0 2011. Watch Keynotes Online The first Web 2.0 innovations helped us make new connections on a global scale. The rise of location-aware tools, linked with the growing ubiquity of real-time, social, and mobile, is swinging the pendulum back to the human and local scale. Location has permeated our collective wisdom, informing our online and in-person experiences, our business models, and our ability to change the world. SMX: The Search Marketing Expo Conference Series. Gov 2.0 Expo 2010 - Co-produced by TechWeb & O'Reilly Conference. The rise of Government 2.0 signals the emergence of IT innovation and the Web as a platform for fostering efficiencies within government and citizen participation.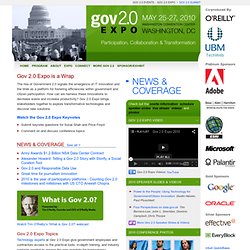 How can we harness these innovations to decrease waste and increase productivity? Gov 2.0 Expo brings stakeholders together to explore transformative technologies and discover new solutions. Watch the Gov 2.0 Expo Keynotes Submit keynote questions for Sonal Shah and Price FloydComment on and discuss conference topics News & Coverage See all > The Marker internet conference. All Kinnernet campers are invited to attend The Marker's com.vension that will take place right after Kinnernet ends (see details below).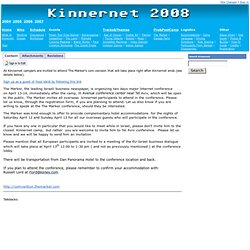 Sign up as a guest of Yossi Vardi by following this link The Marker, the leading Israeli business newspaper, is organizing two days major Internet conference on April 13-14, immediately after the camp, in Avenue conference center near Tel Aviv, which will be open to the public. 2009 Blog Posts LIST. San Francisco event. Keynote Speakers: Web 2.0 Expo San Francisco 2010 - Co-produced. Lili Cheng is general manager of Microsoft's Future Social Experiences (FUSE) Labs, which focuses on software and services that are centered on social connectivity, real-time experiences, and rich media.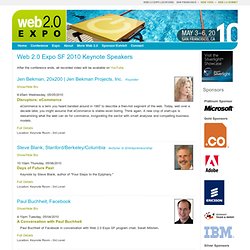 Previously, she was the director of the Creative Systems Group (CSG) within Microsoft Research. CSG developed several projects in the area of social computing and design, including Kodu, an Xbox 360 game to teach kids programming concepts; Salsa, a project that combines email and social networking concepts; and a project that rethinks how we view and share files within the operating system. Lili's team also was responsible for Microsoft Research's Design Expo and Social Computing Symposium. Media & Community Partners: Web 2.0 Expo San Francisco 2010 - Co. 2009 Web Expo Videos. Welcome to YouTube!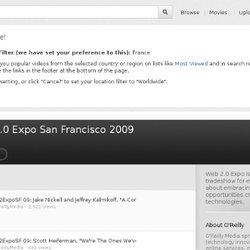 The location filter shows you popular videos from the selected country or region on lists like Most Viewed and in search results.To change your location filter, please use the links in the footer at the bottom of the page. Click "OK" to accept this setting, or click "Cancel" to set your location filter to "Worldwide". Launch Pad Winners: Top 5. Sponsored by: Supporting Sponsor: The Opportunity For 2010, we continue the tradition of showcasing innovative and promising new companies at Web 2.0 Expo.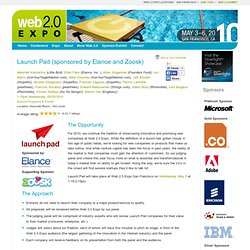 While the definition of a launch has gotten cloudy in this age of public betas, we're looking for new companies or products that make us take notice. And while venture capital has been the focus in past years, the reality of the market is that companies must gain the attention of customers. Web 2.0 Expo TEAM. Web 2.0 Expo is co-produced by O'Reilly Media Inc. and TechWeb.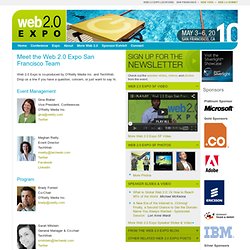 Drop us a line if you have a question, concern, or just want to say hi. Event Management Program. Web 2.0 Expo San Francisco 2010 - Co-produced by TechWeb & O'Rei. Watch keynote presentations and other interviews from Web 2.0 Expo San Francisco 2010.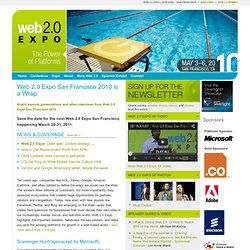 Save the date for the next Web 2.0 Expo San Francisco, happening March 28-31, 2011. News & Coverage See all > Ten years ago, companies like AOL, Yahoo, Google, Amazon, Earthlink, and eBay battled to define the ways we would use the Web. Launch Pad Winners: Top 5. Rhomobile - the open mobile framework. You can either spend a tremendous amount of time and money creating and managing different versions of each application — or you can get Motorola Solutions' RhoMobile Suite, a powerful set of development tools that help businesses mobilize their workers, no matter what technology is in their hands.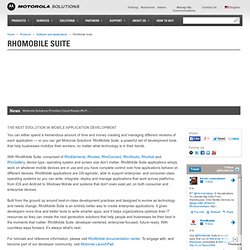 With RhoMobile Suite, comprised of RhoElements, Rhodes, RhoConnect, RhoStudio, RhoHub and RhoGallery, device type, operating system and screen size don't matter. RhoMobile Suite applications simply work on whatever mobile devices are in use and you have complete control over how applications behave on different devices. Stupeflix - Video production made easy. Ask Your Target Market. EnglEasy. Strings - Track, Share, Discover. Pearltrees. « NYC Artists Speak Up: Is American Mediocrity Killing the Artist in Us?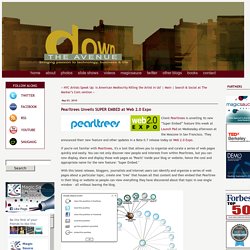 | Main | Search & Social at The Marker's Com.vention » May 03, 2010 Pearltrees Unveils SUPER EMBED at Web 2.0 Expo Client Pearltrees is unveiling its new "Super Embed" feature this week at Launch Pad on Wednesday afternoon at the Moscone in San Francisco. They announced their new feature and other updates in a Beta 0.7 release today at Web 2.0 Expo. Health 2.0. Vator Splash. Invalid quantity. Please enter a quantity of 1 or more. The quantity you chose exceeds the quantity available. Please enter your name. Search Marketing Expo - East 2010: New York City, October 4-6, 2. Attend SMX East and learn SEO, SEM and social media marketing tactics that increase web site traffic, boost conversions…and sales! Join us September 30 – October 2 in New York City. With over 50 sessions across multiple tracks, you can customize your program to meet your needs, whether you're a search veteran or just getting started, work for a Fortune 500 company or own a small business.
Mozilla Firefox. March 17-20, 2014 | Orlando, FL There's no single migration path to the next generation of collaboration and enterprise communications systems and services, and Enterprise Connect delivers what you need to evaluate all the options. Learn about the full range of platforms, services and applications which comprise modern collaboration systems. Register with discount code WEE2C and save $200 on the Entire Event and Tuesday-Thursday Conference passes or for a Free Expo pass.
Register Now » LEWeb. Why Real Time Web? Patrice Lamothe. Loic Le Meur blog [FR] Merci a Olivier Ezratty pour ses billets très complets sur LeWeb 2011, je viens de les lire. Dans l'un d'entre eux il suggère qu'un intervenant d'Apple soit sur scène, cela fait des années que j'essaie sans succès, Apple ne parle que dans ses propres événements, les fameux "keynotes" et Steve Jobs n'a fait que de très rares apparitions en dehors, comme a AllThingsD ou j'ai eu la chance de l'écouter en personne.
Vue d'ensemble Semaine numérique Startups. Chad Hurley : Youtube needs to improve search. Bloggers at LEWEB. LeWeb 09. LeWeb09. Best of LeWeb09 • leweb, netzwerke, paris, show, social, soziale.
---