WEB EVENTS
SES New York 2010 - March 22-26 - Search Engine Strategies | The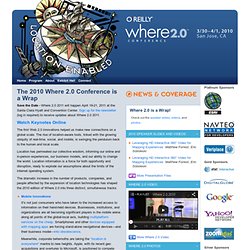 Where 2.0 Conference 2010 - O'Reilly Conferences, March 30 - Apr
Save the Date - Where 2.0 2011 will happen April 19-21, 2011 at the Santa Clara Hyatt and Convention Center. Sign up for the newsletter (log in required) to receive updates about Where 2.0 2011. Watch Keynotes Online The first Web 2.0 innovations helped us make new connections on a global scale. The rise of location-aware tools, linked with the growing ubiquity of real-time, social, and mobile, is swinging the pendulum back to the human and local scale. Location has permeated our collective wisdom, informing our online and in-person experiences, our business models, and our ability to change the world.
Search Marketing Expo - SMX - is the global search engine marketing conference series from Third Door Media, the company behind the Search Engine Land and Marketing Land news sites, and the Digital Marketing Depot webcast series. SMX is programmed by the sharpest minds in search marketing. Together, Search Engine Land editor-in-chief Danny Sullivan and VP of Event Editorial Chris Sherman have covered the topics, interviewed the luminaries and educated a generation of search marketers. SMX West delivers all of the search engine marketing topics and trends you need to know to stay ahead of the curve - whether you're an SEM expert or just getting started. Participate in your choice of more than 60 sessions on search engine optimization (SEO), paid search advertising (PPC), social media marketing, local and mobile search, landing page conversions and more.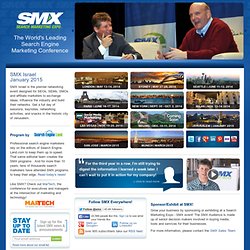 SMX: The Search Marketing Expo Conference Series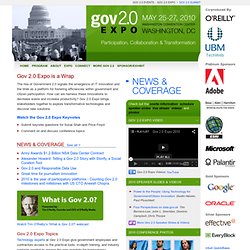 Gov 2.0 Expo 2010 - Co-produced by TechWeb & O'Reilly Conference
The rise of Government 2.0 signals the emergence of IT innovation and the Web as a platform for fostering efficiencies within government and citizen participation. How can we harness these innovations to decrease waste and increase productivity? Gov 2.0 Expo brings stakeholders together to explore transformative technologies and discover new solutions. Watch the Gov 2.0 Expo Keynotes Submit keynote questions for Sonal Shah and Price FloydComment on and discuss conference topics News & Coverage See all >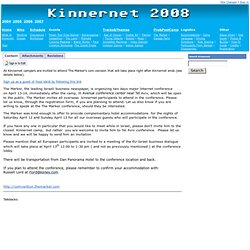 The Marker internet conference
All Kinnernet campers are invited to attend The Marker's com.vension that will take place right after Kinnernet ends (see details below). Sign up as a guest of Yossi Vardi by following this link The Marker, the leading Israeli business newspaper, is organizing two days major Internet conference on April 13-14, immediately after the camp, in Avenue conference center near Tel Aviv, which will be open to the public.
2009 Blog Posts LIST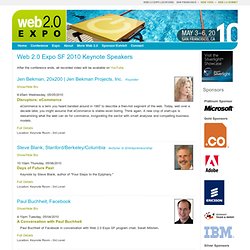 Keynote Speakers: Web 2.0 Expo San Francisco 2010 - Co-produced
Lili Cheng is general manager of Microsoft's Future Social Experiences (FUSE) Labs, which focuses on software and services that are centered on social connectivity, real-time experiences, and rich media. Previously, she was the director of the Creative Systems Group (CSG) within Microsoft Research. CSG developed several projects in the area of social computing and design, including Kodu, an Xbox 360 game to teach kids programming concepts; Salsa, a project that combines email and social networking concepts; and a project that rethinks how we view and share files within the operating system. Lili's team also was responsible for Microsoft Research's Design Expo and Social Computing Symposium.
Media & Community Partners: Web 2.0 Expo San Francisco 2010 - Co
Welcome to YouTube! The location filter shows you popular videos from the selected country or region on lists like Most Viewed and in search results.To change your location filter, please use the links in the footer at the bottom of the page. Click "OK" to accept this setting, or click "Cancel" to set your location filter to "Worldwide".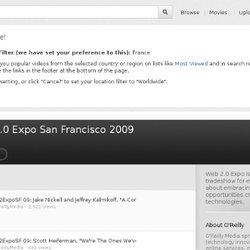 2009 Web Expo Videos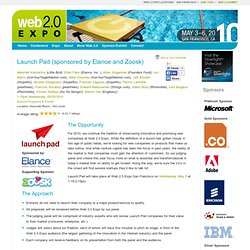 Launch Pad Winners: Top 5
Sponsored by: Supporting Sponsor: The Opportunity For 2010, we continue the tradition of showcasing innovative and promising new companies at Web 2.0 Expo. While the definition of a launch has gotten cloudy in this age of public betas, we're looking for new companies or products that make us take notice. And while venture capital has been the focus in past years, the reality of the market is that companies must gain the attention of customers.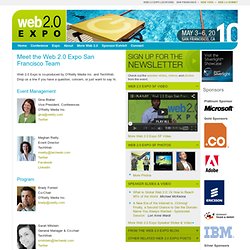 Web 2.0 Expo is co-produced by O'Reilly Media Inc. and TechWeb. Drop us a line if you have a question, concern, or just want to say hi. Event Management Program
Web 2.0 Expo TEAM
Web 2.0 Expo San Francisco 2010 - Co-produced by TechWeb & O'Rei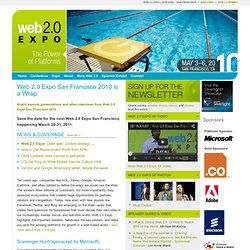 Watch keynote presentations and other interviews from Web 2.0 Expo San Francisco 2010. Save the date for the next Web 2.0 Expo San Francisco, happening March 28-31, 2011. News & Coverage See all > Ten years ago, companies like AOL, Yahoo, Google, Amazon, Earthlink, and eBay battled to define the ways we would use the Web.
Launch Pad Winners: Top 5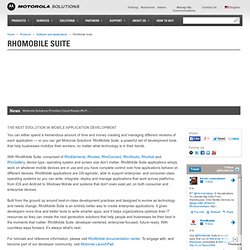 You can either spend a tremendous amount of time and money creating and managing different versions of each application — or you can get Motorola Solutions' RhoMobile Suite, a powerful set of development tools that help businesses mobilize their workers, no matter what technology is in their hands. With RhoMobile Suite, comprised of RhoElements, Rhodes, RhoConnect, RhoStudio, RhoHub and RhoGallery, device type, operating system and screen size don't matter. RhoMobile Suite applications simply work on whatever mobile devices are in use and you have complete control over how applications behave on different devices.
Professional Survey Edits There is an old saying that a wisely put question contains half of an answer. On the flip side there are quite a lot of mistakes that one can make creating a survey. Get a peace of mind and let our experts take your input and use it to create meaningful balanced survey following your goals and best practices. Advanced Survey Analysis Creating a great survey, properly targeting and fielding it is just 2/3 of the success.
Because the relieve the impotence problems medication The blue pill onto the sector inside the the middle of-nineties, there were a number of clinical studies in connection with the complications from the impotence problems medication. The blue pill customers survey unfavorable side-results towards the medication, as well as cardiac and ocular complications. However, even with studies of these severe unwanted effects, men of many different years nonetheless decide to use The blue pill for a find-all remedy for impotence problems. The blue pill operates at dealing with impotence problems to start with, by stopping two particular nutrients in your body, known as PDE5 and PDE6, that you can get Viagra over the entire body, however in greater levels inside the penile.
EnglEasy
Strings - Track, Share, Discover
« NYC Artists Speak Up: Is American Mediocrity Killing the Artist in Us? | Main | Search & Social at The Marker's Com.vention » May 03, 2010 Pearltrees Unveils SUPER EMBED at Web 2.0 Expo Client Pearltrees is unveiling its new "Super Embed" feature this week at Launch Pad on Wednesday afternoon at the Moscone in San Francisco. They announced their new feature and other updates in a Beta 0.7 release today at Web 2.0 Expo.
Pearltrees
/events/ The Health 2.0 Conference is the leading showcase of cutting-edge innovation that's transforming health and health care. We present the best minds, technologies and resources in compelling panels, discussions, and live product demonstrations worldwide. /devchallenge/ The Health 2.0 Developer Challenge runs a series of online competitions and live code-a-thons in which multidisciplinary teams boldly tackle the most complex challenges we face in health care. /marketintel/
Vator Splash - Eventbrite
Search Marketing Expo - East 2010: New York City, October 4-6, 2
Mozilla Firefox
Chad Hurley : Youtube needs to improve search
Best of LeWeb09 • leweb, netzwerke, paris, show, social, soziale