TWITTER ARTICLES
Zen of Tweeting. Soren Gordhamer is the organizer of the Wisdom 2.0 Conference, which brings together staff from tech companies with neuroscientists, Zen teachers, and others to explore living wisely in our modern age.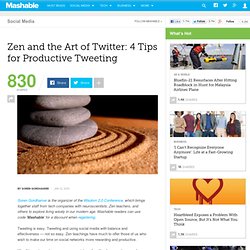 Mashable readers can use code 'Mashable' for a discount when registering. Tweeting is easy. Tweeting and using social media with balance and effectiveness — not so easy. Zen teachings have much to offer those of us who wish to make our time on social networks more rewarding and productive. Why People Use Twitter. What drives people to tweet?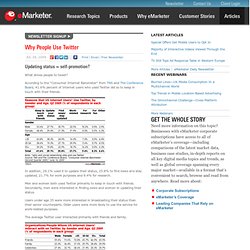 According to the "Consumer Internet Barometer" from TNS and The Conference Board, 41.6% percent of Internet users who used Twitter did so to keep in touch with their friends. In addition, 29.1% used it to update their status, 25.8% to find news and stay updated, 21.7% for work purposes and 9.4% for research. eMarketer (eMarketer) CEOs Who Use Twitter: Tweets from the Chiefs. How Executives Should be Using Social Media. Twitter research report: How businesses are using short messages. Tao of Tweeting. Soren Gordhamer works with individuals and groups on how to effectively use new technologies.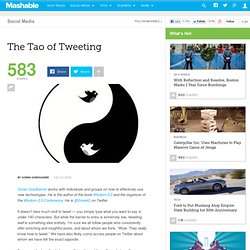 He is the author of the book Wisdom 2.0 and the organizer of the Wisdom 2.0 Conference. He is @SorenG on Twitter. It doesn't take much skill to tweet — you simply type what you want to say in under 140 characters. Twitter Guide Book – How To, Tips and Instructions by Mashable.
---