TWITTER ARTICLES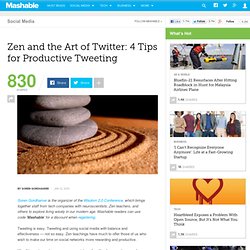 Zen of Tweeting
Soren Gordhamer is the organizer of the Wisdom 2.0 Conference, which brings together staff from tech companies with neuroscientists, Zen teachers, and others to explore living wisely in our modern age. Mashable readers can use code 'Mashable' for a discount when registering. Tweeting is easy. Tweeting and using social media with balance and effectiveness — not so easy. Zen teachings have much to offer those of us who wish to make our time on social networks more rewarding and productive.
Why People Use Twitter
eMarketer (eMarketer) on Twitter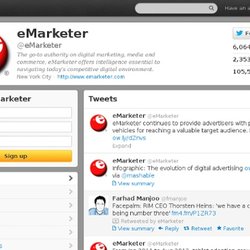 Have an account? Sign in New to Twitter? Join Today »
CEOs Who Use Twitter: Tweets from the Chiefs
How Executives Should be Using Social Media
" The best advice for Twitter is to think before you tweet. This report will open your eyes to some of the best ways to think about it. " " Part case study, part user guide, the Shorty Report demonstrates why Twitter is perhaps the greatest innovation around conversation since the water cooler.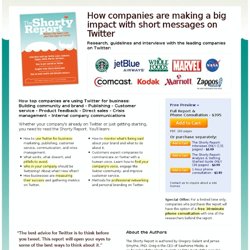 Twitter research report: How businesses are using short messages
Tao of Tweeting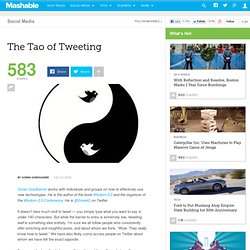 Soren Gordhamer works with individuals and groups on how to effectively use new technologies. He is the author of the book Wisdom 2.0 and the organizer of the Wisdom 2.0 Conference. He is @SorenG on Twitter. It doesn't take much skill to tweet — you simply type what you want to say in under 140 characters.