MEDIA & ENTERTAINMENT EVENTS
This year's 100 top companies -- plus 35 to watch -- are transforming the digital media paradigm into a vital new distribution pathway for forward-thinking, technology-minded product developers and their consumers. The seventh annual AlwaysOn OnMedia 100 represents a bold list of the top emerging companies creating new business opportunities in the world of media, advertising, marketing, social commerce, branding, and public relations.
OnHollywood 2009 | AlwaysOn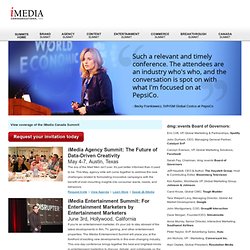 Why Attend?
iMedia Connection: Summits Homepage
Media.Summit.New.York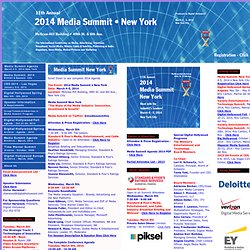 Speaker Submission Click Here Victor Harwood - vharwood@digitalhollywood.com
Digital Music Forum: East & West
EG - The Entertainment Gathering
Your network | OnMedia
The Agenda for the 2009 Advertising 2.0 Scroll Down this Page Advertising 2.0 New York, New York City Co-Hosted by: IAC and Digital Hollywood Location: IAC Building, New York City, 18th Street between 10th Ave. and the West Side Hightway - Designed by renowned architect Frank Gehry IAC is founded by Barry Diller who is Chairman and Chief Executive Officer of IAC and serves as Chairman of Expedia, Inc. and Ticketmaster Entertainment, Inc.
Advertising.New.York
Digital Music Forum: West