MEDIA & ENTERTAINMENT EVENTS
OnHollywood 2009. This year's 100 top companies -- plus 35 to watch -- are transforming the digital media paradigm into a vital new distribution pathway for forward-thinking, technology-minded product developers and their consumers.
The seventh annual AlwaysOn OnMedia 100 represents a bold list of the top emerging companies creating new business opportunities in the world of media, advertising, marketing, social commerce, branding, and public relations. iMedia Connection: Summits Homepage. Why Attend?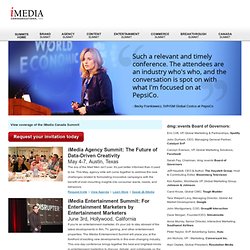 iMedia is crucial. It's absolutely 100% helped shape my career. AJ Vernet, CEO, Republic Project. Media.Summit.New.York. McGraw-Hill Building, 49th St. and 6th Ave., New York City Media Summit New York "The State of the Media Industry: Innovation, Investment & Growth" Media Summit on Twitter: @mediasummitny Attendee & Press Registration - Click Here Wednesday, March 5th 7:30 AM - 9:00 AM, The Gallery Standard & Poor's Media, Entertainment, and Cable Industry - Open to All Attendees - Click Here to Register Breakfast Briefing and Teleconference Heather Goodchild, Managing Director, Standard & Poor's Ratings Services Michael Altberg, Senior Director, Standard & Poor's Ratings Services Andy Liu, Director, Standard & Poor's Ratings Services Naveen Sarma, Senior Director, Standard & Poor's Ratings Services Jeanne Shoesmith, Director, Standard & Poor's Ratings Services Wednesday, March 5th 9:30 AM - 10:30 AM Keynote Roundtable The Media Industry Equation - Brands, Advertising and the New Platforms Joan Gillman, COO, Media Services and EVP of Media Services, Time Warner Cable Inc.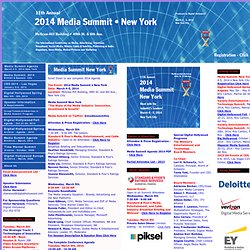 Digital Music Forum: East & West. EG - The Entertainment Gathering. Your network | OnMedia. Advertising.New.York. The Agenda for the 2009 Advertising 2.0 Scroll Down this Page Advertising 2.0 New York, New York City Co-Hosted by: IAC and Digital Hollywood Location: IAC Building, New York City, 18th Street between 10th Ave. and the West Side Hightway - Designed by renowned architect Frank Gehry IAC is founded by Barry Diller who is Chairman and Chief Executive Officer of IAC and serves as Chairman of Expedia, Inc. and Ticketmaster Entertainment, Inc.
"Advertising 2.0: Transformation + Innovation = The Global Media & Communications Revolution" Attendee & Press Registration Information - Click Here The Following is an Archive of the Agenda of Advertising 2.0, June 10-11, 2009 is now posted - click here Click on the Image - This is a Flip-Book of the Advertising 2.0 Program - when the Image has come up on your computer, click on the right edge of the page and it will function like a printed magazine For full length videos of selected conference sessions from a recent Digital Hollywood - Click Here.
Digital Music Forum: West. PopTech : Home. IdeaCity. TED: Ideas worth spreading.
---