Truc cools
Make: Online » Robo-rainbow
Montre nous ta moto Tron
Si vous en avez les moyens, vous pourrez désormais la chevaucher. On parle là d'une réplique de la moto de lumière du prochain Tron qui a été produite en petite série aux Etats-Unis. Dix exemplaires ont été produits par un magasin, Parker Brothers Choppers, situé en Floride.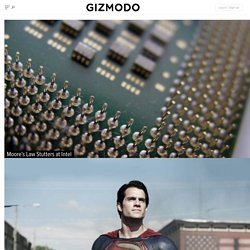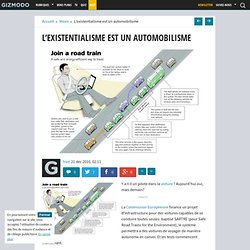 Y a-t-il un pilote dans la voiture ? Aujourd'hui oui, mais demain? La Commission Européenne finance un projet d'infrastructure pour des voitures capables de se conduire toutes seules: baptisé SARTRE (pour Safe Road Trains for the Environment), le système permettra à des voitures de voyager de manière autonome en convoi. Et les tests commencent maintenant.
L'existentialisme est un automobilisme - Gizmodo -
Gallery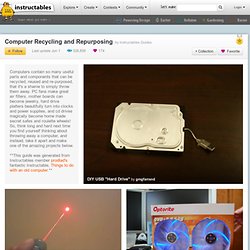 Computer Recycling and Repurposing
Computers contain so many useful parts and components that can be recycled, reused and re-purposed, that it's a shame to simply throw them away. PC fans make great air filters, mother boards can become jewelry, hard drive platters beautifully turn into clocks and power supplies, and cd drives magically become home made secret safes and roulette wheels! So, think long and hard next time you find yourself thinking about throwing away a computer, and instead, take it apart and make one of the amazing projects below. **This guide was generated from Instructables member prodlad's fantastic Instructable, Things to do with an old computer
2 minutes 37 de 360° non stop en snowboard - Gizmodo -
FR. Le blog des Gadgets. - Part 5
Faut-il s'apprêter à voir apparaître dans les années qui viennent des fermes et des champs ou seraient cultiver des carosseries de voiture ? Si l'hypothèse peut apparaître absurde aujourd'hui, c'est pourtant une des tendances qui se dégage du récent concours de design du LA Auto Show qui se déroule actuellement à Los Angeles . Le challenge de cette année était de faire du light recyclable. " The theme this year addresses society's shift toward minimizing consumption of the earth's resources. The objective is to envision an efficient, light-weight, four passenger vehicle (not to exceed 1,000 lbs.), that is both comfortable and safe, while delivering satisfactory driving performance without sacrificing the styling consumers demand.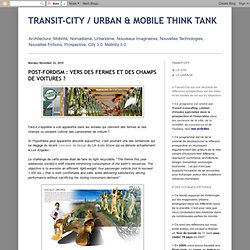 POST-FORDISM : VERS DES FERMES ET DES CHAMPS DE VOITURES ?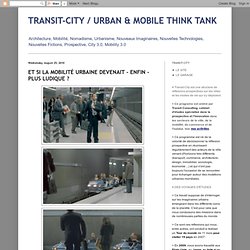 ET SI LA MOBILITÉ URBAINE DEVENAIT - ENFIN - PLUS LUDIQUE ?
Cela fait plusieurs années que je me dis que si la mobilité est au coeur de nos modes de vie, elle est rarement ludique et a, en fin de compte, très peu évolué depuis 100 ans. C'est dans ce cadre que j'avais organisé, entre autres, des Ateliers sur des thèmes, comme, Pourquoi la voiture a-t-elle aussi peu évolué depuis 50 ans ? , ou Pourquoi les transports collectifs évoluent-ils si peu ? . Ces questions rentraient - et rentrent, toujours - en résonance avec d'autres réflexions développées très régulièrement dans ce blog notamment sur sur les nouveaux imaginaires de la mobilité et, notamment, l'influence des univers du sport et des jeux vidéo (voir là , là là ou, encore, là )
Home
Apron Cooking Guides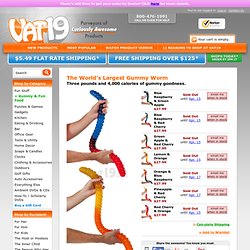 Three pounds and 4,000 calories of gummy goodness. From $29.99 to $35.99 From $9.99 to $11.99
World's Largest Gummy Worm: Over 2 feet of gummy goodness.
Galerie de linden.g
Water figure | Flickr : partage de photos !
Hypnotiques paysages temporels - Gizmodo -
We've just launched a project in collaboration with biochemist/photographer, Linden Gledhill for Canon's PIXMA colour printer range. The project features surreal 'sound sculptures' made of dancing droplets of paint captured in extreme detail as they react to sound waves. We came across Linden and his mesmerising Water Figure series on Flickr, a fantastic example of "bringing colour to life".
Sound Sculptures Dentsu London Sound Sculptures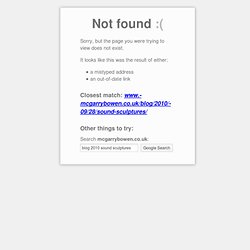 Présentation : Gkaster, motion designers français | kola_blog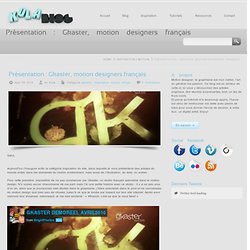 Home Inspiration / Motion Présentation : Gkaster, motion designers français sept 06 2010 by Kola
..ooOO spincollectif OOoo..