RECURSOS MATEMATICOS
LeapPad
Calculadora
Geometría. Cabri Géomètre II La mitad del cuadrado
Intelectuales advierten que RD vive una dictadura constitucional
Pi Day is celebrated on March 14th (3/14) around the world. Pi (Greek letter "π") is the symbol used in mathematics to represent a constant — the ratio of the circumference of a circle to its diameter — which is approximately 3.14159. Pi has been calculated to over one trillion digits beyond its decimal point.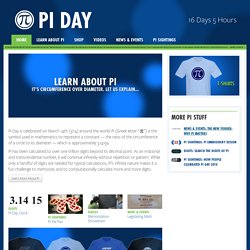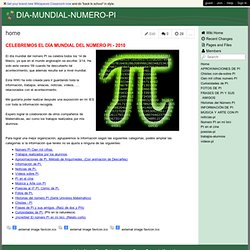 DIA-MUNDIAL-NUMERO-PI - home
El día mundial del número PI se celebra todos los 14 de Marzo, ya que en el mundo anglosajón se escribe: 3/14. Ha sido este verano '09 cuando he descubierto tal acontecimiento, que además resulta ser a nivel mundial. Esta WIKI ha sido creada para ir guardando toda la información, trabajos, enlaces, noticias, vídeos, .... relacionados con el acontecimiento. Me gustaría poder realizar después una exposición en mi IES con toda la información recogida. Espero lograr la colaboración de otros compañeros de Matemáticas, así como los trabajos realizados por mis alumnos.