Writers & Writing
"Breaking Bad": White supremacist fable? If you judged by TV and movies alone, you'd think "pure" drugs were seeping out of American society's every pore, along with hot doctors and secret agents gone rogue.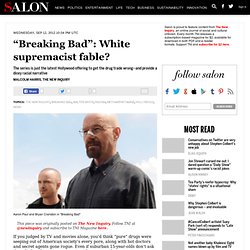 Even if suburban 15-year-olds don't ask their dealers for THC percentages after seeing Oliver Stone's Savages — and smart money says some of them are — craft beer isn't the only boutique intoxicant buzzing around the nation's subconscious. In the shadow of the high-fructose-corn-syrup backlash, everyone from the Olive Garden to the proverbial Brooklyn popsicle startup is trying to cash in on craftsmanship. Meanwhile, screenwriters (clever advertisers in their own right) have found that the easiest way to hook viewers on drug-dealer protagonists is to sell crack as small-batch artisanal rock cocaine. What To Read Next. Ars longa, vita brevis, said Hippocrates—more or less: time's a-wastin'.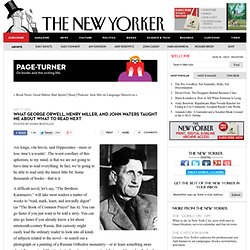 The worst corollary of this aphorism, to my mind, is that we are not going to have time to read everything. In fact, we're going to be able to read only the tiniest little bit. Some thousands of books—that is it. Jack Kerouac and the Beat Generation. The Greatest Books of All Time, as Voted by 125 Famous Authors - Maria Popova - Entertainment. Tolstoy holds a 11-point lead over Shakespeare in these literary opinion polls.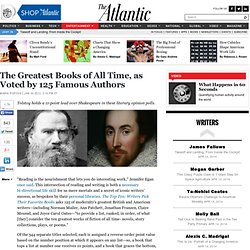 "Reading is the nourishment that lets you do interesting work," Jennifer Egan once said. This intersection of reading and writing is both a necessary bi-directional life skill for us mere mortals and a secret of iconic writers' success, as bespoken by their personal libraries. The Top Ten: Writers Pick Their Favorite Books asks 125 of modernity's greatest British and American writers—including Norman Mailer, Ann Patchett, Jonathan Franzen, Claire Messud, and Joyce Carol Oates—"to provide a list, ranked, in order, of what [they] consider the ten greatest works of fiction of all time- novels, story collections, plays, or poems.
" Of the 544 separate titles selected, each is assigned a reverse-order point value based on the number position at which it appears on any list—so, a book that tops a list at number one receives 10 points, and a book that graces the bottom, at number ten, receives 1 point. Hunger Mountain — VCFA Journal of the Arts. Punctuation Rules! | Wordnik ~ all the words. Like virgules?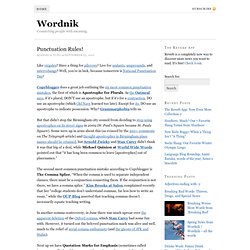 Have a thing for pilcrows? Live for umlauts, ampersands, and interrobangs? Well, you're in luck, because tomorrow is National Punctuation Day! Copyblogger does a great job outlining the six most common punctuation mistakes, the first of which is Apostrophe for Plurals. As the Oatmeal says, if it's plural, DON'T use an apostrophe, but if it's for a contraction, DO use an apostrophe (which Old Navy learned too late).
The Best 100 Opening Lines From Books. Chosen by: Clare Balding "It was the best of times, it was the worst of times, it was the age of wisdom, it was the age of foolishness, it was the epoch of belief, it was the epoch of incredulity, it was the season of Light, it was the season of Darkness, it was the spring of hope, it was the winter of despair, we had everything before us, we had nothing before us, we were all going direct to Heaven, we were all going direct the other way."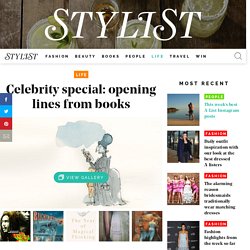 A Tale Of Two Cities, Charles Dickens. Is Holden Caulfield Obnoxious? | Book Think. You already know where you stand on Holden Caulfield.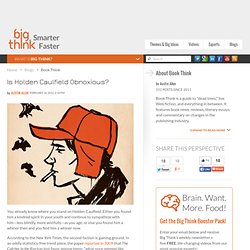 Either you found him a kindred spirit in your youth and continue to sympathize with him—less blindly, more wistfully—as you age; or else you found him a whiner then and you find him a whiner now. According to the New York Times, the second faction is gaining ground. In an oddly statistics-free trend piece, the paper reported in 2009 that The Catcher in the Rye has lost favor among teens: "what once seemed like courageous truth-telling now strikes many as 'weird,' 'whiny' and 'immature.'" (No word on whether any wiseass added "phony.") Of course, some high schoolers will trash Hamlet if given the chance, but on this book you won't find much consensus from the literati, either.
The Wire: Slavoj Žižek and Frederic Jameson Weigh in on the HBO Series. Last week, Slavoj Žižek—the clown prince of contemporary Marxist philosophy, star of The Pervert's Guide to Cinema, scene-stealer of Examined Life, and subject of the celebrated documentary Žižek!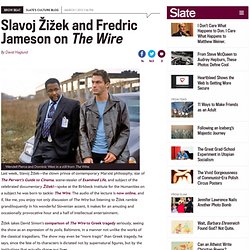 —spoke at the Birkbeck Institute for the Humanities on a subject he was born to tackle: The Wire. The audio of the lecture is now online, and if, like me, you enjoy not only discussion of The Wire but listening to Žižek ramble grandiloquently in his wonderful Slovenian accent, it makes for an amusing and occasionally provocative hour and a half of intellectual entertainment. Žižek takes David Simon's comparison of The Wire to Greek tragedy seriously, seeing the show as an expression of its polis, Baltimore, in a manner not unlike the works of the classical tragedians. The show may even be "more tragic" than Greek tragedy, he says, since the fate of its characters is dictated not by supernatural figures, but by the institutions that actually shape our lives. Snollygosters, Wampus, Toe Socials and Other Words from the Dictionary of American Regional English | People & Places.
Téa Obreht: "High-School Confidential" I was an awkward child.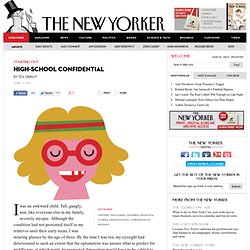 Tall, gangly, and, like everyone else in my family, severely myopic. Although the condition had not presented itself in my relatives until their early teens, I was wearing glasses by the age of three. By the time I was ten, my eyesight had deteriorated to such an extent that the optometrist was unsure what to predict for middle age, at which point, he suspected, binoculars would have to be cabled to my ears. (Luckily, these protruded, so they were likely to accommodate the weight.) I had my grandfather's front teeth, betwixt which stood a yawning space that in his smile looked kind and wizened but in mine looked vaguely psychotic and caused a lisp. Word Soup: Downton Abbey | Wordnik ~ all the words. Chances are you're caught up on the anachronisms of Downton Abbey, between Ben Zimmer's Visual Thesaurus post, his talk with NPR, his post for Language Log that goes beyond the nitpickery, and Fritnancy's post on the 1918 anachronism, contact.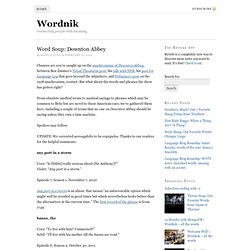 But what about the words and phrases the show has gotten right? From obsolete medical terms to nautical sayings to phrases which may be common to Brits but are novel to these American ears, we've gathered them here, including a couple of terms that no one on Downton Abbey should be saying unless they own a time machine. 10 Recent YA Books That Totally Make Up for 'Twilight' If you mention young adult literature to a member of the general public, a few series will probably come to mind their mind.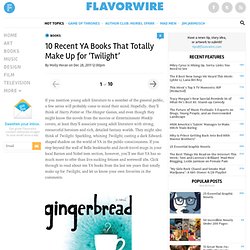 Hopefully, they'll think of Harry Potter or The Hunger Games, and even though they might know the novels from the movies or Entertainment Weekly covers, at least they'll associate young adult literature with strong, resourceful heroines and rich, detailed fantasy worlds. They might also think of Twilight. Shelf Awareness. The best love poems: writers choose their favourites – interactive. Turn autoplay off Edition: <span><a href=" Sign in Beta About us. Charles Dickens turns 200: Why his social insights still resonate today. Charles Dickens, the clear-eyed chronicler of abundance and want, turns 200 years old today.
His buoyant imagination was matched by bitter realism, making him the perfect choice for readers who like their escapism in a minor key. Dickens often, but not always, allowed light and warmth to win out over the cold and dark. Last November, Michael Levenson wrestled with the novelist's legacy in a review of two new Dickens biographies. The original piece is reprinted below. Literary Mixtape: Jo March. If you've ever wondered what your favorite literary characters might be listening to while they save the world/contemplate existence/get into trouble, or hallucinated a soundtrack to go along with your favorite novels, well, us too. But wonder no more! Here, we sneak a look at the hypothetical iPods of some of literature's most interesting characters. Lexicon Valley. Famous Authors and Their Typewriters. [Editor's note: While your Flavorwire editors take a much-needed holiday break, we'll spend the next two weekends revisiting some of our most popular features of the year.
This post was originally published May 30, 2011.] There's something magical about catching a glimpse of one of your favorite authors at work – even a photo of the epic event can send an anxious thrill down your spine, as if you might be able to see some hint of literary genius in posture or setting, in attire or facial expression. And it's even better if they're working on a typewriter. After all, there's something impossibly gorgeous about a typewriter – maybe it's the vintage charm, maybe it's the physicality the noisy machine lends to the writing process, but people (and you can count us among them) go mad for typewriters, especially if they've been used by someone famous. Weird Writing Habits of Famous Authors. 10 Legendary Bad Girls of Literature. Bookish Brands: 25 Pieces of Awesome Literary Street Art. Henry Miller's 11 Commandments for Writing.
10 Great Science Fiction Books for Girls. Fitzgerald's List of Things for His 11-Year-Old Daughter to Worry About. Romeo and Juliet Told Through Facebook from Team Pwnicorn. From Mark Twain to Ray Bradbury, Iconic Writers on Truth vs. Fiction - Maria Popova - Entertainment.
---