Farm
The HenCam
Flock Certification Program The American Poultry Association (APA) has received several inquiries in recent months concerning a flock certification program. It seems that there are individuals offering flock certification services, via the internet, and are mentioning the APA in their advertising. It should be known that the APA does not endorse any individuals advertising flock certification programs nor do we oversee or offer a flock certification program at this time. The APA is looking into the feasibility of such a program and , if we go forward with it, we will certainly inform the public through our website and the various poultry publications. However, until that happens, please enter into any flock certification agreements at your own risk.Dave AndersonAPA Director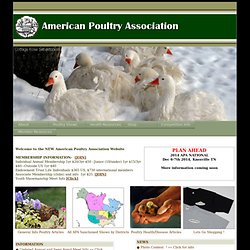 Welcome to the American Poultry Association
NOFANJ Home Page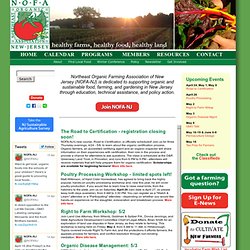 The Road to Certification - registration closing soon! NOFA-NJ's new course, Road to Certification, is officially scheduled! Join us for three Thursday evenings, 4/24 - 5/8, to learn about the organic certification process.
NOFA
Organic Unlimited
Conference: Urban Farms: Commercial Farms or Socially Minded Operations? Topic: Presenter: Andy Pressman Location: Online Date: 2014-04-29 Registration Info: This webinar provides an analysis of the differences between nonprofit and commercial urban farms, and is based on research conducted by researchers at NYU, Penn State, and NCAT-ATTRA. Registration Link: www2.gotomeeting.com/register/601408714 Posted: 2014-04-10 16:02:00 More Workshops >> Conference: Soil Building for Climate Resilience Topic: Presenter: Rex Dufour Location: Online Date: 2014-04-28 Registration Info: This is the third in a three-part webinar series geared to agricultural conservation professionals such as RCD, Extension and NRCS staff. This webinar is rescheduled from the originally advertised date of April 4.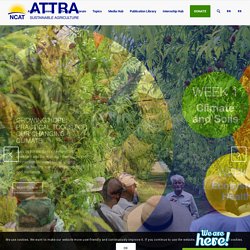 FAS.org -- Farm Animal Shelters
<div id="javascriptCheck"> It appears that your browser does not support Javascript, or perhaps Javascript is disabled. Javascript is required in order for this web site to function properly. Please enable Javascript in your browser, or try using a different web browser. If you are using Internet Explorer, you might need to change your Security setting in Internet Options. </div> It appears that your browser does not support Javascript, or perhaps Javascript is disabled.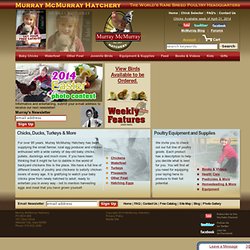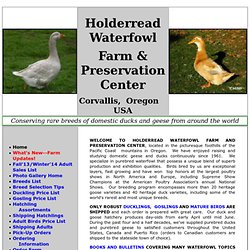 WELCOME TO HOLDERREAD WATERFOWL FARM AND PRESERVATION CENTER, located in the picturesque foothills of the Pacific Coast mountains in Oregon. We have enjoyed raising and studying domestic geese and ducks continuously since 1961. We specialize in purebred waterfowl that possess a unique blend of superb production and exhibition qualities.
index--homepage Holderread Waterfowl Farm & Preservation Cen
Who's Online 2012 Users (387 Members, 1625 Guests) Alice28 aveschicks BCollie ch1ckenrun charlie0026 Cheyen chickengirl1193 chickenlady099 chickenmama22 Chicklov4ever ChristineR Cindy A Crsd311 drewswiss Dreyadin ducksinarow Euarto Gullible FeatherBird FeyRaine fiddlechicken happy feet HappyHen2010 Jdragr katchina Leavingegypt nicalandia nmacdougall NWSumatras pawtraitart PekinBantam preciouskitty PSJ Purplesussex ready2run reveriereptile Rissa12xoxo rnt2005 Ron Skekel SarahChap sdm111 Sjisty SkilletLicker smproud SNIPERSCOTTIE Spangled Spinpuff StruckBy Stumpy Triple Willow wirey view all › BackYard Chickens Stats: Members: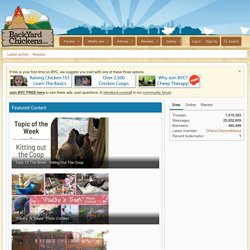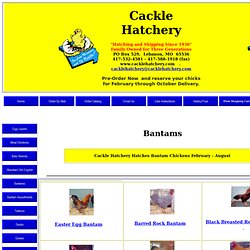 Bantam Chicken For Sale Bantam Poultry Bantam Chick Bantam Chick
Be sure to check out the Bargain Specials, as you can combine different egg layers in smaller amounts and buy as an assortment. Cackle Hatchery also has poultry equipment for sale, game chickens for sale, bantams for sale, ducks for sale, geese for sale, turkeys for sale, guinea for sale, peafowl for sale, pheasant for sale, Chukar partridge for sale, bobwhite for sale, many different breeds of baby chicks for sale. You will find many different breeds of chicken to house in your chicken coops. Quail Belgian Bearded D'anver Next Page of Bantam Assortments Return to Home Page Bantams
:: Allison Reed ::
allaboutchickens.tk
Chick Hatchery For white Chantecler chicks go to Cackle Hatchery. Some of their breeders came from Chick Hatchery! For Ameraucana chicks go to Fowl Stuff.
ChickHatchery.com - Ameraucana and Vorwerk chicks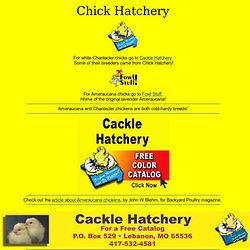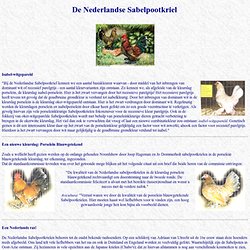 Isabel-witgepareld "Bij de Nederlandse Sabelpootkriel kennen we een aantal basiskleuren waarvan - door middel van het inbrengen van dominant wit of recessief parelgrijs - een aantal kleurvarianten zijn ontstaan. Zo kennen we, als afgeleide van de kleurslag porselein, de kleurslag isabel-porselein. Hier is het zwart vervangen door het recessieve parelgrijs! Het recessieve parelgrijs heeft tevens tot gevolg dat de goudbruine grondkleur is verdund tot isabelkleurig.
De Nederlandse Sabelpootkriel
Silky Ducks
A Black Silky DuckPhoto courtesy of Rob Ott These rare little ducks have soft, lacy feathering. They were developed by Darrell Sheraw of Pennsylvania.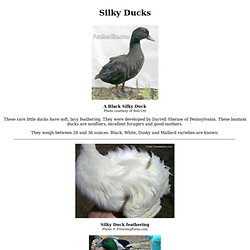 Indian Runner Ducks
A different viewPhoto courtesy of Senia Phillips My Buff Runner, "Christine" My Buff Runner hen "Priscilla" A Penciled Runner drake
Ducklings and Goslings Photo courtesy of Marshall Clinton Without Their Mom You can get some ideas about raising young birds from my page on Raising Chicks, but young waterfowl need somewhat different care. Some of this material is a repeat of what is on that page.
Raising Young Waterfowl
Soay Sheep & Other Rare Livestock at Greener Pastures Farm
On January 9, 2013, the U.S. Department of Agriculture (USDA) published a final rule establishing general regulations for improving the traceability of U.S. livestock moving interstate. The rule became effective on March 11, 2013. "The United States now has a flexible, effective animal disease traceability system for livestock moving interstate, without undue burdens for ranchers and U.S. livestock businesses," said Agriculture Secretary Tom Vilsack. "The final rule meets the diverse needs of the countryside where states and tribes can develop systems for tracking animals that work best for them and their producers, while addressing gaps in our overall disease response efforts. Over the past several years, USDA has listened carefully to America's farmers and ranchers, working collaboratively to establish a system of tools and safeguards that will help us target when and where animal diseases occur, and help us respond quickly."
NAIS - National Animal Identification System
Core Historical Literature of Agriculture
Core Historical Literature of Agriculture (CHLA)
Heritage Breeds Conservancy, Inc.
Poultry Sites
American Bantam Association http://www.bantamclub.com
Cornell Cooperative Extension
Lame Duck Rescue
Duck Care Home Page
American Silkie Bantam Club Website!
Acorn Hollow Bantams - Home Page
Majestic Waterfowl Sanctuary - A Non-Profit Organization and San
The Poultry Page
index
american sheep industry
The House Rabbit Society: San Diego Chapter
Silkie Chickens at Fawkes' Feather Farm
Beginner's Guide to Indian Runner Ducks
Indian Runner Ducks: The Indian Runner Duck Association - Domest
Omlet UK | Our fantastic chicken house and rabbit hutch the eglu
Pickering Valley Feed and Farm