Dysautonomia (autonomic dysfunction)
haemodynamic - definition of haemodynamic in the Medical dictionary
professor julia newton
Autonomic dysfunction (definition) at DuckDuckGo
A broad term that describes any disease or malfunction of the autonomic nervous system. ... Abnormally low blood pressure
autonomic dysfunction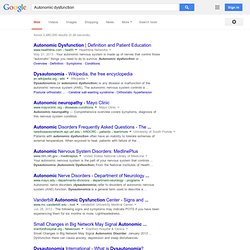 Dysautonomia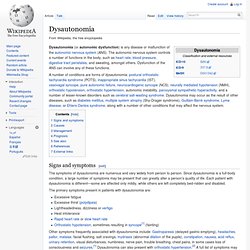 Dysautonomia (or autonomic dysfunction) is any disease or malfunction of the autonomic nervous system (ANS).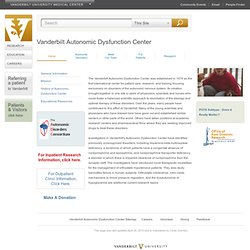 Autonomic Dysfunction Center - Autonomic Dysfunction Center Home
The Vanderbilt Autonomic Dysfunction Center was established in 1978 as the first international center for patient care, research, and training focusing exclusively on disorders of the autonomic nervous system.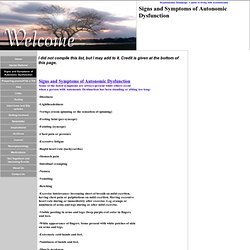 Signs and Symptoms of Autonomic Dysfunction
-Lightheadedness -Vertigo (room spinning or the sensation of spinning)
Autonomic Dysfunction | Definition and Patient Education
The autonomic nervous system (ANS) controls several basic bodily functions. These include heart rate, body temperature, breathing rate, digestion, and many other systems as well. You don't have to consciously think about these systems in order for them to work. The ANS provides the connection between your brain and your internal organs. For instance, it connects to the heart, liver, sweat glands, and even the interior muscles of your eye.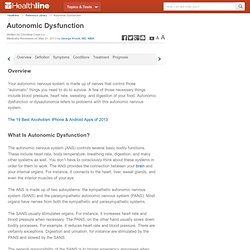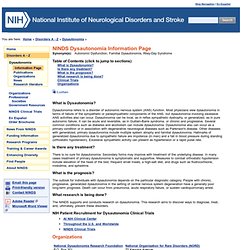 What is Dysautonomia?
Dysautonomia Information Page
Autonomic Dysfunction FAQ - FAQs - neurological disorders Health Pages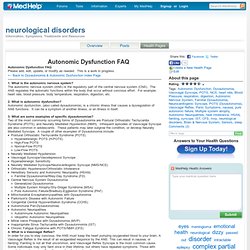 Autonomic Dysfunction FAQ Please add, edit, update, or modify as needed.
autonomic-dysfunction
Autonomic Neuropathy
somatic
autoimmune autonomic neuropathy (aan)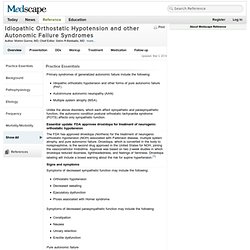 Idiopathic Orthostatic Hypotension and other Autonomic Failure Syndromes
Autonomic failure has many causes and manifestations. It may result from a primary disturbance of autonomic regulation or more commonly as a secondary effect of another systemic disorder (eg, diabetes, amyloidosis). This article focuses on primary syndromes of generalized autonomic failure and includes a discussion of pure autonomic failure and idiopathic orthostatic hypotension, autoimmune autonomic neuropathy (AAN), and multiple system atrophy (MSA).
Autonomic Dysfunction
autonomic nervous system dysfunction