Apps - work w/ evernote
WritePad. Description WritePad is a text editor for iPhone that utilizes advanced handwriting recognition input for the English language as well as iPhone keyboard for text entry, and includes spell checker, context analyzer, and standard editing operations such as copy, cut, paste, etc.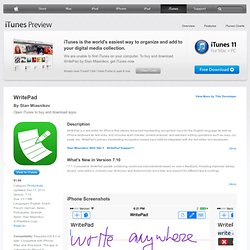 WritePad's primary handwriting recognition-based input method integrated with the text editor and developed specifically for iPhone and iPod Touch. It recognizes cursive, PRINT, and mixed handwriting styles. To enter the text you can simply write with your finger or a stylus (such as AluPen by just|mobile) on the iPhone screen in either landscape or portrait mode employing your own handwriting style.
It also allows easily switching between the handwriting recognition and the standard iPhone keyboard. Softsign - document-signing. EverClipper - edit photo & send to evernote. Description With EverClipper you can reduce your photo's size and change it's orientation and send it to Evernote or send it by Email.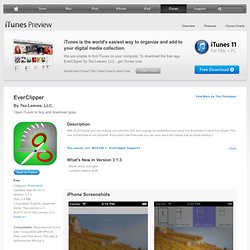 (The use of Evernote is not required. If you don't use Evernote you can also use EverClipper just as photo editing.) You can select photo's size from among 10 levels or from customized size and you can crop photo at any position and to any size. You can also rotate photo per 90 degrees or straighten it. The Trunk - Apps. Bible+ Description Over 4 million people on 6 continents use 'The Bible Study App' to read and study God's Word!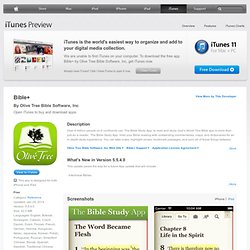 This Bible app is more than just an e-reader, 'The Bible Study App' links your Bible reading with outstanding commentaries, maps, and dictionaries for an in-depth study experience. You can take notes, highlight verses, bookmark passages, and sync all of these things between different devices. Install now to explore over 100 free downloadable resources that make 'The Bible Study App' a must have. Colorstache | Search Evernote Archives by Color, with Style.
Egretlinks - manage & browse websites clipped to Evernote. Droid Scan Pro PDF - Android Market. "As a scanner, wonderful.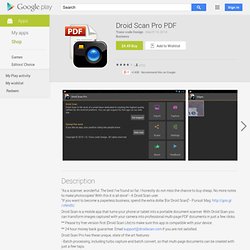 The best I've found so far. I honestly do not miss the chance to buy cheap. No more notes to make photocopies! Instapaper: Save interesting web pages for reading later. Wonderful Days - Diary with Style. Description ★ Now optimized for iPhone 5 and iOS 6!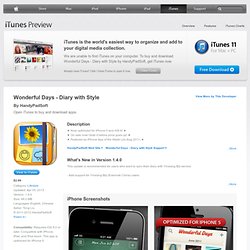 ★★ On sale now! Grab it before price goes up! ★★ Featured as iPhone App of the Week (Jul-Aug 2011) ★ TweetAgora - Making Twitter More Manageable. Read It Later Pro. Description Pocket has been named one of the best apps for iPhone and iPad by the App Store.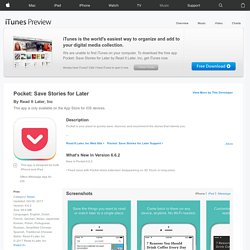 Over 10 million people use Pocket to easily save articles, videos and more for later. With Pocket, all of your content goes to one place, so you can view it anytime, on any device. Receipts Pro - track expenses and send to Evernote.
---