2011-12-08
Backwoods Solar Electric Systems. (116) Unwrapped. (116) AC Gears. Google. Google. Google. Amazon coupon code. Google. Google. Amazon Coupons (48 available / $13 avg savings) - Official Coupon Partner. Amazon® Coupons, Amazon® Coupon Codes, Amazon® Deals. Amazon has the Life Series 4 Disc Blu-ray Set (Narrated By David Attenborough) for a low $24.99.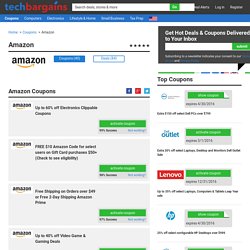 Free Shipping with orders $35+ or with Prime. Tax in many. DealCatcher: Free Online Coupons Amazon, Dell, Old Navy, Overstock. Google Doodles you'll never see - The Christian Science Monitor. Photos of the Day 12/07 - The Christian Science Monitor. Diego Rivera: honoring a big fat Communist with a Google doodle. From President Obama to "Occupy" protesters to the Muppets: The accusations of communism abounding is shrill.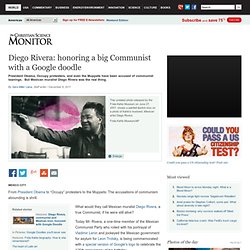 Skip to next paragraph Subscribe Today to the Monitor Click Here for your FREE 30 DAYS ofThe Christian Science MonitorWeekly Digital Edition What would they call Mexican muralist Diego Rivera, a true Communist, if he were still alive? Today Mr. (116) Karma Mantra. (116) Marmot. Thinkmap Visual Thesaurus - An online thesaurus and dictionary of over 145,000 words that you explore using an interactive map. Welcome to the Visual Thesaurus, an interactive tool that allows you to discover the connections between words in a visually captivating display.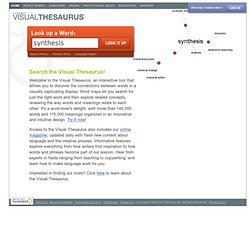 Word maps let you search for just the right word and then explore related concepts, revealing the way words and meanings relate to each other. It's a word-lover's delight, with more than 145,000 words and 115,000 meanings organized in an innovative and intuitive design. Try it now! Access to the Visual Thesaurus also includes our online magazine, updated daily with fresh new content about language and the creative process. Informative features explore everything from how writers find inspiration to how words and phrases become part of our lexicon.
Fatbirder's Top 1000 Birding Websites - Rankings - All Sites. Insects. Moths and Butterflies of the Outer Hebrides Checklist of the Moths of the Outer Hebrides This page contains links to the moths photo gallery which is split into four main titles to aid faster download times.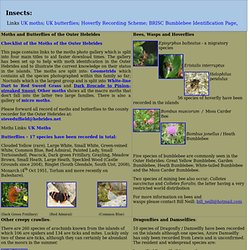 The gallery has been set up to help with moth identification in the Outer Hebrides and to illustrate the current knowledge on their status in the islands. The moths are split into: Geometrids which contains all the species photographed within this family so far; Noctuids which is the largest group and is split into White-line Dart to Red Sword Grass and Dark Brocade to Pinion-streaked Snout; Other moths shows all the macro moths that don't fall into the latter two large families. There is also a gallery of micro moths. Dog Agility and Dog Training Equipment - Jumps. Google. PetSafe Dog AGILITY Training Equipment - Bar Jump. Write a review Edit your review Petsafe PDT00-11031 Bar Jump Teach your dog to jump to new heights with the Petsafe PDT00-11031 Bar Jump single bar hurdle.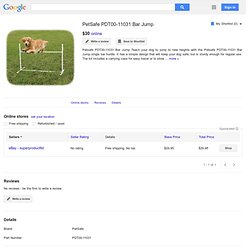 PetSafe Dog AGILITY Training Equipment - Weave Poles. Write a review Edit your review PetSafe PetSafe Bar Jump PDT00-11031 (PDT00-11031)-------- You can teach your dog to jump to new heights with this single bar hurdle.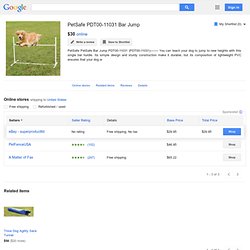 Its simple design and sturdy construction make it durable, but its composition of lightweight PVC ensures that your dog w. Our Ships - P&O Cruises. Coupon Codes. Fab, Daily Sales on Unique Products With a Focus on Design. Free Victoria's Secret Reward Card @ 9am (EST) – 1st 10,000. What children's drawings would look like if it were painted realistically. By Rian on 4 December 2011 The Monster Engine is one of those projects that make me love the Internet for its ability to expose amazing creative talent to a worldwide audience.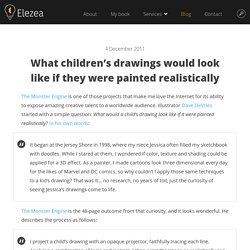 Illustrator Dave DeVries started with a simple question: What would a child's drawing look like if it were painted realistically? In his own words: It began at the Jersey Shore in 1998, where my niece Jessica often filled my sketchbook with doodles. While I stared at them, I wondered if color, texture and shading could be applied for a 3D effect. Caboodle - Layout. TheBloggess.com. F | TheBloggess.com. The James Garfield Christmas (And Hanukah) Miracle Returns. Sort of. This post is going to be crazy-ass hard to follow but it's probably worth it, so buckle-up, buttercup.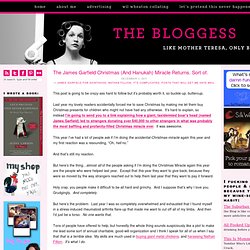 Last year my lovely readers accidentally forced me to save Christmas by making me let them buy Christmas presents for children who might not have had any otherwise. It's hard to explain, so instead I'm going to send you to a link explaining how a giant, taxidermied boar's head (named James Garfield) led to strangers donating over $40,000 to other strangers in what was probably the most baffling and profanity-filled Christmas miracle ever.
(25) Twitter / Home. Someone's list. Loans that change lives.
---