News
Google's 'dramatic' search overhaul: How it affects you
This is how companies die, how brands wither and, more cheefully in the other direction, how careers are made. Gradually, because every day opportunities are missed, little bits of value are lost, customers become unentranced. We don't notice so much, because hey, there's a profit. Profit covers many sins. Of course, one day, once the foundation is rotted and the support is gone, so is the profit.
Why I'm buying a new iPad, despite my own advice | Deep Tech
Ordinarily I advise people to upgrade their gadgets every second generation. So why am I not taking my own advice with the third-generation iPad? Maybe it was carelessness. Then again, maybe my Samsung Galaxy Tab 10.1 was jealous that the iPad 2 was getting all the attention. I had set the iPad 2 on top of the Galaxy Tab, which in turn was resting on a couple external hard drives in the power-strip section of my office where most of my electronica goes when it needs a current fix.
The day's most fascinating News, From the desk of Dave Pell Give Your Inbox Some Awesome Learn More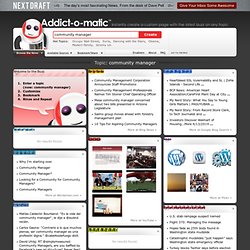 community manager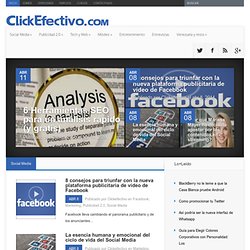 6 Herramientas SEO para un análisis rápido (y gratis) ¿Por qué no tiene un buen posicionamiento en buscadores mi página web? ¿Qué factores está penalizando Google?
unnamed pearl
Ayer hablabamos del personal branding (marca personal), qué es, como definirla, que hacer para mejorarla y por último evaluar esa marca personal. Cuando hablamos de la marca de una empresa, si bien existen otras variables, muchos de los pasos para establecer o mejorar la marca, son similares. Por ejemplo cuando las empresas tratan de establecerse en Internet y más específicamente en la social media, deben de darle la oportunidad al fan de la marca, al cliente leal, de interactuar con la misma. De esta manera esos usuarios comenzarán a comentar sobre la marca y todos sabemos como la social media ayuda en esto. Dicho esto viene la pregunta, ¿Qué tan sociales son las marcas famosas como Apple, Microsoft y otras por el estilo? Para contestar esa pregunta, la firma Sociagility llevó a cabo una encuesta que revela el valor social de las grandes marcas.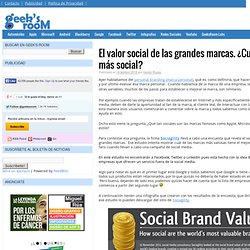 El valor social de las grandes marcas. ¿Cuál es más social?