News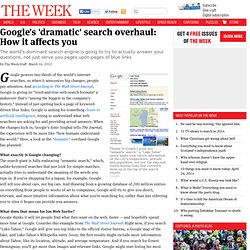 Thanks to Google's push into "semantic search," a "Lake Tahoe" query might soon return information on the city's temperature, altitude, and population, not just the map and visitor bureau links that currently show up at the top of the search results. Google oogle powers two-thirds of the world's internet searches, so when it announces big changes, people pay attention. And according to The Wall Street Journal, Google is giving its "tried-and-true web-search formula" a makeover that's "among the biggest in the company's history." Instead of just spitting back a page of keyword-driven blue links, Google is aiming for something closer to artificial intelligence, trying to understand what web searchers are asking for and providing actual answers.
Google's 'dramatic' search overhaul: How it affects you
Why I'm buying a new iPad, despite my own advice | Deep Tech
A trip off the desk, landing charging cable first on a hardwood floor, sprung this iPad 2's glass and broke the home button. (Credit: Stephen Shankland/CNET) Ordinarily I advise people to upgrade their gadgets every second generation. So why am I not taking my own advice with the third-generation iPad? Maybe it was carelessness.
The day's most fascinating News, From the desk of Dave Pell Give Your Inbox Some Awesome Learn More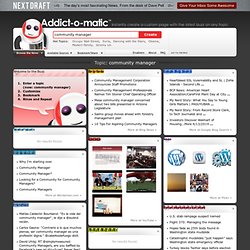 community manager
unnamed pearl
Ayer hablabamos del personal branding (marca personal), qué es, como definirla, que hacer para mejorarla y por último evaluar esa marca personal. Cuando hablamos de la marca de una empresa, si bien existen otras variables, muchos de los pasos para establecer o mejorar la marca, son similares. Por ejemplo cuando las empresas tratan de establecerse en Internet y más específicamente en la social media, deben de darle la oportunidad al fan de la marca, al cliente leal, de interactuar con la misma. De esta manera esos usuarios comenzarán a comentar sobre la marca y todos sabemos como la social media ayuda en esto. Dicho esto viene la pregunta, ¿Qué tan sociales son las marcas famosas como Apple, Microsoft y otras por el estilo? Para contestar esa pregunta, la firma Sociagility llevó a cabo una encuesta que revela el valor social de las grandes marcas.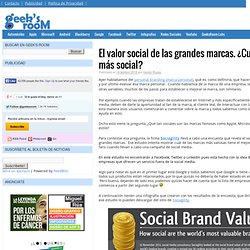 El valor social de las grandes marcas. ¿Cuál es más social?