Background
As collaboration goes social, where will it thrive? The Cluetrain Manifesto. These markets are conversations.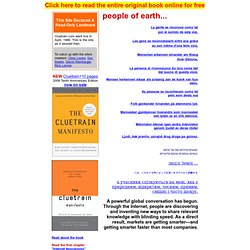 Their members communicate in language that is natural, open, honest, direct, funny and often shocking. Whether explaining or complaining, joking or serious, the human voice is unmistakably genuine. It can't be faked. Ten tech-enabled business trends to watch - McKinsey Quarterly - High Tech - Strategy & Analysis. Two-and-a-half years ago, we described eight technology-enabled business trends that were profoundly reshaping strategy across a wide swath of industries.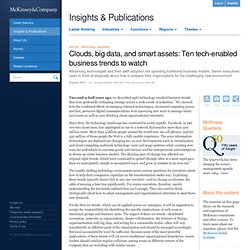 We showed how the combined effects of emerging Internet technologies, increased computing power, and fast, pervasive digital communications were spawning new ways to manage talent and assets as well as new thinking about organizational structures. Since then, the technology landscape has continued to evolve rapidly. Facebook, in just over two short years, has quintupled in size to a network that touches more than 500 million users. The Four Primary Types of Social Media Strategy. Image: Water chess board by cozmicberliner The following is draft material for my next book, Welcome to the Fifth Estate (the follow up to Now Is Gone, which is almost out of print).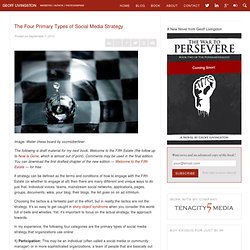 Comments may be used in the final edition. You can download the first drafted chapter of the new edition — Welcome to the Fifth Estate — for free. If strategy can be defined as the terms and conditions of how to engage with the Fifth Estate (or whether to engage at all) then there are many different and unique ways to do just that. Royal Pingdom » Internet 2010 in numbers. Posted in Tech blog on January 12th, 2011 by Pingdom What happened with the Internet in 2010?
How many websites were added? Bre Pettis | I Make Things - Bre Pettis Blog - The Cult of Done Manifesto. Dear Members of the Cult of Done, I present to you a manifesto of done.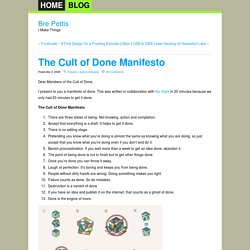 This was written in collaboration with Kio Stark in 20 minutes because we only had 20 minutes to get it done. Most Important Social Media Events of 2010 [Infographic] 10 Business Models that rocked 2010. GM's Christopher Barger: 'We're headed toward a social media version of the dotcom bubble burst' Christopher Barger knows first-hand the challenges the automotive industry has faced in recent years.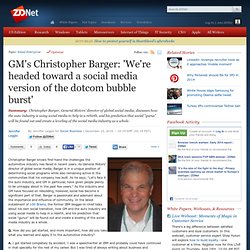 As General Motors' director of global social media, Barger is in a unique position of determining social programs while also remaining active in the communities that his company has built. As he says, "Let's face it the auto industry, and GM in particular, have given people plenty to be unhappy about in the past few years. " How PR 2.0 Created the Social Media Bubble. Image by John Petrick The social media influence bubble finds its basis in measurement of inaccurate barometers.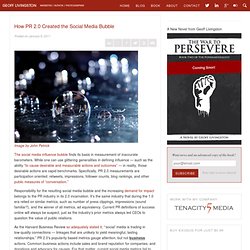 While one can use glittering generalities in defining influence — such as the ability "to cause desirable and measurable actions and outcomes" — in reality, those desirable actions are vapid benchmarks. Specifically, PR 2.0 measurements are participation oriented: retweets, impressions, follower counts, blog rankings, and other public measures of "conversation."
290+ Social Media Resources From 2010.
---