Tips
1. Introduction.......................................................................................................................................... 1 2. Style Guidelines.................................................................................................................................... 2 2.1 Tabs & Indenting................................................................................................................................ 2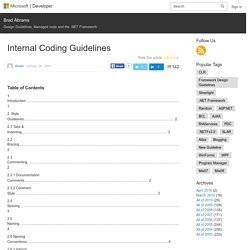 Brad Abrams : Internal Coding Guidelines
Five simple steps to better typography - Typographic Hierarchy -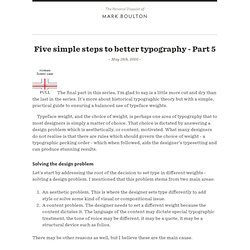 – May 18th, 2005 – The final part in this series, I'm glad to say is a little more cut and dry than the last in the series. It's more about historical typographic theory but with a simple, practical guide to ensuring a balanced use of typeface weights. Typeface weight, and the choice of weight, is perhaps one area of typography that to most designers is simply a matter of choice. That choice is dictated by answering a design problem which is aesthetically, or content, motivated. What many designers do not realise is that there are rules which should govern the choice of weight - a typographic pecking order - which when followed, aids the designer's typesetting and can produce stunning results.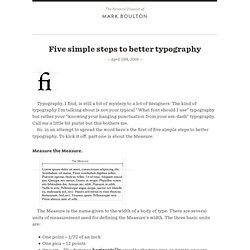 Five simple steps to better typography - Measure the Measure
– April 13th, 2005 – Typography, I find, is still a bit of mystery to a lot of designers. The kind of typography I'm talking about is not your typical "What font should I use" typography but rather your "knowing your hanging punctuation from your em-dash" typography. Call me a little bit purist but this bothers me. So, in an attempt to spread the word here's the first of five simple steps to better typography.