Publications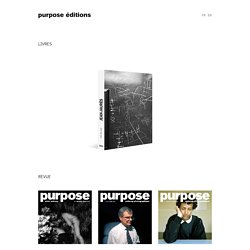 purpose 8 automne / autumn 2008 enfance / childhood D. DuBois, M.
SEESAW MAGAZINE: An Online Photography Magazine " Observation Full and Felt" www.seesawmagazine.com Director / Editor - Aaron Schuman - editor@seesawmagazine.com Copyright © Aaron Schuman / SeeSaw Productions, 2013. All Rights Reserved. This site and all of its contents may not be reproduced, in whole or in part, in any form, without the written permission of Aaron Schuman, and other additional artists involved in the production of specific works exhibited on this site.
SEESAW MAGAZINE: Home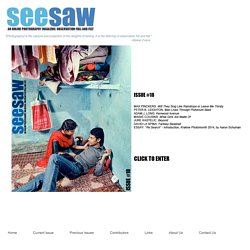 Today more than ever before, documentary photography is a moving target. Its definition as a style is in a decade-long collision with incredible emerging tools of news gathering and the radical ease of distributing information in the 21st century. Read more Brian Finke's new book is a portrait of those wonderful men and women who help us fly the (occasionally) friendly skies. Go to the essay Indie rock band the Texas Chainsaw Mass Choir took to the highway in the summer and fall of 2003 to promote their raucous brand of hardcore.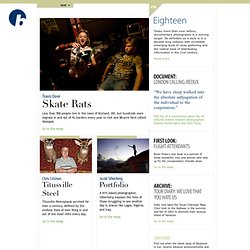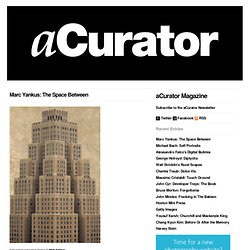 aCurator
Marc Yankus is a photographer and graphic artist. In his latest body of work, "The Space Between," he presents New York's architecture in an imaginary, yet hyper-real way. Marc sees things differently; we talked about him having almost synesthesic moments as he walks around New York. His photographs are a result of his vision and precise post-production, and invoke a nostalgia that on the whole, New York has no time for (though I believe the new mayor is being lobbied to create a listed buildings register for those over 75 years old.)
SP,BH Publications at Self Publish, Be Happy
Oceans of images Generic Brand Video, oh the joys of stock photography / GRAD is the Gallery for Russian Arts and Design (via Travel Brochure Graphics). Past exhibitions have seen reconstructed Constructivism and Soviet propaganda imagery. It sent us back to Kosmograd / Triumphs, Carbuncles and Hopeful Monsters – The British vs Modern Architecture, an upcoming talk about architecture, place and public attitudes. Related, Subject, Theory, Practice: An Architecture of Creative Engagement is a short film by Adam Nathaniel Furman on archiporn, imagery, the avant-garde and the gulf between 'hyperactive new medias with their incredible oceans of material and the slow dialogues that swirl around the grand narratives'. Adam Curtis meets Jonathan Meades.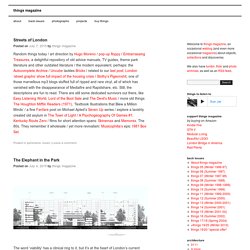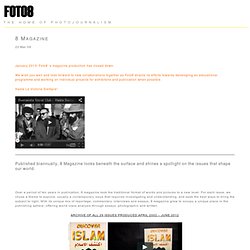 In Print
Published biannually, 8 Magazine looks beneath the surface and shines a spotlight on the issues that shape our world. Over a period of ten years in publication, 8 magazine took the traditional format of words and pictures to a new level. For each issue, we chose a theme to explore, usually a contemporary issue that requires investigating and understanding, and seek the best ways to bring the subject to light. With its unique mix of reportage, commentary, interviews and essays, 8 magazine grew to occupy a unique place in the publishing sphere, offering world class analysis through essays, photographic and written.
actualités
finitefoto