Publications
Purpose - webmag photographique. SEESAW MAGAZINE: Home. LPV Magazine. Blueeyes Magazine. aCurator. Marc Yankus is a photographer and graphic artist.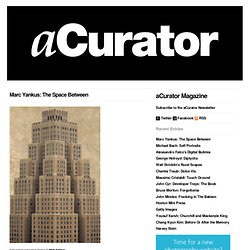 In his latest body of work, "The Space Between," he presents New York's architecture in an imaginary, yet hyper-real way. Marc sees things differently; we talked about him having almost synesthesic moments as he walks around New York. His photographs are a result of his vision and precise post-production, and invoke a nostalgia that on the whole, New York has no time for (though I believe the new mayor is being lobbied to create a listed buildings register for those over 75 years old.) SP,BH Publications at Self Publish, Be Happy. Things magazine.
In Print. Published biannually, 8 Magazine looks beneath the surface and shines a spotlight on the issues that shape our world.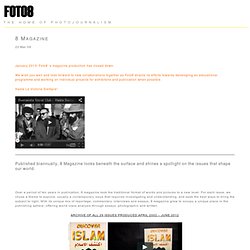 Over a period of ten years in publication, 8 magazine took the traditional format of words and pictures to a new level. For each issue, we chose a theme to explore, usually a contemporary issue that requires investigating and understanding, and seek the best ways to bring the subject to light. With its unique mix of reportage, commentary, interviews and essays, 8 magazine grew to occupy a unique place in the publishing sphere, offering world class analysis through essays, photographic and written. Actualités. Finitefoto.
---