Learn&Train
Webinars and videos for professionals and their communities | BrightTALK
‎wearemakers.org
The 4-Hour Chef | The Simple Path to Cooking Like a Pro, Learning Anything, and Living The Good Life
Sonic Foundry | Lecture capture, event webcasting and knowledge management for meetings, training and events from Sonic Foundry:
Innovation - The Resourceful Paradox - interview with Prof. Marion De Bruyne
Membership « Center for Evidence Based Management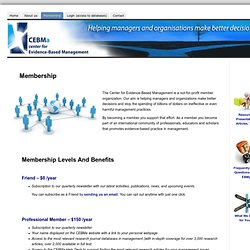 Our members play an important role in promoting evidence-based practice to the wider community. By becoming a member you support our mission to bridge the gap between scientific research and management practice, a mission that benefits managers, consultants and organizations worldwide. Get involved and become a CEBMa member! Get access to the most relevant research databases in the field of management, which includes in-depth coverage for over 3,000 research articles, with more than 2,000 available in full text. This will provide you with the best available evidence, most up-to-date information and the highest-quality resources available to managers, consultants, teachers and academics.
Interdisciplinary Centre for Law and ICT (ICRI)
Tools & testen
SSRN Electronic Library