Invisible hand in action (anecdotes)
French government bond futures
Trader @benoistrousseau andlil
http://www.lemonde.fr/ameriques/article/2010/04/09/les-banques-a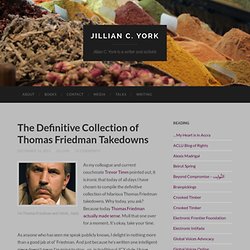 I'm Thomas Friedman and I think…hard. As my colleague and current couchmate Trevor Timm pointed out, it is ironic that today of all days I have chosen to compile the definitive collection of hilarious Thomas Friedman takedowns. Why today, you ask?
The Definitive Collection of Thomas Friedman Takedowns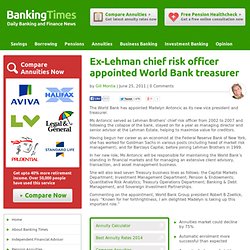 The World Bank has appointed Madelyn Antoncic as its new vice president and treasurer.
Ex-Lehman chief risk officer appointed World Bank treasurer
Neo-liberalism only helps the corporations, nobody else « Antony Loewenstein
Thanks for visiting Viewsflow!
Tell me this isn't loathesome: Credit Card Cleverness - The Base
Blankfein of Goldman 'expecting $100m bonus' - Viewsflow
Thanks for visiting Viewsflow!
Thanks for visiting Viewsflow! Viewsflow is offline as of 21 July.
The gang of five, and how they nearly ruined us - Viewsflow
By Matthew Yglesias on February 12, 2010 at 8:31 am It seems that the law of one price does not apply to central bank chiefs: The Australia/New Zealand spread is especially dramatic. The convention, I guess, is that you can't just recruit a central banker from abroad. But considering that Australia and Canada have outperformed the larger economies during this crisis and have low-wage central banks, it seems like someone might want to consider poaching one of those guys to run a bigger economy.
Matthew Yglesias » Central Bank Salaries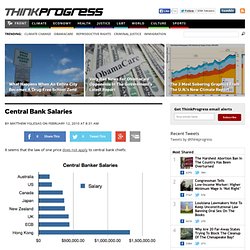 Grèce : le bal des hypocrites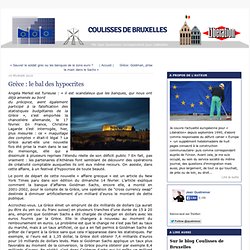 Le point de départ de cette nouvelle « affaire grecque » est un article du New York Times paru dans son édition du dimanche 14 février.
JP Morgan's Loss: The Explainer
All I know is that everyone's really mad about this JP Morgan mess. What on earth happened? A JP Morgan trader, Bruno Iksil, has been accumulating a giant bet on U.S. corporate bonds. He used derivatives to do it, and he messed up the bet and lost $2 billion for the bank. He could end up losing $1 billion more if the market doesn't cooperate.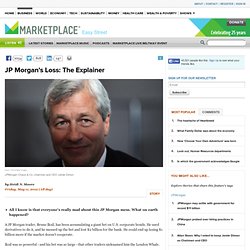 Hedge funds and the Whale, credit index edition
Bank Order Led to Losing Trades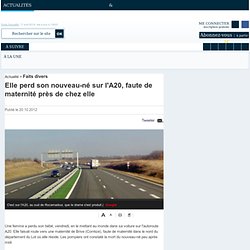 Elle perd son nouveau-né sur l'A20, faute de maternité près de chez elle
Une femme a perdu son bébé, vendredi, en le mettant au monde dans sa voiture sur l'autoroute A20. Elle faisait route vers une maternité de Brive (Corrèze), faute de maternité dans le nord du département du Lot où elle réside. Les pompiers ont constaté la mort du nouveau-né peu après midi. La jeune femme, accompagnée de son compagnon, avait pris la direction de Brive, soit un trajet d'un peu plus d'une heure, sur les conseils de son gynécologue qu'elle avait consulté peu avant à Figeac (est du Lot). Selon les informations de la Dépêche du Midi, la femme était enceinte de 7 mois.