POLÍTICOS
The Violence of Mexican Drug Cartels on Vimeo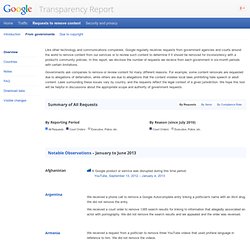 Government Requests – Google Transparency Report
Comme d'autres entreprises spécialisées dans les technologies et les communications, Google reçoit régulièrement des demandes d'autorités administratives et de tribunaux du monde entier exigeant la suppression de contenus de nos services ou l'examen de ces contenus pour déterminer s'ils respectent bien le règlement de la communauté d'un produit donné.
Global Integrity Report
2009 Global Integrity Index Global Integrity Index: 2009 What is the Global Integrity Index?
Uses objective measures and quantitative data to rate governance and corruption. No opinion surveys used. Attempts to measure the "opposite of corruption" through objective, statistical methods.
Full report, data, and full methodology available.
Source: Global Integrity, reputable non-profit organization
50 countries (including Pakistan, Lebanon, Turkey, Algeria)
2004, 2006-2008. by macopa Oct 22
Political Terror Scale : Home
Gives a single score (1-5) rating a country's political terror or freedom. Uses Amnesty International and the U.S. State Dept. as sources.
About 170 countries (includes all Muslim countries).
1976-2007. by macopa Oct 22
International | Working to Protect Human Rights
Middle East Political Events Data, 1979-1995
This study was originally provided by ICPSR. ICPSR provides leadership and training in data access, curation, and methods of analysis for a diverse and expanding social science research community.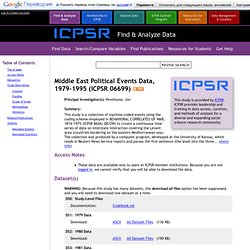 www.systemicpeace.org/Global Report 2009.pdf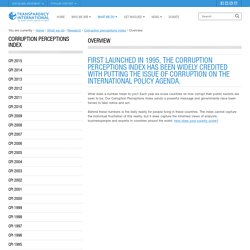 What does a number mean to you?
policy_research/surveys_indices/cpi
policy_research/surveys_indices/gcb
Internet Center for Corruption Research
Freedom of the Press
The page you're looking for is currently unavailable to view.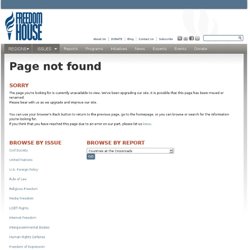 Human Rights Watch | Defending Human Rights Worldwide
CIRI Human Rights Data Project: Home
Source for quantitative human rights data.
Indicators on: extrajudicial killings, disappearances, torture, political imprisonment, freedom of speech, religion, movement and assembly, free elections, workers' and women's rights
Dataset download: Yes
Source: University of Binghamton
195 countries (includes Muslim countries).
1981-2007. by macopa Oct 22
The page you're looking for is currently unavailable to view.
Freedom in the World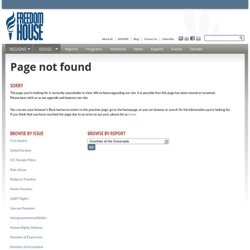 Rates countries Free, Partially Free, or Not Free, and provides sub-scores in political rights and civil liberties.
Political rights sub-scores: Electoral Process, Political Pluralism and Participation, Functioning of Government
Civil liberties sub-scores: Freedom of Expression and Belief, Associational and Organizational Rights, Rule of Law, Personal Autonomy and Individual Rights
Tables, charts, country reports, methodology, and sources.
Source: Freedom House; 80% funded by US government; widely trusted in political science research
192 countries and 15 territories (includes all Muslim countries).
1973-2008. by macopa Oct 22