APPS
Qwiki. Lazarus: Form Recovery - Lazarus: Form Recovery: Restore lost forms with a single click. Image Zoom. 10K Apart - An Event Apart + Mix Online. 10K Apart - An Event Apart + Mix Online. BPMSTER. FB Chat History Manager. Shareaholic for Firefox - The best way to share, tweet, bookmark, save and e-mail webpages.
10K Apart - An Event Apart + Mix Online. 10K Apart - An Event Apart + Mix Online. 10K Apart - An Event Apart + Mix Online. 10K Apart - An Event Apart + Mix Online. 10K Apart - An Event Apart + Mix Online. Open IT Online | View your documents online. JPEGmini - Unbeatable JavaScript Tools. Text Message (SMS) Polls and Voting, Audience Response System. PICFONT - Add text to picture. Map Maker: Create Google maps the easy way.
Crappy Graphs! Now you can join in on the fun!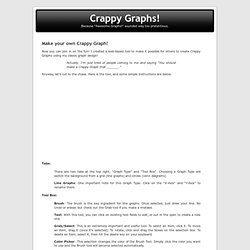 I created a web-based tool to make it possible for others to create Crappy Graphs using my classic graph design! Actually, I'm just tired of people coming to me and saying "You should make a Crappy Graph that ______. " Anyway, let's cut to the chase. Here is the tool, and some simple instructions are below. 40 Brilliant and Advanced jQuery Effects To Use In Your Websites. Just a while ago, Flash was one of the primary technologies used by web designers to add interactivity to a website.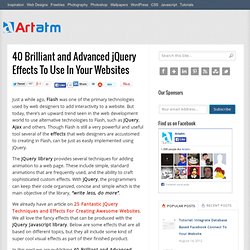 But today, there's an upward trend seen in the web development world to use alternative technologies to Flash, such as jQuery, Ajax and others. Though Flash is still a very powerful and useful tool several of the effects that web designers are accustomed to creating in Flash, can be just as easily implemented using jQuery. The jQuery library provides several techniques for adding animation to a web page. These include simple, standard animations that are frequently used, and the ability to craft sophisticated custom effects. Pleasenotify.me - Simple Email Based Todo Manager. AddThis - The #1 Bookmarking & Sharing Service. Poodwaddle. Firefox add-on.
<p id="noscript">kwout uses JavaScript.
Please enable JavaScript and try again. </p> Firefox add-on Firefox add-on is now available! IM+. HootSuite.
---