APPS
Lazarus: Form Recovery - Lazarus: Form Recovery: Restore lost forms with a single click
Image Zoom
10K Apart - An Event Apart + Mix Online
10K Apart - An Event Apart + Mix Online
BPMSTER
FB Chat History Manager :: Complementos para Firefox
Biblioteca Mundial Digital - UNESCO
10K Apart - An Event Apart + Mix Online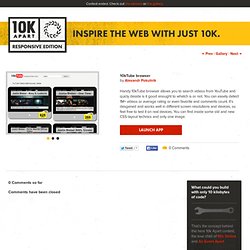 10kTube browser by Alexandr Pokutnik Handy 10kTube browser allows you to search videos from YouTube and quicly deside is it good enought to whatch is or not. You can easely detect 1M+ videos or average rating or even favorite and comments count. It's desgened and works well in different screen resolutions and devices, so feel free to test it on real devices.
10K Apart - An Event Apart + Mix Online
10K Apart - An Event Apart + Mix Online
10K Apart - An Event Apart + Mix Online
10K Apart - An Event Apart + Mix Online
JPEGmini - http://www.jpegmini.com
Crappy Graphs!
Now you can join in on the fun! I created a web-based tool to make it possible for others to create Crappy Graphs using my classic graph design! Actually, I'm just tired of people coming to me and saying "You should make a Crappy Graph that ______." Anyway, let's cut to the chase. Here is the tool, and some simple instructions are below.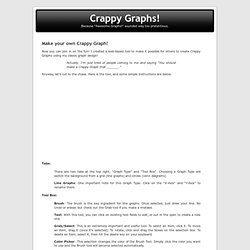 Just a while ago, Flash was one of the primary technologies used by web designers to add interactivity to a website. But today, there's an upward trend seen in the web development world to use alternative technologies to Flash, such as jQuery , Ajax and others. Though Flash is still a very powerful and useful tool several of the effects that web designers are accustomed to creating in Flash, can be just as easily implemented using jQuery. The jQuery library provides several techniques for adding animation to a web page. These include simple, standard animations that are frequently used, and the ability to craft sophisticated custom effects.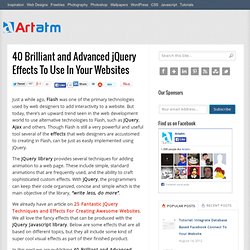 40 Brilliant and Advanced jQuery Effects To Use In Your Websites
pleasenotify.me - Simple Email Based Todo Manager
Firefox add-on
<p id="noscript">kwout uses JavaScript. Please enable JavaScript and try again.</p> Firefox add-on Firefox add-on is now available!