APPS
Ever had one of those "oh $*#@" moments when you've finally finished filling out a long form, and hit submit only to see an error message? And when you hit the back button, the form was blank... If so, you know you need Lazarus. And if not, you have a chance to install Lazarus before disaster strikes ! Using Lazarus, you can recover lost forms with a single click . Lazarus automagically encrypts and saves every form as you type .

Lazarus: Form Recovery - Lazarus: Form Recovery: Restore lost forms with a single click
Image Zoom
10K Apart - An Event Apart + Mix Online
10K Apart - An Event Apart + Mix Online
BPMSTER
FB Chat History Manager :: Complementos para Firefox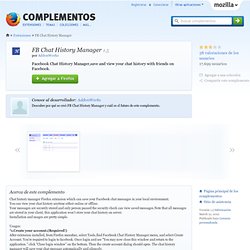 Chat history manager Firefox extension which can save your Facebook chat messages in your local environment.You can view your chat history anytime either online or offline.Your messages are securely stored and only person passed the security check can view saved messages.Note that all messages are stored in your client, this application won't store your chat history on server.Installation and usages are pretty simple. Usages:*1.Create your account.(Required!)After extension installed, from Firefox menubar, select Tools,find Facebook Chat History Manager menu, and select Create Account.
10K Apart - An Event Apart + Mix Online
10K Apart - An Event Apart + Mix Online
10K Apart - An Event Apart + Mix Online
10K Apart - An Event Apart + Mix Online
10K Apart - An Event Apart + Mix Online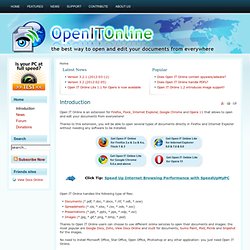 Open IT Online is an extension for Firefox, Flock, Internet Explorer, Google Chrome and Opera 11 that allows to open and edit your documents from everywhere! Thanks to this extension, you will be able to open several types of documents directly in Firefox and Internet Explorer without needing any software to be installed. Click Tip: Speed Up Internet Browsing Performance with SpeedUpMyPC Open IT Online handles the following type of files:
JPEGmini - http://www.jpegmini.com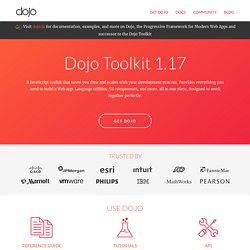 Instantly Better Web Apps Dojo saves you time and scales with your development process, using web standards as its platform. It's the toolkit experienced developers turn to for building high quality desktop and mobile web applications. From simple websites to large packaged enterprise applications whether desktop or mobile, Dojo will meet your needs. Internet Explorer 6-9 Firefox 3.6+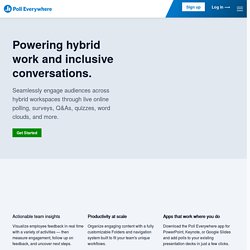 Professional look and feel Poll Everywhere gives you the power to design and customize polls to your own specifications. Match your presentation template, use your organization's logo and color scheme, or let your own imagination run wild.
Crappy Graphs!
Now you can join in on the fun! I created a web-based tool to make it possible for others to create Crappy Graphs using my classic graph design! Actually, I'm just tired of people coming to me and saying "You should make a Crappy Graph that ______." Anyway, let's cut to the chase. Here is the tool, and some simple instructions are below.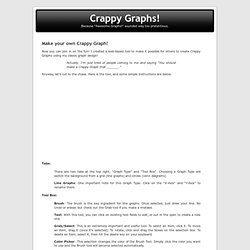 Just a while ago, Flash was one of the primary technologies used by web designers to add interactivity to a website. But today, there's an upward trend seen in the web development world to use alternative technologies to Flash, such as jQuery, Ajax and others. Though Flash is still a very powerful and useful tool several of the effects that web designers are accustomed to creating in Flash, can be just as easily implemented using jQuery. The jQuery library provides several techniques for adding animation to a web page. These include simple, standard animations that are frequently used, and the ability to craft sophisticated custom effects.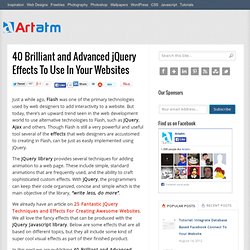 40 Brilliant and Advanced jQuery Effects To Use In Your Websites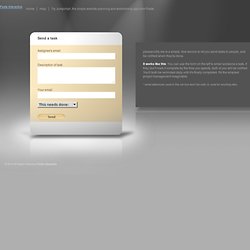 pleasenotify.me - Simple Email Based Todo Manager
Paste Interactive pleasenotify.me is a simple, free service to let you send tasks to people, and be notified when they're done. It works like this: You can use the form on the left to email someone a task. If they don't mark it complete by the time you specify, both of you will be notified. You'll both be reminded daily until it's finally completed.
Firefox add-on
<p id="noscript">kwout uses JavaScript. Please enable JavaScript and try again.</p> Firefox add-on Firefox add-on is now available!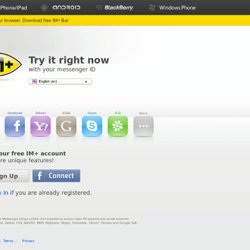 Neighbors is available for individuals aged 13 years or older. If you are 13 or older but under the age of 18, you should review this Agreement with your parent or guardian to make sure that you and your parent or guardian understand it. Use of the Neighbors requires compatible devices, Internet access, and IM+ software (fees may apply); may require periodic updates; and may be affected by the performance of these factors. By using Neighbors, you agree to the terms of this Privacy Policy and you expressly consent to the processing of your Personal Information according to this Privacy Policy. As a registered user of the Neighbors, you may establish an Account. Don't reveal your Account information to anyone else.