Raw food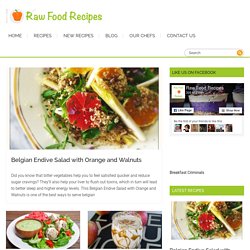 RFR.com: Your recipes are truly some of the best to be found on the internet. How did you learn to create such amazing food? Did you attend a culinary school or has it been completely self taught? Emily: Thank you!
RAW Forest Foods | Discover the Infinite Power Within
Natural & Organic Health: Food Benefits, Directory, Nutritional Value
Print Cucumber, grapes and celery with zucchini and mint gremolata Author: Kemi Ingredients 2 tablespoons fresh mint, finely shredded 1 cup cucumber, 1cm diagonal pieces 1 cup celery, 1cm diagonal pieces 1 cup mixed grapes, halved 1 cup zucchini, finely diced 1 tablespoon olive oil 1 zest lemon ½ juice lemon Method Place cucumber, celery and grapes in a bowl. In a separate bowl mix zucchini, lemon zest, juice and oil together. Spoon the gremolata on top of the cucumber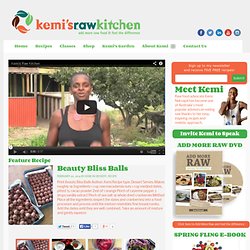 Kemi's Raw Kitchen - Raw food recipes, Raw food classes, Benefits of raw food
Last weekend, I had an incredible experience. Seriously incredible. I met a friend. Not so incredible? Well, wait until you hear the back story on this one.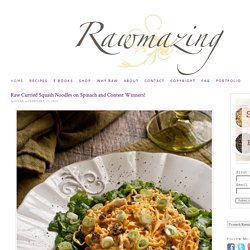 Give it to me Raw
The Rawfully Organic Co-op
All Raw Directory: Raw Food and Raw Foods Diet Directory
"This is the world's first community-run raw food directory, meant to catalog resources for the entire raw and living foods community. Click on any of the categories to view available information, or add new raw-related links of your own! The A.R.D. is my gift to all of us -- a small way for us to become closer and stronger. With an open heart, my love flows out to all of you."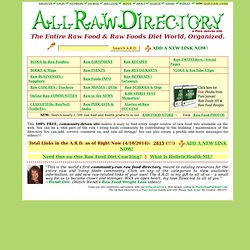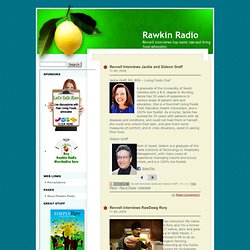 Jackie Graff, RN, BSN – Living Foods Chef A graduate of the University of South Carolina with a B.S. degree in Nursing, Jackie has 30 years of experience in various areas of patient care and education. She is a Gourmet Living Foods Chef, Educator, Health Consultant, and a 100% live foodist. As a nurse, Jackie has worked for 33 years with patients with all diseases and conditions, and could not heal them or herself… she could only relieve their pain, and give them some measures of comfort, and in crisis situations, assist in saving their lives. Gideon Graff
RawkinRadio leading podcast on raw foods
Raw Vegan Radio | Vegan, Raw Vegan, Raw food, Raw food diet, Raw food recipes, Vegan recipes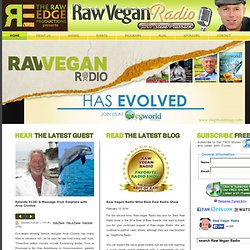 For the second time, Raw Vegan Radio has won for Best Raw Radio show in the 2014 Best of Raw Awards. We want to thank you for your continued support of Raw Vegan Radio. We will continue to publish radio shows, although they are now branded as "VegWorld Radio. You can expect the same great content, but we are now reaching a much larger global audience with a nationwide 10 city terrestrial radio launch this year. In other words, we have so much more to come.
RawFitBitch Freelee
Learn Raw Food | Raw Food Made Easy with Jennifer Cornbleet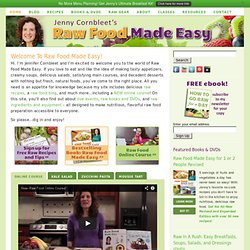 Hi. I'm Jennifer Cornbleet and I'm excited to welcome you to the world of Raw Food Made Easy. If you love to eat and like the idea of making tasty appetizers, creamy soups, delicious salads, satisfying main courses, and decadent desserts with nothing but fresh, natural foods, you've come to the right place. All you need is an appetite for knowledge because my site includes delicious raw recipes, a raw food blog, and much more…including a NEW online course!
Get the look and health you always wanted! "I love this site. I started the raw food diet two months ago, and this is my bible. I don't know where I would be without you. Thanks.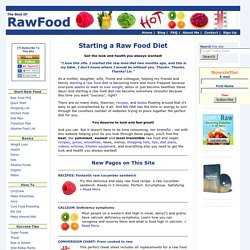 Best Green Smoothie Recipes | Green Smoothies
Please enjoy ten of the best green smoothie recipes which were shared on our Facebook group in June. Number 8 won a copy of Green for Life and an 'I love Green Smoothies' bumper sticker. Feel free to join the group and share your own green smoothies recipes, advice and questions. We are noticing that many people are helping each other with health concerns and sharing some interesting links.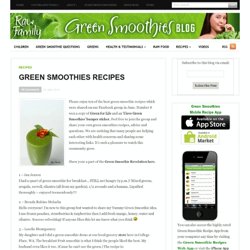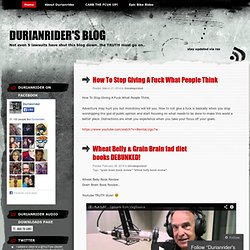 Durianrider's Blog
How To Stop Giving A Fuck What People Think. Adventure may hurt you but monotony will kill you. How to not give a fuck is basically when you stop worshipping the god of public opinion and start focusing on what needs to be done to make this world a better place. Distractions are what you experience when you take your focus off your goals.
Tuesday, April 15th, 2014 Olive n Veggie Pasta (gluten free, paleo, raw vegan) The first time I created this recipe both my husband and I knew it'd become a regular in our house, and it has been for years. The textures and flavors are refreshing and delicious (especially fantastic during the warm summer months), and it's a pretty dish. Oh, it takes a maximum of 10-minutes to throw together – I love that. Yield 2 servings
Raw Food for Long Life with Kristen's Raw
Hippocrates Health InstitueHippocrates Health Institue A nonprofit health institute based in West Palm Beach, Florida, Hippocrates has been the preeminent leader in the field of complementary health care and education for over 60 years. Founded in Boston, Massachusetts by Ann Wigmore after healing herself of colon cancer using Wheatgrass therapies, Hippocrates has helped hundreds of thousands of guests realize that good health is every person's birthright, and that a life free of disease and pain is our human legacy. Our philosophy is founded on the belief that a vegan, living, enzyme-rich diet – complemented by exercise, positive thinking and non-invasive therapies – is integral to optimum health.
Hippocrates Health Institute
The Fruit Pages - Education, Health Diet, Fruits Information
All about fruits, health facts, nutrition facts, tropical, exotic fruits list, fruits salad recipe
Fruits are good source of vitamins and minerals and are a readily available source. A fruit will boost you instantly. It is something which can quench your thirst and satisfy your hunger at the same time. Fruits are guardian angels for all the busy bees out there, who have no time to even have their breakfast. Since its handy they can be eaten even on the move.
Long Island's only COMPLETE Raw Food FACILITATION Program
We Like It Raw - Raw Food Goodness
Is raw vegan always healthy? —Raw Food Rawmazing Raw Food