Curation101
The New Rules of Content Creation & Curation - MyTechOpinion.com
Yesterday I had the opportunity of being a guest on #RTB on the Radio . Many of you may be familiar with this crew, but if you're not…you're really missing out! Really!
Pinterest Content Curation: My Secret Weapon for a Thriving Board
Content Curation: How To Curate Content For Your Blog And 6 Useful Tools
Content Curation Tools for Content Marketing: Storify vs Storyful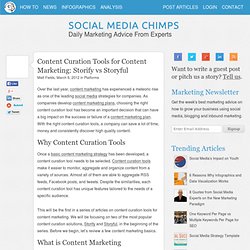 Over the last year, content marketing has experienced a meteoric rise as one of the leading social media strategies for companies. As companies develop content marketing plans , choosing the right content curation tool has become an important decision that can have a big impact on the success or failure of a content marketing plan . With the right content curation tools, a company can save a lot of time, money and consistently discover high quality content. Why Content Curation Tools
Content Curation versus Content Aggregation: A Velvet Mr. T Painting
Two posts brought to my attention the discussion starting to take root about the worlds of content aggregation versus content curation. A post on the Poynter blog back in early October points to the work of journalists engaging in curation via Twitter as a way of "filtering the signal from the noise." The phrase used was "curation is the new aggregation."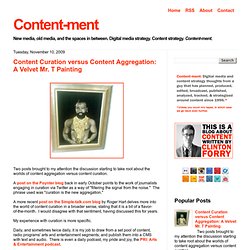 To find or not to find.
Three Lessons Higher Ed Web Communicators Can Learn from NPR's Andy Carvin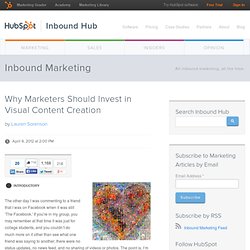 The other day I was commenting to a friend that I was on Facebook when it was still 'The Facebook.' If you're in my group, you may remember at that time it was just for college students, and you couldn't do much more on it other than see what one friend was saying to another; there were no status updates, no news feed, and no sharing of videos or photos. The point is, I'm only 25 and I already feel old in the history of social media.
Why Marketers Should Invest in Visual Content Creation
Thanks to John Heywood, a writer and courtier to Henry VIII, we have classic epigrams like "Haste makes waste," "a penny for your thought," "beggars can't be choosers," and "the more the merrier."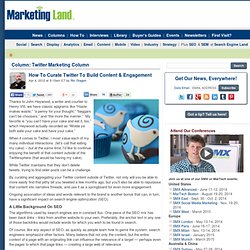 How To Curate Twitter To Build Content & Engagement
Is Pinterest going to make any money?
For those who haven't been madly pinning, Pinterest is a wildly successful image browsing website. Before the internet, we used to browse beautiful things for free by roaming the aisles of shops, or cutting pictures out of old magazines and sticking them to the wall.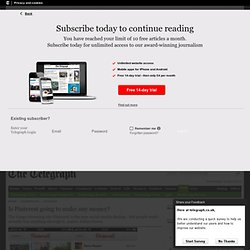 Zeeik: Social Video Curation
Curation, more accurately, social product discovery and photo culitvation (as we like to call it) , is most likely going to be named the social media trend of the year. With Pinterest 's overnight celebrity and PPR's backing of The Fancy , it looks like the race of relevance, based on niche audiences in the social content and product curation space, has begun. With that, it's clear that luxury brands are looking beyond wildly popular sites with large numbers of users but lower intentions to purchase items that they add to their boards. Luxury brands are wanting to make meaningful connections that lead to the consumption of more luxury goods. Here are five sites that are aiming to take them there.
Five Social Curation Sites for Luxury Brands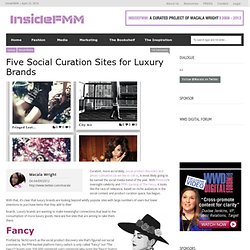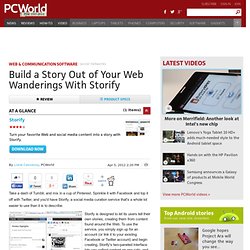 Storify description, Social Networking Downloads List By 30 Day Change | PCWorld
Take a dash of Tumblr, and mix in a cup of Pinterest. Sprinkle it with Facebook and top it off with Twitter, and you'd have Storify, a social media curation service that's a whole lot easier to use than it is to describe.
In last week's post I laid out a case for content curation – why it can be a great opportunity for companies to engage with their customers, provide them with valuable information, and establish themselves as a trusted resource and thought leader in their industry. But no matter how airtight that case may be, the fact is theory is one thing, practice another. As Sales Benchmark Index CEO Greg Alexander points out , even if companies decide to adopt content marketing strategies, that doesn't mean they'll be successful.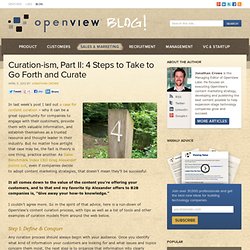 4 Steps Effective Content Curation
Creating, Curating and Cultivating SXSW Interactive - Breaking News
It seems like everyone is jumping on the Pinterest bandwagon these days and creating boards of their favorite images.
The Art of Social Image Curation And Visual Linking
Advanced Market Training » Blog Archive » A Journalistic View Of Content Curation
Everyone's A Curator, Everyone's A Content Creator
It used to be that we were all just consumers — or most of us were, anyway.
Content Curation: Truths, Threats, Motivations and Opportunities
This is a cross-post from Altimeter Group Researcher Jaimy Szymanski's blog .
Curation Traffic - Wordpress Curation Theme | Your Platform, Your Traffic, Your Profit
imagecredit: SimonBlog In this 2-part series I'll provide notations on curation — first laying out the case for why it's a great opportunity for those prepared to do it well, and then providing examples on how to do just that (including our process at OpenView).
Curation-ism, Part 1: The Case for Content Curation
Blow Out Content Marketing and Lead Social Conversations with Content Curation
How to Use StumbleUpon for Business | Jeffbullas's Blog
The Ultimate Guide To Becoming An Amazing Twitter Curator
Social Media Trends 2012 – Content Curation in PR
Startup Smackdown: Pinterest Vs Fancy | tech.li
Content Curation Taken to a New Level with Snip.it «
Huntsy.com - Pinterest for Job Seekers
Using Storify to curate social media | JAWS - Journalism & Women Symposium |
There's a Pinterest for that: A list of niche Pinterest clones
Inflite: Where Professionals Come To Play | tech.li
Social Media Roundup: Reinforcing Content, Being a First Responder, Negative Postings and More - 10,000 Words
4 Storified Reasons SXSW Was Worth The Hassle From Al Gore, Sean Parker, Baratunde Thurston
Is this the smartest brand use of Pinterest yet?
Curation is not a dirty word
The Next Wave of Visual Content Curation
Social Media Influencers' 5Ws For Content Curation
Content Curation and QR Codes Great Tools for Transportation | Loadsurfer
The Curation-Over-Creation Trend That Fueled Pinterest's Rapid Growth
The Curation Conundrum