New media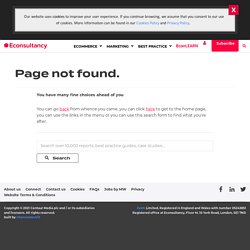 IBM has identified four new types of digital consumers that media providers should target to improve digital revenue streams. The 'Beyond Digital' report states that the new behaviours of connected customers - which include social viewing, distracted viewing and digesting on-demand content – have greatly impacted media providers.
IBM identifies four 'digital personalities' to help segment media audiences
With Trove, Ex-WaPo Labs Team Takes Another Try at Social Reading
How do you get your daily news? It's a question that any 21st century news organization is asking itself — a question all too familiar for a guy like Vijay Ravindran. As the Chief Digital Officer of Graham Holdings and former head of the Washington Post's WaPo Labs team, it's one he's asked himself for the better part of the last five years.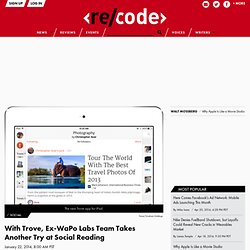 The Sun pushes in-game advertising with Facebook game
USA TODAY and Hilton Worldwide inked a deal to provide the electronic version of the paper to guests of Hilton-brand hotels.
Hilton, USA TODAY give guests new content choices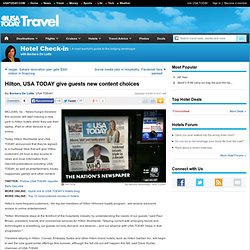 Why investors bought 71 US newspapers last year | Media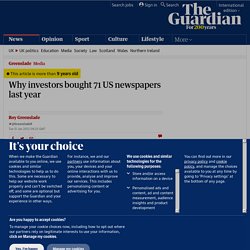 There is still a newspaper publishing market in the United States. Seventy-one of the country's daily newspapers changed hands last year in deals totalling just under $800m (£509m). Why?
Some of Silicon Valley's biggest technology companies reject suggestions they are now news organisations. But they nevertheless think they have the prescription for what news media must do next… First, the disclosures: "We're not a news company," Google's head of news products and Google+ programming Richard Gingras told media executives at the Paley Center's international council of media executives in Madrid on Thursday.
How tech's giants want to re-invent journalism
The Future of the book is the stream: no longer sold by title, but by time
How the Huffington Post became a new-media behemoth
In a blog post at her eponymous website, Arianna Huffington has provided some numbers that describe the growth of the news network over the past year — a year that coincided with its acquisition by AOL for $315 million — and more than a few of them are eye-popping.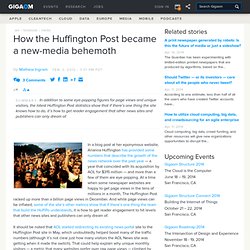 Arianna Huffington: "Wir sind sehr opportunistisch" - SPIEGEL ONLINE - Nachrichten - Netzwelt
SPIEGEL ONLINE: Wann startet die deutsche Ausgabe der "Huffington Post"? Arianna Huffington: Vorher sind noch zwei andere europäische Ausgaben dran, Spanien Ende März, in Zusammenarbeit mit "El País", und Italien im April mit "L'Espresso" und "Repubblica". SPIEGEL ONLINE: Mit wem werden Sie in Deutschland kooperieren?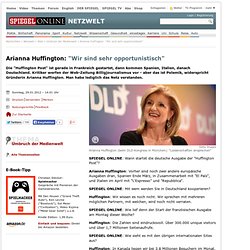 The Incredible Shrinking New York Times
Spool Lets You Save Articles And Videos For Personal Offline Use - 10,000 Words
Can newspapers also be tech incubators?
We've written before about the need for newspapers to be "digital first" and to think like startups as they try to adapt to the evolution of the media industry. Can a traditional newspaper take an even bigger step and actually help give birth to new technologies or services by acting like a startup incubator? At least two of them are planning to give it a try: the Philadelphia News Network just launched an incubator, and Digital First Media recently launched a venture-capital arm and says it plans to invest in tech startups.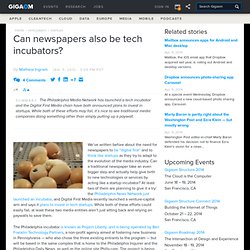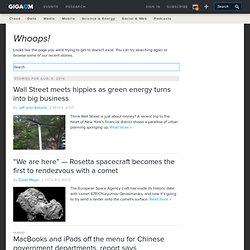 This may be the year where newspapers finally drop the idea of treating all news as a product, and all readers as customers.
paidContent:UK - Mobile
Since the invention of media (the book, the record, the movie...), there's been a pyramid of value and pricing delivered by those that create it: Starting from the bottom:
The erosion in the paid media pyramid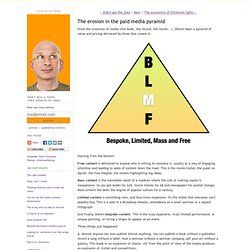 The paradox continues. Newspaper readership continues to run at all-time highs as the business model crumbles. From a Newspaper Association of America press release issued today:
Traffic to Newspaper Websites Continues to Surge
Gannett, Hearst, Others Partner on Shopping Site - 2011-11-17 15:59:50
Eight major media companies, including Gannett, Cox Media Group, Hearst and Washington Post Co., have formed a joint online shopping venture called Find N Save Network.
Der Journalist – das neue Haustier
Der Journalist – das neue Haustier
BitCoin - Virtual Currency
Seth Godin is the marketer's marketer, somewhere beyond guru. He's now poking the edges of publishing.
Six Lessons for News Publishers from Seth Godin
Facebook vs Twitter for journalists - a short comparison
Marketing Magazine Pensez-vous qu'un média soi une marque comme les autres, déclinable à l'envi?
En presse, le Web va défendre le papier - Marque
Time restricts non-subscribers online | Media
German News Groups, Microsoft Unit File Anti-Trust Complaints Ag
USA: Internet media continue to evolve, old media flirt with ext
Citizen Journalism Platform AllVoices Sets Up News Desks In 30 C
6 Game-Changing Digital Journalism Events of 2011
Media News: 2009 Was a Lousy Year for Top 100 Media Cos - Advert
Magda.de: Spielwiese für 22 Profis
Study Finds Newspapers Lead in Providing New Information - NYTim
Making Your News Budget Public: How And Why - 10,000 Words
NY Times: "Paywall" und Apple-Kooperation
A subscription to Times Online could be just another item on Sky
Media News
Alfred's Free Press - Witness
Al Jazeera unveils new portal for citizen reporters
Europas Pay-Modelle im Vergleich
Scott Rosenberg's Wordyard » Blog Archive » For the media biz, i
ARTST Guild & Gallery | A Community For Artists
Kidult
NewsCred Relaunches, Looks To Become "Ning For Newspapers"
Forecasting Daily Print's Demise
Study: 52 Percent Of Bloggers Consider Themselves Journalists
BBC tells news staff to embrace social media | Media | guardian.
Hulu Investor Injects $50 Million Into Baidu's Online Video Vent
Context is King: How Videos Are Found And Consumed Online
Six Million Check-Ins for Top 10 Shows on GetGlue Last Year | Trending Topics: What's Hot Right Now in Social Media
USA Today Outsources New Web Section to Demand Media - Advertisi
Demand Media gets down to major media publishers | Media | guard
What works for news orgs on Foursquare? Opinion, reviews, evergreens, but maybe not the news » Nieman Journalism Lab » Pushing to the Future of Journalism