New media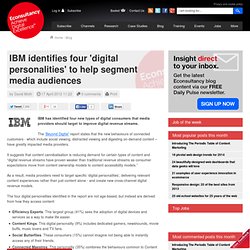 IBM has identified four new types of digital consumers that media providers should target to improve digital revenue streams. The 'Beyond Digital' report states that the new behaviours of connected customers - which include social viewing, distracted viewing and digesting on-demand content – have greatly impacted media providers. It suggests that content cannibalisation is reducing demand for certain types of content and "digital revenue streams have proven weaker than traditional revenue streams as consumer expectations move from content ownership models to content accessibility models."
IBM identifies four 'digital personalities' to help segment media audiences
nod: news on demand
With Trove, Ex-WaPo Labs Team Takes Another Try at Social Reading
How do you get your daily news? It's a question that any 21st century news organization is asking itself — a question all too familiar for a guy like Vijay Ravindran. As the Chief Digital Officer of Graham Holdings and former head of the Washington Post's WaPo Labs team, it's one he's asked himself for the better part of the last five years.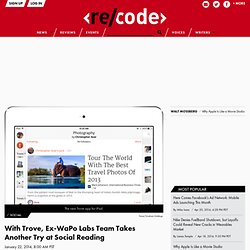 The Sun pushes in-game advertising with Facebook game
USA TODAY and Hilton Worldwide inked a deal to provide the electronic version of the paper to guests of Hilton-brand hotels. By Monica Hortobagyi, USA TODAY MCLEAN, Va. - News-hungry travelers this summer will start noticing a new perk in Hilton hotels when they use their laptop, iPad or other devices to go online. Today, Hilton Worldwide and USA TODAY announced that they've agreed to a multiyear deal that will give Hilton customers 24-hour-a-day access to news and local information from Gannett publications including USA TODAY, as well as entertainment, books, magazines, games and other content. TWITTER: Follow USA TODAY reporter Barb DeLollisMORE ONLINE: Quick link to USA TODAY's hotels blogMORE ONLINE: Top 10 most-ordered movies in hotels
Hilton, USA TODAY give guests new content choices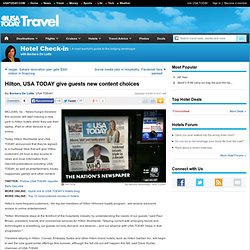 Why investors bought 71 US newspapers last year | Media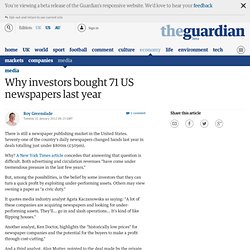 There is still a newspaper publishing market in the United States. Seventy-one of the country's daily newspapers changed hands last year in deals totalling just under $800m (£509m). Why?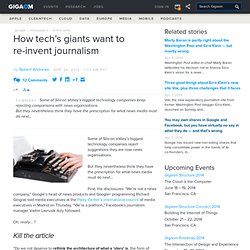 Some of Silicon Valley's biggest technology companies reject suggestions they are now news organisations. But they nevertheless think they have the prescription for what news media must do next… First, the disclosures: "We're not a news company," Google's head of news products and Google+ programming Richard Gingras told media executives at the Paley Center's international council of media executives in Madrid on Thursday. "We're a platform," Facebook's journalism manager Vadim Lavrusik duly followed. Oh, really… ? Kill the article
How tech's giants want to re-invent journalism
The Future of the book is the stream: no longer sold by title, but by time
How the Huffington Post became a new-media behemoth
In a blog post at her eponymous website, Arianna Huffington has provided some numbers that describe the growth of the news network over the past year — a year that coincided with its acquisition by AOL for $315 million — and more than a few of them are eye-popping. At a time when some newspaper websites are happy to get page views in the tens of millions in a month, The Huffington Post racked up more than a billion page views in December. And while page views can be inflated, some of the site's other metrics show that if there's one thing the team that build the HuffPo understands, it is how to get reader engagement to hit levels that other news sites and publishers can only dream of. It should be noted that AOL started redirecting its existing news portal site to the Huffington Post site in May, which undoubtedly helped boost many of the traffic numbers (although it's not clear just how many visitors the AOL News site was getting when it made the switch).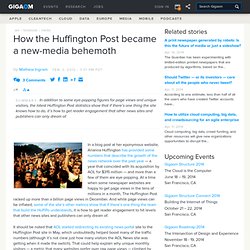 Arianna Huffington: "Wir sind sehr opportunistisch" - SPIEGEL ONLINE - Nachrichten - Netzwelt
SPIEGEL ONLINE: Wann startet die deutsche Ausgabe der "Huffington Post"? Arianna Huffington: Vorher sind noch zwei andere europäische Ausgaben dran, Spanien Ende März, in Zusammenarbeit mit "El País", und Italien im April mit "L'Espresso" und "Repubblica". SPIEGEL ONLINE: Mit wem werden Sie in Deutschland kooperieren?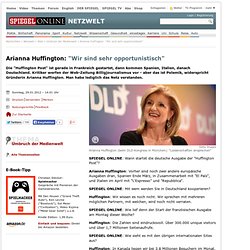 The New York Times just reported its fourth-quarter results to finish out 2011. And it's still shrinking. Despite the launch of an online paywall that has, by any measure, been a big success, the company's revenue for its core news business shrank again in 2011. And because news expenses rose, profits shrank even more. The culprit, as ever, is the company's print-ad business, which has shrunk steadily for the past five years. The trends of the past five years are also likely a sign of the future of the New York Times: Steady restructuring and shrinking until the size of the newsroom and broader organization is finally in line with the size of the company's online business, which is thriving.
The Incredible Shrinking New York Times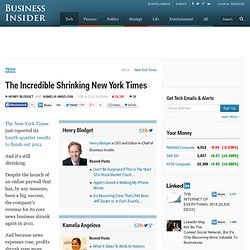 Spool Lets You Save Articles And Videos For Personal Offline Use - 10,000 Words
Can newspapers also be tech incubators?
We've written before about the need for newspapers to be "digital first" and to think like startups as they try to adapt to the evolution of the media industry. Can a traditional newspaper take an even bigger step and actually help give birth to new technologies or services by acting like a startup incubator? At least two of them are planning to give it a try: the Philadelphia News Network just launched an incubator, and Digital First Media recently launched a venture-capital arm and says it plans to invest in tech startups.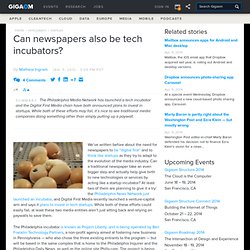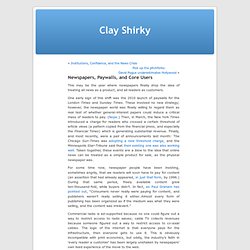 This may be the year where newspapers finally drop the idea of treating all news as a product, and all readers as customers. One early sign of this shift was the 2010 launch of paywalls for the London Times and Sunday Times. These involved no new strategy; however, the newspaper world was finally willing to regard them as real test of whether general-interest papers could induce a critical mass of readers to pay. (Nope.) Then, in March, the New York Times introduced a charge for readers who crossed a certain threshold of article views (a pattern copied from the financial press, and especially the Financial Times) which is generating substantial revenue.
paidContent:UK - Mobile
Since the invention of media (the book, the record, the movie...), there's been a pyramid of value and pricing delivered by those that create it: Starting from the bottom: Free content is delivered to anyone who is willing to consume it, usually as a way of engaging attention and leading to sales of content down the road. This is the movie trailer, the guest on Oprah, the free chapter, the tweets highlighting big ideas. Mass content is the inevitable result of a medium where the cost of making copies is inexpensive. So you get books for $20, movie tickets for $8 and newspapers for pocket change.
The erosion in the paid media pyramid
The paradox continues. Newspaper readership continues to run at all-time highs as the business model crumbles. From a Newspaper Association of America press release issued today:
Traffic to Newspaper Websites Continues to Surge
Gannett, Hearst, Others Partner on Shopping Site - 2011-11-17 15:59:50
Eight major media companies, including Gannett, Cox Media Group, Hearst and Washington Post Co., have formed a joint online shopping venture called Find N Save Network. While a number of the companies own TV stations, the digital venture is for newspapers. Any local daily paper in the country can affiliate with Find N Save, which offers daily deals and coupons, and alerts shoppers to deals via text message. By the end of 2012, it will be in place at an estimated 250 newspapers, say the principals, and 400 by 2013.
Der Journalist – das neue Haustier France Télévisions, das öffentlich-rechtliche Fernsehen Frankreichs, startete vergangene Woche mit einer neuen Nachrichtenplattform «France TV info» (FTVI) eine kleine Revolution. Auf einem Livestream mit Aktualitäten im Minutentakt verschränken sich Journalismus und Social Media kongenial. Für den Zuschauer wird der Journalist zum treuen Begleiter, der ihm auf Schritt und Tritt folgt. 24 Uhr. Journalistin Catherine Fournier verabschiedet sich von ihren GesprächstpartnerInnen, deren Fragen und Anregungen sie in den letzten Stunden online beantwortet hat: «Il va être temps de vous quitter.
Der Journalist – das neue Haustier
BitCoin - Virtual Currency
Seth Godin is the marketer's marketer, somewhere beyond guru. He's now poking the edges of publishing. After 13 bestsellers, manufactured and sold through the traditional industry, he's causing quite a stir in the book world, publishing his new book — "Poke the Box" — through The Domino Project. If you haven't heard much about Domino yet, you soon will. Domino marries Godin's marketing star power (76,000 followers of his blog just through Twitter) with the book marketing heft of a little company called Amazon. The Domino Project is powered by Amazon, as it moves deeper into the world of becoming a publisher itself, building on its CreateSpace do-it-yourself publishing initiative and its two imprints launched last year, Amazon Encore (reprints of previously self-published books) and Amazon Crossing (translations).
Six Lessons for News Publishers from Seth Godin
Facebook vs Twitter for journalists - a short comparison
En presse, le Web va défendre le papier - Marque
Time restricts non-subscribers online | Media
USA: Internet media continue to evolve, old media flirt with ext
Citizen Journalism Platform AllVoices Sets Up News Desks In 30 C
6 Game-Changing Digital Journalism Events of 2011
Media News: 2009 Was a Lousy Year for Top 100 Media Cos - Advert
Magda.de: Spielwiese für 22 Profis
Study Finds Newspapers Lead in Providing New Information - NYTim
Making Your News Budget Public: How And Why - 10,000 Words
NY Times: "Paywall" und Apple-Kooperation
A subscription to Times Online could be just another item on Sky
Media News
Alfred's Free Press - Witness
Al Jazeera unveils new portal for citizen reporters
Europas Pay-Modelle im Vergleich
Scott Rosenberg's Wordyard » Blog Archive » For the media biz, i
ARTST Guild & Gallery | A Community For Artists
Kidult
NewsCred Relaunches, Looks To Become "Ning For Newspapers"
Forecasting Daily Print's Demise
Study: 52 Percent Of Bloggers Consider Themselves Journalists
BBC tells news staff to embrace social media | Media | guardian.
Hulu Investor Injects $50 Million Into Baidu's Online Video Vent
Context is King: How Videos Are Found And Consumed Online
Six Million Check-Ins for Top 10 Shows on GetGlue Last Year | Trending Topics: What's Hot Right Now in Social Media
USA Today Outsources New Web Section to Demand Media - Advertisi
Demand Media gets down to major media publishers | Media | guard
What works for news orgs on Foursquare? Opinion, reviews, evergreens, but maybe not the news » Nieman Journalism Lab » Pushing to the Future of Journalism