Digital Organization
Rise of QR Codes by Burson-Marsteller
How to Create an Adaptive Global Marketing Organization - Advert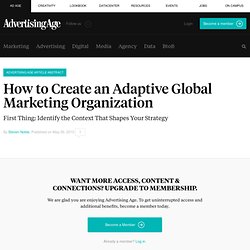 CMOs are entering a new period of organizational change as they restructure to minimize costs, maximize flexibility and place digital and social media at the heart of their global strategies. In fact, 75% are either restructuring their marketing organization now or will do so by the end of 2011, according to a new Forrester Research survey of marketing leaders. But as you consider a potential reorganization, ask yourself what context shapes your global marketing. ...
Starbucks' Stephen Gillett Weighs In On The Changing Role Of The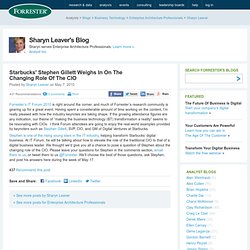 Forrester's IT Forum 2010 is right around the corner, and much of Forrester's research community is gearing up for a great event.
Facebook recognise Starbucks, Vitamin Water, H&M marketing effor
Social Media Business Council | Live Video Case Studies
The awesome crew over at SocialMediaExaminer.com just released their 2o1o Social Media Marketing Industry Report.
Major Findings from the 2010 Social Media Marketing Industry Rep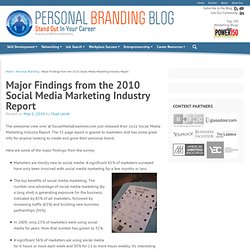 Global Social Media Checkup
Jussi-Pekka Erkkola: Everyone in an organizatio
Une leçon de Marketing par Nokia
Disney Studios to Name Naked's M.T. Carney as CMO - Advertising
ver story: Burberry joins push online by luxury brands | News |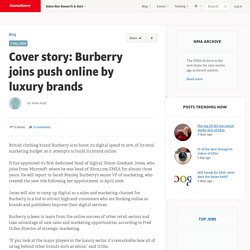 British clothing brand Burberry is to boost its digital spend to 20% of its total marketing budget as it attempts to build its brand online. It has appointed its first dedicated head of digital, Simon Gresham Jones, who joins from Microsoft where he was head of Xbox.com EMEA for almost three years. He will report to Sarah Manley, Burberry's senior VP of marketing, who created the new role following her appointment in April 2008. Jones will aim to ramp up digital as a sales and marketing channel for Burberry in a bid to attract high-end consumers who are flocking online as brands and publishers improve their digital services. Burberry is keen to learn from the online success of other retail sectors and take advantage of new sales and marketing opportunities, according to Fred Uribe, director of strategic marketing. "If you look at the major players in the luxury sector, it's remarkable how all of us lag behind other brands such as telcos," said Uribe.
Burberry: A Truly Digital Luxury Brand - Amanda Woolley
Agencies continually reinvent themselves to serve their clients — they have to quickly adapt to changes in marketing strategy, media, technology, and society.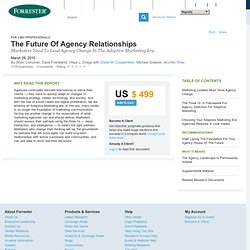 The Future Of Agency Relationships
print article
http://econsultancy.com/blog/5221-h-m-s-trashgate-a-lesson-in-so
Premium portioned coffee specialist Nespresso is setting up its first dedicated UK customer relationship centre (CRC) to meet growing demand in the UK and Republic of Ireland. Based at the Nestlé UK site in York, the new CRC team of more than 40 dedicated Nespresso coffee specialists will deliver personalised services to consumers.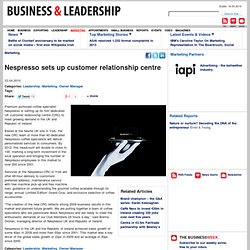 Nespresso sets up customer relationship centre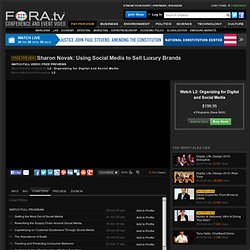 Sharon Novak: Impact of Digital on Strategy & Operations
Bio
Rise of the Marketing Technologist
digitalCMO.com - @ the intersection of digital marketing and org
CMO COUNCIL :: Marketing Outlook 2010 Download Registration
Chief Marketing Officer Council World Wide Look for technology and marketing thought leadership every month from Marketing Magnified.
Center for Digital Strategies :: Case Studies
Unilever uses innovation as "fuel for change" - Warc News - Warc
Inside Intel's Effectiveness System for Web Marketing - Advertis
STRATEGIES: ONE BIG SECRET
I had thechance to speak with Lucas Watson from P&G last week. He spearheads digital innovation on the marcom side and leads a small team of digital and social experts who work across the brands (Global Team Leader for Digital Business Strategy). Clearly P&G has an earnest commitment to applying social media and other digital marketing innovations to their way of marketing.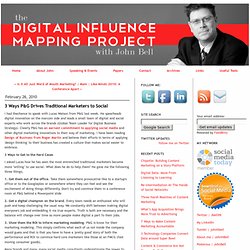 3 Ways P&G Drives Traditional Marketers to Social - Digital Infl
P&G launches online learning lab, GLOBAL, ONLINE ADVE
Global - Dissatisfied with its volume of internet sales, Procter & Gamble is taking matters into its own hands -- launching its own e-commerce site, which it will use to test online sales tactics and pass along successful strategies to big retail sites like Walmart.com and Amazon.com. US consumer spending on online retail sites exceeded $155 billion last year, according to Forrester Research, and that figure is projected to jump by nearly two-thirds to almost $250 billion in 2014.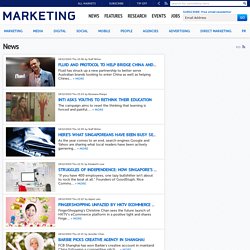 Lessons from P&G's Digital Day
ANA Marketing Maestros: Procter & Gamble Creates an Agency/Clien
How Coca-Cola is Reinventing their Marketing Strategy with Socia
*Not applicable to ICANN fees, taxes, shipping and handling, sale priced domains and transfers, bulk domains and transfers, premium domains, Sunrise/Landrush domain registrations and pre-registrations, memberships or maintenance plans, additional disk space and bandwidth renewals, additional email addresses, additional AdSpace advertising funds, Managed Hosting, custom page layouts, brand identity services, Go Daddy branded merchandise or gift cards.
Publications Coca-Cola, Facebook, Microsoft, YouTube On Social P