Digital Organization
Rise of QR Codes by Burson-Marsteller. Download RISE OF QR CODES was originally published in Future Perspective, a Burson-Martellar newsletter.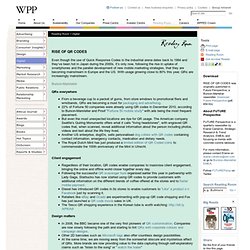 Download Future Perspective (pdf, 654 Kb) About FUTURE Prespective FUTURE Perspective is a quarterly newsletter by Elaine Cameron, Strategic Research & Trend Analysis, EMEA, and focusing on trends with concrete comms takeouts For more information, please contact Elaine on elaine.cameron@bm.com or go to Burston-Marsteller EMEA. How to Create an Adaptive Global Marketing Organization - Advert. Starbucks' Stephen Gillett Weighs In On The Changing Role Of The. Facebook recognise Starbucks, Vitamin Water, H&M marketing effor. Major Findings from the 2010 Social Media Marketing Industry Rep. The awesome crew over at SocialMediaExaminer.com just released their 2o1o Social Media Marketing Industry Report.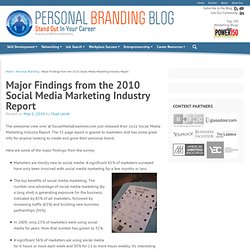 The 33 page report is geared to marketers and has some great info for anyone looking to create and grow their personal brand. Here are some of the major findings from the survey: Marketers are mostly new to social media: A significant 65% of marketers surveyed have only been involved with social media marketing for a few months or less.The top benefits of social media marketing: The number-one advantage of social media marketing (by a long shot) is generating exposure for the business, indicated by 85% of all marketers, followed by increasing traffic (63%) and building new business partnerships (56%).In 2009, only 23% of marketers were using social media for years.
Now that number has grown to 31%.A significant 56% of marketers are using social media for 6 hours or more each week and 30% for 11 or more hours weekly. Global Social Media Checkup. Jussi-Pekka Erkkola: Everyone in an organizatio... Une leçon de Marketing par Nokia. Disney Studios to Name Naked's M.T. Carney as CMO - Advertising. Ver story: Burberry joins push online by luxury brands | News |
British clothing brand Burberry is to boost its digital spend to 20% of its total marketing budget as it attempts to build its brand online.
It has appointed its first dedicated head of digital, Simon Gresham Jones, who joins from Microsoft where he was head of Xbox.com EMEA for almost three years. He will report to Sarah Manley, Burberry's senior VP of marketing, who created the new role following her appointment in April 2008. The Future Of Agency Relationships. Agencies continually reinvent themselves to serve their clients — they have to quickly adapt to changes in marketing strategy, media, technology, and society.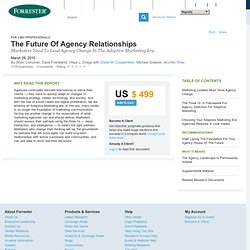 And with the rise of social media and digital proliferation, we are entering an Adaptive Marketing era. In this era, mass media is no longer the foundation of marketing communication, forcing yet another change in the expectations of what marketing agencies can and should deliver. Marketers should assess their partners using the three I's — ideas, interaction, and intelligence — to select the right partners. Print article. Nespresso sets up customer relationship centre. Premium portioned coffee specialist Nespresso is setting up its first dedicated UK customer relationship centre (CRC) to meet growing demand in the UK and Republic of Ireland.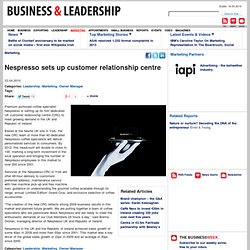 Based at the Nestlé UK site in York, the new CRC team of more than 40 dedicated Nespresso coffee specialists will deliver personalised services to consumers. By 2012, this headcount will double to close to 100, marking a long-term investment in the local operation and bringing the number of Nespresso employees in this market to over 200 since 2001. Services at the Nespresso CRC in York will offer 48-hour delivery to customers' preferred address; maintenance service with free machine pick-up and free machine loan; guidance on understanding the gourmet coffee available through its range; annual 'Limited Edition' Grand Crus; and exclusive selection of coffee accessories.
"The creation of the new CRC reflects strong 2009 business results in this market and planned future growth. Sharon Novak: Impact of Digital on Strategy & Operations. Bio Sharon Novak Dr.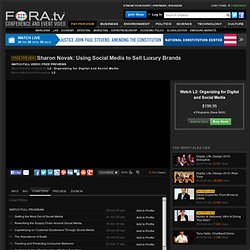 Sharon Novak has over ten years of experience providing strategic planning and operations management solutions for luxury retail, private equity, automotive, and electronics firms worldwide, on projects including market entry planning, product positioning, supplier selection, benchmarking and design of staff hiring and training guidelines. Dr. Rise of the Marketing Technologist. CMO COUNCIL :: Marketing Outlook 2010 Download Registration. Center for Digital Strategies :: Case Studies. Unilever uses innovation as "fuel for change" - Warc News - Warc. Inside Intel's Effectiveness System for Web Marketing - Advertis. STRATEGIES: ONE BIG SECRET. Victoria's Secret parent integrating brands and channels For the past two years, Intimate Brands Inc.'s chairman/CEO Leslie H.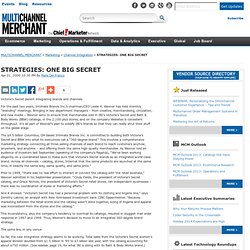 Wexner has held monthly "branding" meetings. Bringing in key department managers – from creative, merchandising, circulation, and new media – Wexner aims to ensure that merchandise sold in IBI's Victoria's Secret and Bath & Body Works (BBW) catalogs, in the 2,100-plus stores, and on the company Websites is consistent throughout. 3 Ways P&G Drives Traditional Marketers to Social - Digital Infl. I had thechance to speak with Lucas Watson from P&G last week.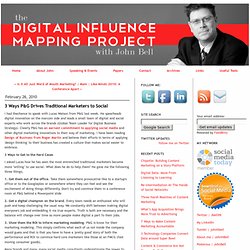 He spearheads digital innovation on the marcom side and leads a small team of digital and social experts who work across the brands (Global Team Leader for Digital Business Strategy). Clearly P&G has an earnest commitment to applying social media and other digital marketing innovations to their way of marketing. P&G launches online learning lab, GLOBAL, ONLINE ADVE. Lessons from P&G's Digital Day. ANA Marketing Maestros: Procter & Gamble Creates an Agency/Clien. How Coca-Cola is Reinventing their Marketing Strategy with Socia. *Not applicable to ICANN fees, taxes, shipping and handling, sale priced domains and transfers, bulk domains and transfers, premium domains, Sunrise/Landrush domain registrations and pre-registrations, memberships or maintenance plans, additional disk space and bandwidth renewals, additional email addresses, additional AdSpace advertising funds, Managed Hosting, custom page layouts, brand identity services, Go Daddy branded merchandise or gift cards.
Discount reflected in your shopping cart - cannot be used in conjunction with any other offer, discount or promotion, or in connection with special partnership discount programs. After the initial purchase term, discounted products purchased with special offer discounts will renew at the then-current renewal list price. Offer ends Sept 30, 2012 5:00 pm (MST).
---