Economics
Zenpundit.com. Latest Green Business News | Reuters.co.uk. The Global Development Research Center. Overseas Development Institute (ODI) - The UK's leading independent think tank on international development and humanitarian issues. What we do - VSO International. VSO's work revolves around four development areas, linked to the priorities of our partners, international development targets and our areas of expertise.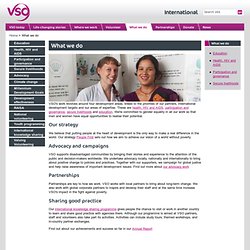 These are health, HIV and AIDS, participation and governance, secure livelihoods and education. We're committed to gender equality in all our work so that men and women have equal opportunities to realise their potential. INTRAC. Sustainable Development Communications Network (SDCN) The Sustainable Development Communications Network (SDCN) is a group of leading civil society organizations seeking to accelerate the implementation of sustainable development through broader, integrated information and communications about what we know.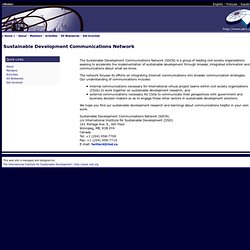 The network focuses its efforts on integrating Internet communications into broader communication strategies. Our understanding of communications includes: International Development, NGO, NGOs, Jobs, UN, UNDP, World Bank, Consultants. Consultancy opportunities. GSDRC provides applied knowledge services on demand and online.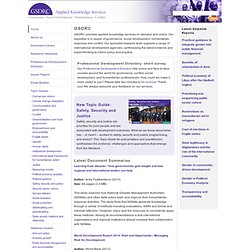 Our expertise is in issues of governance, social development, humanitarian response and conflict. Our specialist research team supports a range of international development agencies, synthesising the latest evidence and expert thinking to inform policy and practice. Professional Development Directory: short survey Our Professional Development Directory lists online and face-to-face courses around the world for governance, conflict, social development, and humanitarian professionals. PREM Network - Poverty Reduction and Economic Management Network. PREM contributes to the design of global and country policies and the building of institutions to achieve inclusive growth in developing countries.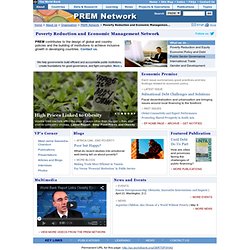 Contact us. We help countries accelerate poverty reduction and developstrategies that are country-owned and results-oriented. More » We produce policy and analytical work in the areas of growth, fiscal policy, strategic debt, and regional development. More » Pact - Building Capacity Worldwide. About Us. We support efforts by Latin America and the Caribbean countries to reduce poverty and inequality.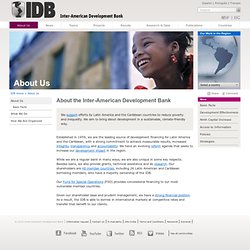 We aim to bring about development in a sustainable, climate-friendly way. Established in 1959, we are the leading source of development financing for Latin America and the Caribbean, with a strong commitment to achieve measurable results, increased integrity, transparency and accountability. We have an evolving reform agenda that seeks to increase our development impact in the region. While we are a regular bank in many ways, we are also unique in some key respects. Besides loans, we also provide grants, technical assistance and do research. International Association for Community Development. U.S. Agency for International Development. GSDRC: Governance and Social Development Resource Centre. Poverty Reduction Strategies. Labor & Social Protections - Latin America World Bank.
The main objective of the Latin America and Caribbean - LAC Social Protection team is to help countries in the region increase the equity and coverage of Social Protection (SP) systems and to enable the poor to have better jobs.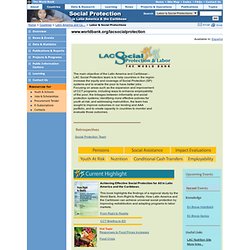 Focusing on areas such as the expansion and improvement of CCT programs, including ways to enhance employability of the poor; the linkages between informality and social protection systems; identifying more effective policies for youth at risk; and addressing malnutrition, the team has sought to improve outcomes in our lending and AAA portfolio, and to create capacity in countries to monitor and evaluate those outcomes.
Ideas & Culture Podcasts. Cabin fever. Economic Crisis and Globalization. Filmed at The New School, the videos were produced by Maggie Owsley, an intern of Open Lens Media - a non-profit organization that produces media for social change.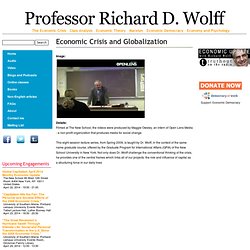 This eight session lecture series, from Spring 2009, is taught by Dr. Wolff, in the context of the same name graduate course, offered by the Graduate Program for International Affairs (GPIA) of the New School University in New York. Not only does Dr. Wolff challenge the conventional thinking of the crisis, he provides one of the central frames which links all of our projects: the role and influence of capital as a structuring force in our daily lives.
The economist as therapist: Behavioural economics and "light" pa. We review methodological issues that arise in designing, implementing and evaluating the efficacy of 'light' paternalistic policies.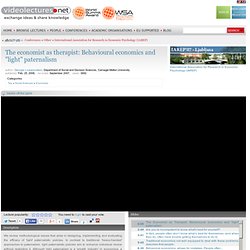 In contrast to traditional 'heavy-handed' approaches to paternalism, light paternalistic policies aim to enhance individual choice without restricting it. Although light paternalism is a 'growth industry' in economics, a number of methodological issues that it raises have not been adequately addressed. The first issue is how a particular pattern of behavior should be judged as a mistake, and, relatedly, how the success of paternalistic policies designed to rectify such mistakes should be evaluated – i.e. ,the welfare criterion that should be used to judge light paternalistic policies. Second,paternalism, and especially light paternalism, introduces new motives for attempting to understand the psychological processes underlying economic behavior.
Raj Patel - Author. Welcome to WaldenBello.org - Biography.