Interesting
21 Ways to Touch Her | The Dating Specialist Blog
In my last article we covered the basics of how to touch a woman . While all of that knowledge is useful, none of it means anything if you can't put it into action. When I work with guys that have trouble getting physical, one problem always comes up: "There wasn't a good moment or opportunity when I could've touched her." There never seems to be a good time to make a move. But is that really true? Usually, the issue is that you haven't seized the moment to create a physical connection.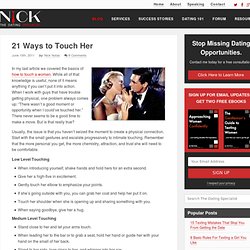 Neil deGrasse Tyson: Atheist or Agnostic?
Totally like whatever, you know?
The Newsroom 2012 Opening Scene